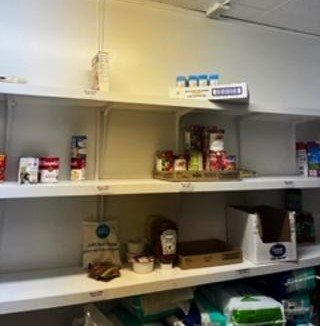 Pam Dudding
Contributing writer 
Hunger is a terrible feeling and many families in Craig County depend on the various food pantries for their monthly sustenance. 
"For those who are not aware, Craig County Department of Social Services has a Community Food Pantry that offers food, hygiene, and cleaning products to Craig County Citizens in emergency situations," Craig County DSS Director Pat Franklin shared. "This year has been a hard year for most of us. The rising cost of groceries, utilities and rent is making it harder for all of us to make ends meet each month."
She shared that the people that are hit the hardest are our seniors who are on fixed incomes.  
"They often must choose between food or their prescriptions," Franklin explained. "Our pantry helps people get through the month."
Citizens can go to the DSS office once a month to receive a bag of food with no questions asked.  
"However, the last week of September we had to turn people away because our pantry is so bare," she added. 
During the month of September, DSS provided food and hygiene items to 33 people/families in Craig before the shelves went empty.  
"This time last year, we recorded only nine people receiving food from the pantry, that is almost a thirty percent increase in need!" she exclaimed. 
The food pantry is not state or federally funded, it is funded by the Craig County community.  
"We can only provide what is provided to us," Franklin said. 
Therefore, the DSS department is having a needed food drive and are taking food and monetary donations at the office, Monday through Friday from 9 a.m.-4 p.m.   
Items in need include peanut butter, crackers, spaghetti sauce, noodles, macaroni and cheese, canned vegetables, canned fruit, soups, dry beans, rice, canned tuna and canned chicken. 
Hygiene items are shampoo, deodorant, soap, feminine products and toothpaste and would like to provide laundry detergent when possible.    
Their goal is to assist as many people in Craig as possible, especially during these years where food, electric and gas prices have gone up tremendously. 
They encourage anyone to check with them on their supplies if they are in need and send thanks to the ones who give generously to help provide. Those interested can contact them at (540) 864-5117.