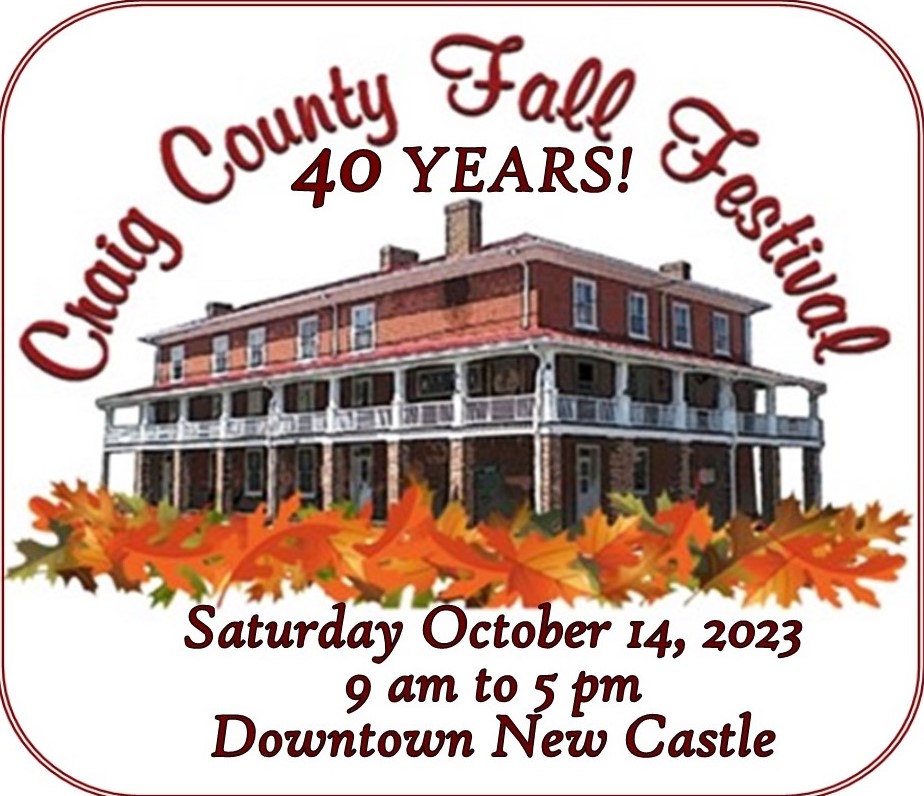 Pam Dudding
Contributing writer
The leaves are changing, the air has a brisk feel and people are ready for fall and all its beauty as well as the events that start to happen each weekend. 
On Saturday, Oct. 14, the Craig County 40th Annual Fall Festival will be held on Main Street with vendors of food, crafts, businesses and local emergency groups and clubs. It's an event most Craig County residents don't miss.
The opening ceremony will begin at 9 a.m. led by the choral group from Craig County High School and events will continue all day with the raffle drawings around 4:30-5 p.m. to end the day. 
The Craig County Historical Society sponsors this event each year. Also, the society will have a special feature, a video slide show called "40 Years of Memories" as well as a display in the Old Brick Hotel of festival t-shirts, badges and other memorabilia. 
To start the day, the society will offer a country breakfast of sausage, eggs, biscuits and gravy in the old Brick Hotel dining room. Also, homemade fried apple pies and hot coffee will be sold on the porch.  
For lunch, starting at 11:30 a.m., attendees can go back to the hotel where pinto beans and cornbread will be served inside, and barbeque sandwiches will be sold on the hotel porch.
"Main and Court Streets will be lined with craft, retail, and food vendors, starting with the Public Library which will sell raffle tickets, dry spice dips, and also host book and yard sales behind the library," the society shared. "They will also have special glasses and information about the partial solar eclipse which will take place during the afternoon." 
Car enthusiasts will enjoy the Marshall Reynolds Memorial Antique Car Show on Middle Street. It is sponsored by South Main Auto in Blacksburg. Every driver will receive a plaque commemorating the 40th year and a goodie bag of local gifts. 
"Old time crafters planning to be at the festival include Lisa Ferguson – tape weaver and Vickie Green – bobbin lace maker," they said. "Both will be in colonial attire and use reproductions of original implements to demonstrate their crafts. Blacksmith Bryan Fritts will return with his anvil and ironwork outside near the FFA Area where farm animals, equipment and games will be of interest to many."
Carol Looney will be operating the loom on the third floor of the hotel where she is making a red, white and blue rug in anticipation of America250.  
Also, three 40-inch rugs woven during the past several years are available for a donation of $30.
Three bands are scheduled to perform on the Gopher Market Stage beside the courthouse lawn. The stage is provided by Zimmerman's Equipment. 
"While this is fewer than some years, each band will have almost two hours to entertain," society shared. "Merchant Copy plays a mix of country, rock and blues and includes Craig native Cole Winebarger. Eastern Divide is known for their traditional bluegrass sound and Phat Boyz Band is hi-energy Southern rock and dance music."
The flatfoot contest for adults and children will be around 1 p.m. and will be backed by Eastern Divide.
"The Old Brick Hotel was built in the late 1800s. Restoration was begun in the 1980's and now contains three floors of antique furniture, clothing and other historical items donated by local families," society shared. "The Hotel, the Genealogy Library, and nearby cabins will be open all day for self-guided tours.  Aso, the newly published Craig County Birth Records and other genealogy resources will be for sale in the gift shop."
Many look forward to the annual Fall Festival as a "family reunion," a time to visit with friends and relatives they haven't seen for a while.  For others, the festival is a great time to start holiday gift-buying.  
For most, food booths are the big attraction, with everything from grilled chicken to pumpkin rolls, homemade jams, elephant ears and baked goods.
More information may be found on Facebook at "Craig County Historical Society" and on Instagram at visitcraigcountyva or call the Historical Society Genealogy Library at 540-864-7023.