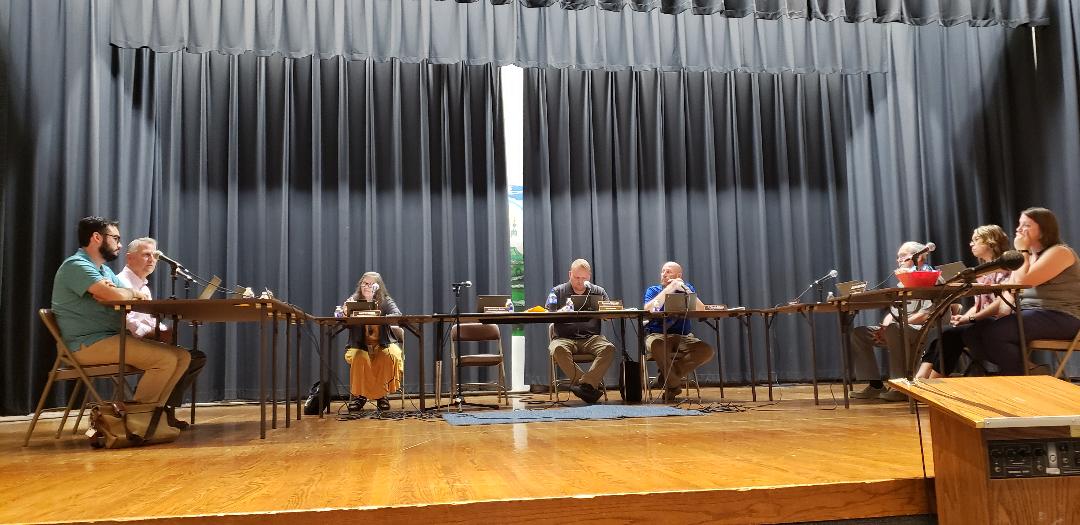 Pam Dudding
Contributing writer
The Craig County School Board recently met for its monthly meeting. Present were new Superintendent Dwayne Huff, School Board Chair Trace Bellassai, Faye Powers – Potts Mountain, Darren Gilreath – vice chair and Simmonsville representative, Kevin Altizer – Craig City, Walter Marsden – New Castle and Jessica Belcher – school board clerk. 
"I want to thank the board for this wonderful opportunity and the warm welcome I have received, not only from others but from the staff and also from my colleagues from surrounding counties and everyone in the community as it has just been overwhelming that I have been welcomed to this area," Huff began. "It was a very busy first week and I can see that we have some great students here."
Huff added that he believed the school division is off to a good start as he had an opportunity to meet with the administrators and had a brief meeting to lay the groundwork on moving forward, sharing his "personal educational philosophy and management style" as well as his goals and priorities. 
He added that he met with Shane Gills on the maintenance and facilities update several times and Gills had given him "a long list of maintenance needs to work on and to prioritize."
"Heather Duncan has worked tirelessly on the financial report due Sept. 15 but an extension was given until Sept. 30, which is normal in most schools," Huff said. 
After this is done, Huff added that they will start to prioritize the maintenance needs and report back to the Board, both for the items to continue to complete and the needs for the six-year plan. 
New initiatives included the schools joining CIP – Comprehensive Instructional Program, a program with Dr. Matt Hurt, who started it several years ago, which most southwest schools participate in.
"They crunch the numbers for you by taking our data from power school and help to identify areas we need to improve on but also, they will help train us on resource needs," Huff said. "Stevens has been instrumental in pulling this together and the cost is less than $1,000 which is a one-time fee. One of the best deals in town!"
A meeting was set for Sept. 15 with Dr. Hurt. 
"I will also share that this program, for K-12, has brought SOL scores up in other schools as well as other things," he added.  
Huff reported, "A survey went out last year to measure the school climate, how folks felt about the school and job satisfaction. The numbers were great, and I am glad that was done. To continue will cost us $6,000 to participate and it is a good thing, however I have challenged the administrative staff to do this on our own as I feel we have very competent staff here that know how to manage things and to do education the right way. I suggest we remove this subscription this year and if we feel this is needed, we can renew it next year."
The board agreed.  
Huff also spoke with interim superintendent John Busher and with previous superintendent Jeanette Warwick about switching the school's facebook account as well as other topics he will be further updated on. 
Huff will attend his first Region six meeting and will sign the Students with Intensive Needs program which he stated is something CCPS has done for a long time and this is only a formality. 
He noted he would also attend another meeting on Sept. 20 as the state superintendent will be present to meet and hear their comments. 
He also reviewed the after-school detention policy and is still digesting its contents. 
He added he wishes to make sure the teachers have a consistency in enforcing this, so that students aren't confused in the school's policies and the teachers have better guidelines for their students behavioral disciplines. 
There was discussion on the duties for the teachers to work upcoming ballgames. Huff suggested some options that may be more favorable for them. 
Monthly meetings are held at the school auditorium on the second Tuesday of each month at 5:30 pm. 
The community is encouraged to attend the monthly meetings or to watch online to keep informed of the decisions and concerns of the Board for the students of Craig County.
Sports season is in full swing and the community members are asked to attend as many games as possible to "give our kids all the support we can."