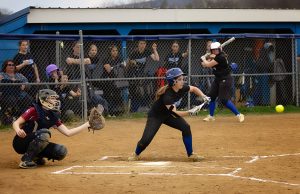 The Craig County softball team picked up their first win last week with a 9-5 victory over visiting Giles on April 5.
Sara Jones picked up the win on the mound for the Rockets, striking out 10 Spartans. Annabelle Gregory led the offense with three hits and two stolen bases and Jones helped her own cause with three hits. Kammie Fisher had a double and two runs batted in. 
Two days prior the Rockets hosted Eastern Mennonite and dropped a 3-0 decision. Jones had 10 strikeouts in this one as well but the Rockets struggled at the plate, as Lily Hutchison had Craig's only hit.
"We played much better defensively but struggled with hitting," said coach Elaina Wolfe-Carper.
The Rockets were scheduled to host Narrows on Tuesday but results were too late for publication.