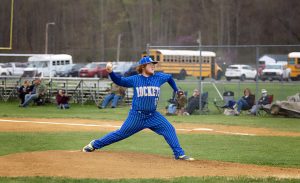 The Craig County baseball team played their first two home games last week and were competitive despite dropping both.
On Monday of last week the Rockets hosted Eastern Montgomery and dropped a heartbreaker, 4-3. The Rockets led 2-0 into the seventh inning before the Mustangs rallied for the win.
Craig took the lead in the second as Jaycob Wolfe came around to score, then made it 2-0 in the fifth as Hayden Reynolds walked, stole second and third and scored on a passed ball.
East Mont rallied in the top of the seventh with four runs, helped by a couple Rocket infield errors. Craig made it 4-3 in the bottom of the inning but left two on base as East Mont got the final two outs on strikeouts. Zach Peters pitched for the Rockets and was the tough-luck loser.
On Wednesday of last week Craig's offense came alive but Giles touched three Craig pitchers for 15 runs in a 15-9 Spartan win. Reynolds had two hits for the Rockets and Matthew Lucas, Joseph Charette and Wolfe scored two runs each for Craig.
The Rockets are hoping to get back in the win column this week with a home game against Narrows on Tuesday and a doubleheader in New Castle against Highland on Thursday, beginning at 4:30 pm.