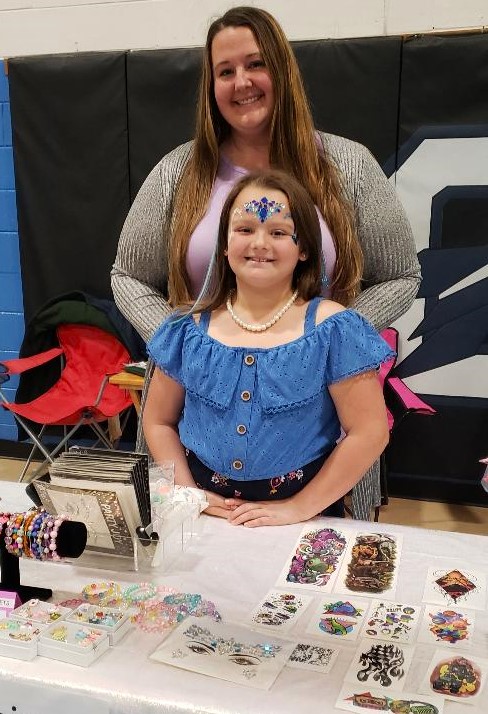 Pam Dudding
Contributing writer
The Craig County High School football team has really upped its game by being an active community group as well as working towards raising funds for its needs. The team isn't just sitting around waiting on donations, it's working diligently at making funds on its own. 
The team's valentine candy gram event was a hit at the school and for the community and the Spring Fling Fundraiser held on Saturday, April 1 was another event that the community truly enjoyed. 
As one entered the school, they were given a free ticket to place in one of twenty-some bags for a drawing for prizes which were donated by each vendor. 
There was also an opportunity to purchase more tickets to place in the drawings for a greater opportunity to win one of the nice items. 
Twenty-five vendors attended the event, giving shoppers a grand array of different options to purchase, from $2 bracelets and $1 rings to expensive brand name purses, pictures, jewelry and clothing. 
Kids could purchase tattoos and face glitter. 
Hot dogs and drinks were available to quench one's appetite while they enjoyed the shopping venture. 
"We appreciated everyone coming out to support our event!" Coach Jayke Dowdy shared. "We wanted to plan something fun for the community and the parent feedback about the kid activities made it all worth it. We had a community member tear up thanking us for all we have done/have planned for the community this year."
Some of the vendors included, Mary Kay, My Town Crochet, Scentsy, Urban Discount, Earth And Ocean Treasures, Simply Wackadoo, Missy's Gifts And Wooden Creations, LaShaun Douglas, Mary And Martha, Buzy B Crafts, Clara Huff, Grace-Ful Journey Boutique, Nona's Friendship Bread, Dandelion Acres, Dowdy Designs, Britt & Co, Shay N Jays, By The Dozen, Paparazzi, Feathered Darlin Boutique, Sunflower Sweet Shoppe, Thirty-one, Kevin Carpenter purses, Southern Roots Hair Salon, Jackie's Greenery, Colorstreet, Contemporary Concepts and more.
A unique craft called diamond painting, which Dana Woods presented, was also at the event. It is tiny little pieces of colored glass that one puts together to create beautiful pictures that glisten. 
Faye and Steve Powers had their handcrafted sea glass that is skillfully wrapped in wire that creates beautiful jewelry. 
There were options for nail care, t-shirts, designer cups, beautiful, handcrafted jewelry of all kinds, replicas of designer purses, wreaths that were gorgeous, southern styles and painted artwork.
Angie with My Town Crochet had very unique things she had crocheted, including baskets with crocheted bunnies on them, gnomes and little chickens. Her artwork was unique and drew a lot of people. 
Also, Katie Crowder's unique crocheting talent, of making animals and objects was a delight, along with kitchen towels. 
Chelsea Grippy and her daughter, Raylee, were selling fairy hair, extension and tinsel that could be put in hair, along with face glitter, fairy dust, bracelets with charms and tattoos for the younger ones. 
A new item to many were the cut out wax warmers that Tina Weeks and Missy Walker had. The intricate designs of the warmers created beautiful lights. 
Claudia Johnson had a vast array of earrings and other hand crafted southern-like items that drew many to her tables. 
Even Crowder and his wife, Morgan, had their own table with their hand-crafted jewelry. 
For the kids, they had set up a craft station in the cafeteria, as well as pin the tail on the Easter bunny and a photo op place to take your picture. 
"We would like to thank the students and players that gave up their Saturday to help bring some joy and shopping to their community and a big thank you to Jason Lane and Morgan Dowdy for planning it," Dowdy said. "Thank you to the coaches who went above and beyond to make the day a success, Brock Jones, Roland Donithan, Jamie Simpkins, Jayke Dowdy, and Jimmy Fisher and a special shout out to Coach and Mrs. Fisher for the delicious concessions that were provided."