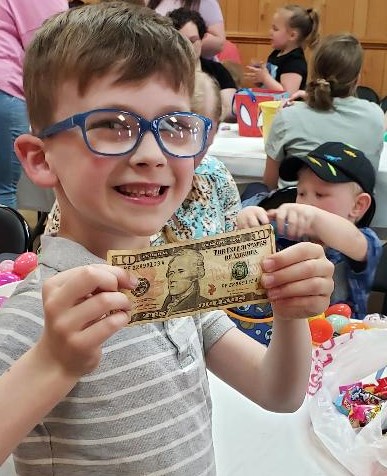 Pam Dudding
Contributing writer
As the special Easter season has approached, churches in the community are hosting their annual Easter egg hunts. 
The New Castle Christian Church brought out 1,300 eggs this year for the delight of many children, "And that is no April fool!" they shared as everyone laughed. 
Pastor Bill Frazier shared the story of Jesus Christ and how he was crucified on the cross and rose again after being buried for three days. 
Virginia Johnson organized the event, including, making the winning baskets for the kids, with age-appropriate toys, candy and every winner received a $10 Chick-fil-A card. 
They sectioned off the yard for the different ages and as everyone sat in the fellowship hall waiting for the "go," excitement filled the air. 
The kids were eyeing the prizes that were on the table as well as the long array of snacks which they would get to enjoy after the hunt was over. 
As each group was led outside, glee was seen not only on the children's faces but the parents' as well. It seems that this event always has a tendency to bring out the "kid" in everyone. 
When they heard the "go," children ran and started scooping up eggs as fast as they could. Some though chose their favorite colors of eggs to pick up. 
A few of the kids had to grab their parents for help, as their baskets were overflowing with eggs. One father offered his t-shirt, while another mother tried flipping hers up as well to hold the extras they were bringing her. 
Everyone gathered back into the fellowship hall, where they were told that the winners were the eggs with numbers on them.
So many happy faces were lit up. Even the parents enjoyed helping to open the eggs to see what would be inside. 
The winners were, Layla Reeder, Abby Craft and Addie Stamper. 
Also, there was candy and toys in many of the eggs, along with a few $5 and $10 bills. Squeals were heard when one was found. 
The evening ended with snacks and kids sharing their winnings as everyone had a basket of candy and toys. 
The true meaning of the holiday, being emphasized of the crucifixion and the resurrection of Jesus Christ, who wishes to fill the "baskets" of people's hearts with joy and peace.