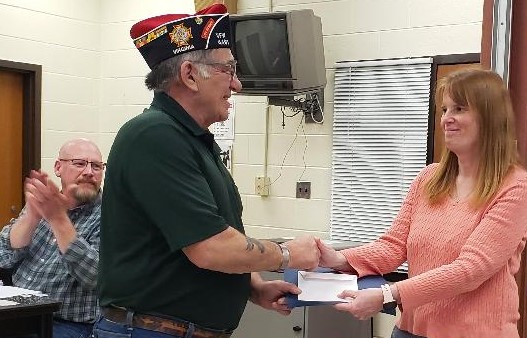 Pam Dudding
Contributing writer
Teachers are said to be the one person who spends as much time with a family's child as some parents are able to, creating a phenomenal impact on children's lives.  
At Craig County Public Schools, teachers like stand out Karen Jones. She not only teaches curriculum, but also encourages her students to care for community members as well. 
For several years now, Karen Jones has invited her students to make handmade cards for the local veterans of Craig County. 
Special notes that are handwritten in the cards have touched the hearts of many veterans, as several have posted their thanks and appreciation on Facebook. 
Also, at the Annual Veterans and Active Military HONOR dinners, the veterans and their spouses each received cards from Jones' students. 
Their reactions to the cards were heartwarming. Many shared that they received little to no appreciation after coming back from the war, (except in Craig County who was welcoming). Therefore, the cards were a sincere welcome.  
At the March Craig County School Board meeting, the Craig Valley VFW Post 4491, represented by Commander Billy Lee, presented Jones with an appreciation award. 
Superintendent Jeanette Warwick shared, "Every year, Ms. Jones leads an initiative to write letters to our Veterans. This year, Mr. Lee is here to recognize Karen Jones for this word that she does." 
"On behalf of the Craig Valley VFW Post 4491, it is my pleasure to give to you, for your support and love for the veterans of the county. This certificate and a token of our friendship," Lee said.
"Doing the cards is such a small thing in comparison with what these men and women have done for us. They should be honored and recognized every day for their sacrifice for our country," Jones shared. "It is important that we teach our children about these heroes and how important it is to recognized and honor them." 
She added, "I was so honored to receive the award, but also unworthy of being recognized by the Veterans when what I did was so little in comparison to the sacrifices that they have made. We should be the ones giving THEM awards."