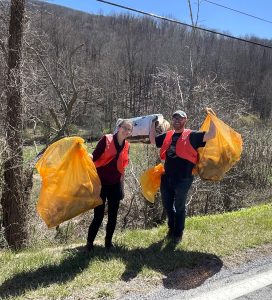 Pam Dudding
Contributing writer
Craig County is known for its scenic roadways. However, in the last few years there has been more trash thrown out onto the sides of the road than ever before. 
Some community members chose to gather and take care of one of their portions of the countryside. 
The group Smoke in Chimneys and the Craig County Public Library, Inc. (CCPL) organized the event. 
The idea started when Ty Walker mentioned how the trash bothered him driving into town one afternoon when he was at the library.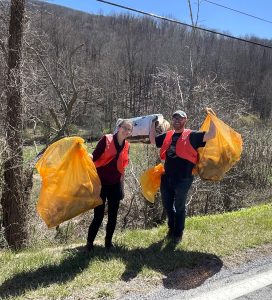 "God has given us, the citizens of Craig, stewardship of this land, and it's our job to uphold that to the best of our ability," shared Walker.
Jill Templeton, a CCPL board member, felt the same and they decided it would be a good idea to tackle the stretch together since it's a windy, difficult area for any one person to clean. 
Their goal was to clean up the roadway from the hatchery to the library on Saturday morning, March 25, starting at 10 a.m.
"We had planned to start that morning but bumped it to the afternoon when a downpour gave way to a beautiful spring day," Templeton said. 
Twelve volunteers donated their time to both gather the garbage and drive vehicles with supplies. 
"It was warm enough to come across a couple snakes sunning themselves in the road," Templeton shared. "We pulled plenty of cans, bottles, fast food packages, and bags off the ground and bushes. Some of the more interesting items included a mailbox, lottery tickets, a gas tank, and a day pass to the Greenbrier."
While they didn't quite make it all 3 miles, they were able to clean both sides from the hatchery to the overlook and one side almost to town. 
They explained that in some places, they would take a step and feel a layer of trash under the leaves. 
"We made some progress, but there is more out there," said Templeton. "It made my day when someone stopped to say thanks and to have such a good group of people pitching in."
After the day's event, lots of orange bags dotted the side of State Route 42. The Virginia Department of Transportation (VDOT) provided the signs, bags and vests. VDOT also picked up all the bags a few days later. 
Their goal is to finish the job and continue to clean Craig County. 
If people are interested in helping in the future, they can contact the library at 540-864-8978. 
Community members commented on Facebook. 
"Thank you to all who cleaned up route 42 mountain yesterday. I for one really appreciate all you did."

"Oh, my goodness that's awesome!"

"That's amazing! Great job!"

"You all did a great job. Thank you!"
"Everyone talked about how beautiful Meadow Creek is running along the road, a view you don't normally get to see," said Templeton. "Our goal was to make Craig County an even prettier place to be."