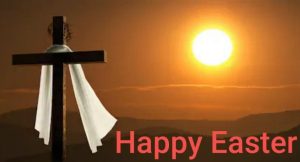 Pam Dudding
Contributing writer
There will be lots happening in the next couple of weekends, with Easter just around the corner. 
People love to enjoy the special holiday with Easter bunnies and Easter baskets and lots and lots of Easter eggs.
Many also honor the special time of year as their Savior Jesus Christ was beaten and crucified on a cross, and then arose on the third day, offering the invitation to live with Him forever if they choose to follow Him. 
To start the events, on April 6, everyone is invited to join Craig Valley Baptist and Grace Baptist Church for Maundy Thursday. The churches will be hosting a potluck dinner at 6 p.m. with a short worship service following. Maundy Thursday will be held at Grace Baptist Church. "Everyone is welcome to attend and enjoy some good food and fellowship with one another!" the church shared. Craig Valley and Grace Baptist will also be having Easter sunrise service together on April 9 at 7 a.m. at Grace Baptist Church. After the sunrise service, there will be breakfast for everyone. Following the breakfast, Grace Baptist will have its normal 10 a.m. worship service and Craig Valley will be having its normal 11 a.m. worship service. 
New Castle Christian Church will have its annual Easter egg hunt on Saturday, April 1 at 3 p.m. It is open to ages 1 year to fifth grade. Lots of eggs will be hidden for each age group and there will be prizes. Pastor Bill Frazier will be conducting the community sunrise service at 7 a.m. at Huffman Cemetery at Chestnut Grove Church on Rt. 42. 
Lighthouse Baptist Church is having its Easter egg hunt on Saturday, March 31 at Fenwick Mines again this year. The Easter egg hunt event will begin at 5:30 p.m. and after there will be free hot dogs served to all under the pavilion. Pastor Lee Looney shared, "Join us on Easter Sunday at an early 9 a.m. service. We will have a small breakfast afterward at 10 a.m., Sunday School and we will also have an 11am service where we will be doing our Easter program." 
Level Green Church will have an Easter egg hunt at 2 p.m., after its spring fellowship meal. 
The New Castle United Methodist Church will be hosting its annual Holy Week services. This year there will be special services on Thursday, with Tim Vernon as the speaker and Pastor San Kang will speak on Friday, as well as its Sunday service.
Walton Church will have sunrise service at 7 a.m. and at 10 a.m. an Easter celebration. The church shared, "We would be so honored if you would join us as we celebrate the Lord's Resurrection."  The Easter egg hunt will be held on Saturday, April 8 from 11 a.m. until 2 p.m. 
On Saturday, April 8, Studio Reflections will be hosting a special Hop & Shop, with vendors and the Easter bunny will also be there, with Liv Alive Photography taking pictures. Also, Tracy Wilson will have an Easter egg hunt in town, from 11 a.m. until 6 p.m.