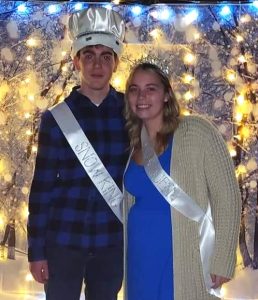 Pam Dudding
Contributing writer
Some people think that kids today have no respect, are self-centered or even don't care about people, and for some, this may be true, however, this does not seem so in Craig County. 
This Christmas season, Jobs for Virginia Graduates, JVG, students took on a big project. 
Sadly, the Department of Social Services was unable to conduct their annual Angle Tree to collect gifts for needy families.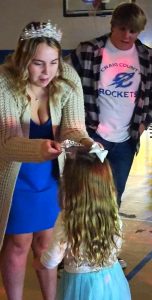 "When we learned that DSS was not going to do an angel tree this year, we knew that we wanted to come up with a way that we could help kids in our schools whose families who might be struggling a little bit financially this Christmas," shared Kim Wolfe. "And then we thought that maybe a fun way to raise money would be to bring back what some of us old school folks know, as the Snow Queen dance."
The Snow Queen Court was selected by vote. The senior class voted for three girls and three guys and then the underclassmen were selected by a panel based on a few criteria. 
"They took matters into their own hands, and many joined together as the Snow Court, Coach Morgan Dowdy – Senior Sponsor and Jobs for Virginia Graduates teacher, Morgan Dowdy, and CCHS Office Staff to coordinate the Winter Wonderland Dance and bring back Snow Court," Morgan Dowdy, school counselor, shared. 
The students who were nominated were challenged to collect change to raise money to fund their newly organized "Craig County Public Schools Christmas Store," which would provide gifts and clothes for the families in need. 
"The court then decorated jars and placed them at local businesses where they could receive monetary donations and one penny equaled one vote," Wolfe added. "The guy and girl with the most votes would be crowned as King and Queen."
The students raised almost $2,400 and the JVG students went on a field trip Wednesday, Dec. 7, to shop for the students in need. 
Some of the students shared their comments. 
Colton Mabes said, "I thought the shopping trip was well organized and fun. It was different from other field trips – I came home feeling like I did something good."
Annabelle Gregory commented, "I really enjoyed it because I got to do something good for the community."
Lexxy Brookman added, "It felt really good to do something for kids in need." 
"Also, we send a thank you to Farmers and Merchants Bank for counting all of the change for us as it was a lot! And thank you to the businesses who allowed the kids to set jars out on your counters," Wolfe said. "They say it takes a village to raise a child, thank you for being a part of our village as no donation was too small for any of these kids. They have the biggest hearts, and we are extremely proud of all of them. They are all winners in our eyes."
Students from Coach Dowdy's JVG class planned and decorated for the dance, along with several other students and Craig County High School office staff including, Mrs. Dowdy, Mrs. Hutton, Mrs. Wolfe, Mrs. Holtman, Mrs. Blevins and Mrs. Stimeling. 
For raising the most money, the 2022 Snow Queen was Karly Potter, who raised $411.20, and the 2022 Snow King was Jaycob Wolfe, who raised $350.54. 
"The other girls on the court were crowned as Snow Princesses for their involvement in this philanthropic project," Dowdy shared. 
Four-year-old Adelyn Dowdy, daughter of Jayke Dowdy, JVG teacher, and Morgan Dowdy, counselor at Craig County Middle School/Craig County High School, happily crowned the king, queen and princesses. 
"We wish to send a big thank you to Coach Dowdy and his JVG students (especially Annabelle Gregory and Austin Hickson who went above and beyond to help) and CCHS office staff for planning, organizing, decorating, and executing the dance!" Dowdy said. "Thank you to the students on our Snow Court for all their hard work raising the money."
"Additionally, I would like to thank the Craig County community for their generosity with donations," Dowdy shared. "This was a wonderful example of how the school system and community can work together to achieve a goal!" 
She added, "I think it was a wonderful night of wholesome, holiday fun! We had around 100 middle and high school students attend. I see this event as a great success all around and can't wait to make it an annual affair!