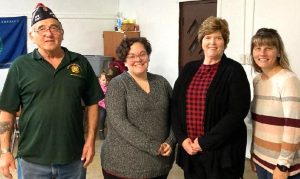 Pam Dudding
Contributing writer
To be successful at anything, one needs drive, dedication and a caring heart towards their goal. 
The teachers at Craig County Public Schools seem to exemplify this and the Craig Valley VFW Post 4491 wishes to thank teachers who were nominated for the Teacher of the Year Award for 2022. 
Those who were nominated included McCleary Elementary School – Michelle Frazier, Craig County Middle School – Alyssa Shulke and Craig County High School – Amanda Lucas.
"We continue to have some of the best of the best!" one member shared. "They go above and beyond their call of duty to serve our students needs." 
"It is my honor to nominate a teacher who is the epitome of a patriotic American teacher who loves God, family, and country," the person who nominated Frazier shared. "She has offered her life as a teacher, helping the youth of today to learn to read. It is people like her that make this country so great. Men and women who love this country, who sacrifice themselves for it, not only in protecting and defending it, but also those who are educating it."
"Mrs. Frazier may not have served in our Armed Services, but she is just as committed as those who do. She loves her work and gives so much of her time, talent, and treasure educating those in her classroom. She is always giving back to her community. She can be seen at many of the community events serving as all good citizens do," he continued. "She can be seen at church leading the Pledge of Allegiance during vacation Bible school. She can be seen supporting and loving the children of her school by cheering them on at their recreation ball games in cheerleading events. She is very supportive of the VFW and all their activities. She is a fine Christian, American, patriot, educator, who is molding future American patriots."
"It is my pleasure to recommend Alyssa Shulke, the music teacher for the VFW middle school teacher of the year for 2022," the person who nominated Shulke shared. "Alyssa is a music teacher for the whole Craig County School system. She is very talented in vocal and instrumental areas of the curriculum. She participates in many community activities by seeing the national anthem and other patriotic songs at these events. Alyssa is very personable and hardworking. She relates very well to students, staff, and community stakeholders. Alyssa would be a very good professional to receive this award."
"I was very honored to be nominated and selected as a teacher of the year," Schulke shared. "I enjoy teaching music because it's something that everyone can do and enjoy. I am especially lucky because I teach all grade levels and get to watch my students grow from elementary all the way through high school." 
"It is my pleasure to recommend for your consideration Amanda Lucas who is the math teacher at Craig County High school," the person who nominated Lucas stated. "She is knowledgeable and professional teacher who has taught multiple math courses in her career. She relates well to the students and is involved in all aspects of school environment. She is a personable, focused, and successful teacher whose students have been successful passing the state test. Amanda's classes participate in each morning's Pledge of Allegiance to the United States flag. She will be a very good representative for this award."
Lucas shared, "Thank you to our VFW! I am honored to receive this award. I truly love teaching math, my students, and this community." 
The Craig VFW Post 4491 held an honorary meeting and presented each teacher with a $50 gift card for their continued service to the community and for caring for local students.
"Our teachers are the heartbeat of our students," one person shared. "Their impact goes way beyond one classroom of teaching, and we greatly appreciate those who take their job seriously."