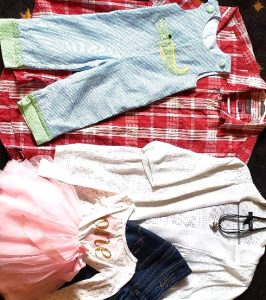 Pam Dudding
Contributing writer 
Many people have been wanting a clothes closet in Craig County. The Cornerstone Church – New Castle heard those requests and has responded. 
They have taken the brick home beside of the church and filled it with clothing for all ages, shoes, jewelry and niceties to sell for a small amount. 
Each item is only $3, with a few exceptions of new items with tags on them. 
"These funds are then donated to the Youth Department for equipment that will be used at the school for the new Adventure for teens, which starts on Sundays," Rosemary Duncan shared. 
They are open every Monday and Saturday, from 10 a.m. until 2 p.m. 
If anyone would like to donate items to support the cause, they may contact Duncan on Facebook. 
They accept most all clothing of all ages, and all seasons. 
One lady shared that she found a lined jean jacket for her nephew and a pair of camouflage thinsolated boots for her husband. "They were both very happy with the super nice clothes and I loved the great deals!" she said. "I would have paid almost $100 for the boots at a store and probably $25 for the jacket."
Their goal is to serve the community in two ways – help people by providing clothes at a discounted price while supporting a new teen program at the school. 
People often post questions on Facebook, asking where they can donate their clothes locally. Now they have a place to do so. 
"We are greatly appreciative of all the people who have donated so far to help us get started," Duncan said. "We already have almost three rooms filled with selections for families to shop in."