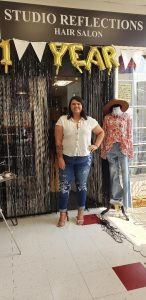 Pam Dudding
Contributing writer
There is a saying, "Beauty is only skin deep." Most people know what that means, however when someone has their hair highlighted, or gets a new haircut, it not only makes them look great, but their perception within themselves also has a tendency to grow inside as well. 
Tracy Wilson, the owner of Studio Reflections shared, "My most favorite thing about hair is watching the colors come to life and changing the client's perspective on how they view themselves! Basically, making them feel beautiful when they look in the mirror!"
On Saturday, Sept. 17, Wilson celebrated the one-year anniversary since the opening of her salon, Studio Reflections, by having a birthday bash.
She decorated it elaborately, had a smorgasbord of food and snacks and a "thank you" bag to give to customers which contained candies, a hair barrette or scrunchie, a facial gift and a freebie such as a free brow wax. 
She also invited a few small businesses to sell their wares during the event. 
Jasmine Brown with her business, Cowgirlaholic, had unique jewelry, cups, wristlets, nail covers and tote bags to name a few. Lindsay Hall was there with her business, Thrifty Mama. She buys clothes and resells them at a discounted price, meaning she has items that can't be found in regular stores. Brittany LaTempa with South of the Mason Dixon was selling t-shirts for the season and flannel shirts with creative sayings on them.  
Teanna Sowers was there with her two businesses, Mary Kay and The Flowergirl Boutique, which is located in Fairlawn, both having items that ladies found difficult to pass up. 
"I love the Mary Kay products and how they can change your skin!" Sowers shared. She recently became a director. "My goal is to lead my people to be successful and to feel beautiful in their own skin. The Flowergirl tribe focuses on making everyone feel beautiful no matter their size, including sizes from small to 3XL, selling other items such as shoes and jewelry." 
Sowers added, "Tracy and I have been friends since high school and when she invited me to represent both of my small businesses, I was all for it! I wanted to help celebrate her business and all of her success!"  
To add to the fun of the day for kids, Olivia Slusher brought Elsa from "Frozen" (Taylor Cramer) and Spider-Man (Brandon Slusher) to take pictures with. However, even a few adults took their pictures so they could send them to their kids or grandkids. She also had free face painting and a raffle basket with a $75 gift certificate, which Kim Wolfe won. 
"It was an honor to celebrate Tracy and Studio Reflections 'first' birthday!" shared Slusher. "I am so proud of Tracy for her dedication and the love she has for those she serves."
Recently, Wilson shared a little about herself on Facebook to let others who hadn't met her or been to her business yet know about her services.  
"My name is Tracy! I am 21 years old, and I have two younger siblings who are like children to me. I have recently gotten married to my husband in May whom you may know as Beefhead or Tracy's man (aka: Dakota). I'm also a dog mama to a sweet chocolate lab named Bailey. I enjoy being outside and spending time with my family and interacting. Also, I'm a coffee/Starbucks and any cow/cow-print fanatic!" she said. 
"Studio Reflections was introduced to Craig County a year ago. The business started in September 2021 when Covid was finally starting to be normal," Wilson added. "I came up with the name when I realized you are what you put out into this world and that's a reflection."
Studio Reflections is located inside the door of Food Country. 
Wilson enjoys her business of doing hair which includes, women's, men's and children's cuts, color, highlights, Balayage/custom, colors, shampoo and style, special occasion style, updos, brow wax, brow tint, bridal hair, Brazilian blowout and Halo extension services. 
Business hours are Tuesdays 9 a.m.–5 p.m., Wednesdays through Fridays 2 p.m.–8 p.m. and Saturdays are by appointments. Appointments can be made by calling (540) 580-8396. She is closed Sundays and Mondays. 
After a full day of celebration, Wilson was a happy business owner. 
She not only shared her happiness with the community but allowed other young business owners to be a part and grow their business as well. 
Craig County has a number of young entrepreneurs and hopes are that they can continue their successful businesses in our county, with more and more doors opening for each of them. 
"My hopes are to GROW my business and establish a happy clientele within our hometown," Wilson shared. "Thank you for all your love and continued support! And I'm taking NEW clients!"