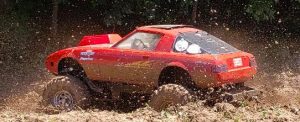 By Pam Dudding
As kids, we all enjoyed running barefoot in the mud. Well, adults enjoy it too, just a little differently. 
This year, Corie Trivett and friends had a Craig County Mud Run at the Country Campground, and it was truly muddy! Cars from regular SUVs to jacked-up vehicles, dune buggies and specially designed 4x4s tested their skills. 
The track was thoroughly watered down by the Upper Craig Creek Volunteer Fire Department. In fact, so well that some splattered mud flew well into the spectators' sitting area of about 30 feet (They thought they were in the safe zone, but not in Craig!).
Metal Carnage TV was on site to video the event and sadly got pelted quite a few times before the event was over.  Mike's Dog House and Mark Surface served people food as fast as they could. 
Tim Leftwich was the emcee, announcing the times as well as playing some great bluegrass and country music in between class runs. 
The track was secured, the clock was set and Trivette and his crew closed the gates for safety. Over 600 spectators were there to watch the event including many who had camped there for the weekend.  
People were lined up all the way along the track and another set of spectators, on a hill above the track. Excitement was in the air. The mud was deep, especially at the end of the track, but the 51 registered drivers showed their "stuff" in going through it (no drivers names were announced).
The Metal Carnage vehicle started the Mud Run, doing a little fishtailing in the deep mud at the end but made a good run and continued throughout the day. Many drivers did a bit of fishtailing down the track but maneuvered to the end. It was so much fun to watch!
Rusty Off Road made a good runs with mud flying!
One driver revved his motor high as he pushed hard to the end. He received lots of hand claps as he stuck his hand out the window and waved. 
The black truck with the white door, #11, had to slow down as there was no windshield and the mud was pelting the driver pretty hard inside the vehicle, but that didn't stop him as he continued to run. I got a few mud pelts myself, one in the face. A nice lady offered me a wipey! 
Many other spectators wore a lot of mud home as souvenirs. 
A few vehicles spun mud over 30 feet high and way into the spectator's area, covering them in wet mud. One lady said, "It looks like a cow let loose on us!" as several laughed.  
The Rebel Flag truck slung mud on everyone near the end of the track where Metal Carnage was recording. Their cameras had to be wiped off often. One vehicle driver tried to clean their windshield with their wipers to little avail. 
Another female driver, on her first run, started going sideways but fishtailed her way out to the end with great driving skills!
Some spectators called the light blue truck "Pretty Girl Blue". The pawpaw yelled out as it was passing them, "Let 'er rip tater chip!"  Another lady yelled, "Go, baby go…go…go!" at the top of her lungs. It did!
Corie and his staff had to stop the runs a few times to clean off the eye of the clock timer as it got covered in mud. 
The blue truck with its "Let's Go Brandon" flag revved really high, hit the pedal and didn't let off til the end. Then Stomper, a green vehicle spun and gave everyone a good shower of mud as he didn't let up!
The kids yelled out gleefully as they watched the red car pull up and run, designed from the Disney movie Cars. It looked like a Mazda RX-3 sitting on a Ford chassis. The car went sideways but got straightened out quickly on the first run; the rest of the day, it did great. Its license plate read, "I survived Radiator Springs." Its later run was under four as he got used to the track. 
The orange bronco revved high and didn't let up, with mud slinging all the way down.  
A gray truck hit the pedal and didn't stop, going up on the side but coming off fast. 
The black half bronco went straight all the way with a great run, barely over four seconds on early run and under four later. 
The #219 black truck pulled its front end off the ground, having a great time a little over four seconds. A guy yelled out, "When you pull a 4×4 in the mud off the ground, you got something!" 
A 1400-horsepower vehicle hit the track and never let up at all on the way down. The crowd went wild–"That's that Chevrolet power for you!" a Chevy spectator said with a grin. He ran a little over three seconds. 
As everyone waited, listening to a truck revving its engine. One guy stated, "That's him revving up to get the nitrogen level right. 
One spectator hollered out, before he ran, "I bet he'll be in the low 3s!" The truck drove up to the line "Dog Gone Crazy" with a dog house in the rear. The sound made you know it was going to be fast and he hit the pedal, shooting down the track and yes… the spectator predicted right in the time. Real low and didn't disappoint the entire event. 
During the event, only a couple vehicles went sideways into the bank, but everyone was able to get out without any assistance. 
A younger boy built him a truck (green) pretty much from scratch. "I traded some stuff for it," he shared, as he then showed what a teenager could do on the track. 
The dune buggies had good runs and were fun to watch. Some did a little fishtailing, but great runs. One looked like it had two radiators; it was ready for anything!
In between runs, the crowd was entertained by UCCVFD member "Toad" and kids who danced to the funky chicken. Some spectators even stood and joined in. Laughter was abounding at the fun.
The winners of each class were: 
4/6 cylinder: 1st – Jackson Songer, 2nd – Matt Depriest and 3rd – Brendon Dent

Street: 1st – Chris Kerns, 2nd – Bucky Hypes and 3rd – Gary Kinder

Mod: 1st – Justin Ratliff, 2nd – Nathan Atkins and 3rd – Seth Grimmett

Hot: 1st – Nathan Atkins, 2nd – Justin Ratliff and 3rd – Seth Grimmett

Open: 1st – Bucky Hypes, 2nd – JD Campbell 

SxS: Adam Loomis
Trivette shared, "Each class was 100% payout, and we had an anonymous sponsor for the 1st place driver in Open, Hot, and Mod."
"It was a super nice place with a great family atmosphere!" Bucky Hypes shared. It was an awesome track, and everyone is talking about it and making plans to attend the next one. Great seeing a venue here in New Castle for families to look forward to and putting money back into the county. Hopefully it is a turnaround for our lil' town. The younger generation desperately needs some action besides a telephone." 
He added, "Several others have already reached out to some sponsorship deals with the events to come. I believe it is here to stay!" 
The next Mud Run is already scheduled for August 27. Info on the next Mud Run and how to pre-register or for information will be on their Mud Run facebook page. 
The CCHS football team sponsored a 50/50 raffle and were thankful that they raised close to $500. 
It seemed everyone enjoyed the Mud Run, even all the spectators that got pelted several times. Trivette said that he was so very grateful to everyone who attended and helped. 
"Where do I start? First of all, I want to thank everyone who was a part of getting the first New Castle Mud Run together." Trivette shared. "I would have never been able to do it without all of y'all! Next, I want to thank everyone who took the time to bring the family out to have fun!!!!"
He added, "The trucks were awesome and put on a great show! I can't thank them enough. There were a few learning curves that are going to get straightened out for next time, but I promise it will be bigger and better than ever. We are getting the next event page together so all of y'all can mark your calendars!"
He encourages anyone who missed the event or would like to watch it again, to check out the Facebook and YouTube pages of Metal Carnage, who took pictures and videoed. "They are great people doing amazing things for all of us!" he exclaimed. 
He also shared that there will be "BIG NEWS" coming for the next event on August 27 as well as several big surprises for all the spectators and drivers that will be here.