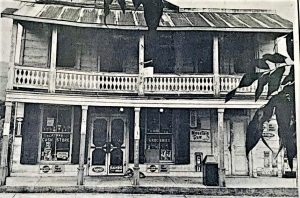 By Pam Dudding, Contributing Writer 
Days of "yesteryear" hold precious memories to many of us. They fill our minds and hearts with times of happy, slower paced and more intimate family time. 
On October 9, the Craig County Historical Society received the long-awaited keys to a building at the end of Main Street. 
"The sale came up all of a sudden and it's been my dream for years for us to own it," Gerlene Sizer said. 
Originally the old Wagner Store, it was later purchased by Clifton Elmore, and he called it Clifton's Cash Store. 
The current owner, B.J. Oliver, had inherited it from his dad, Jack Oliver. Jack had originally purchased it around 1994 to have a storage area for salvaged cars. However, was unable to use it for that purpose. 
The Oliver family shared though, that, "We are so happy to see the Historical Society get it and have the ability to salvage and restore a piece of Craig County history."
The Society chose, in agreement with the Oliver family, to place a memorial plaque on it, in memory of their daughter, Bridgett Oliver, who lost her life in a car wreck a few years ago. 
"This commemorative is so special to us," said the family. "We feel it is a way for her dedication and memory to live on. We are very honored and thrilled they agreed to hang the plaque." 
The Historical Society is now underway in raising funds for the upcoming massive renovations. 
"When we open, the front part of the building will be like an old store, similar to the old TV programs, with history, to nostalgia," Sizer explained. "Also, we will be preserving some things that we already have as well as selling other items." 
Other parts of the building will be used for their work areas, as they produce the "In and Around Craig County" books. 
There are still many ideas "up in the air" Sizer shared, as it was a quick decision to purchase. 
Also, the Society felt like it would benefit the county to preserve it, as it is a part of history. 
"My grandfather had worked there," Sizer added. "I went in the store when I was little. I remember Mr. Elmore, as he had such an infectious laugh. There were always customers in there and lots of laughter. I even remember his little stubby cigar."
So far, the original Clifton's cash register has already been donated to the Society. 
They we will be having several fundraisers, including more dinners. 
Also, they designed match books to sell to help with the fundraising. 
For anyone wishing to donate, you may send it to Craig County Historical Society at PO Box 206, New Castle, Virginia 24127. For more information, contact Gerlene Sizer at (540) 864-5866. 
The Olivers' shared, "We are anxious to see what wonderful renovations the Historical Society has for this building."