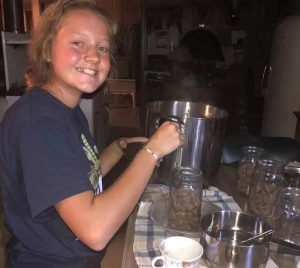 By Pam Dudding, Contributing Writer
For some children, video games and TV are their only past times. For many kids in Craig, however, their parents, families and friends share the love of nature and being able to live off the land.
Several kids in Craig start hunting at the ripe age of three. By the time they are five, many have already perfected the art of making a perfect "one-shot" and have gotten their first deer. 
Facebook has recently been bombarded with pictures of kids at this year's deer hunting youth day. 
For Cameron Hanes, he began hunting at age three. This year, his dad, Jason, had five loads of lumber to haul and was unsure if he would make it back in time to take him hunting. 
Family friend Samuel Catterton offered to take Cameron to hunt, his mom, Laura said. 
This is how Catterton described the hunt. 
"After a beautiful sunrise this morning and cool temperatures with a subtle cool breeze blowing towards the east, another youth that was hunting with me had to leave so then the challenge began to find a new one. With all the possibilities the wife and I could think of, it dawned on us that our little buddy Cam would probably like to go," he said. "Cam and our adventure started out great. We went and got set up in the corner of a cornfield knowing the deer work their way down towards it in the evening, but often slow down and eat under the apple trees growing up the spring branch. The sun just started creeping down over the mountain and Cam's attention grew keen as he knew it was prime time. He has a passion and love for the outdoors that is being instilled in him through his amazing parents."
Catterton continued, "Cam and I caught a glimpse out of something out of the corner of our eyes and there they were. Half a dozen deer slipping down the ridge up under this plum loaded apple tree. Cam saddled up to the rifle and took a few breathes on some techniques we were practicing with earlier. He was then able to hold a steady and true aim and absolutely made an amazing shot for his second deer, nonetheless at 125 yards! With a little luck, a whole lot of faith and our lord and savior being able to bless us with this tradition and lifestyle, the trigger pull led to filling a freezer and providing for his family. Congratulations Cam, and I hope to continue watching you thrive in the great outdoors." 
"My favorite part of hunting is the thrill when I see all the deer. It makes me happy and excited and when I shoot that gun and it makes everyone excited too," Cam said. 
Kallie Fisher, 13, starting hunting around the age of five. Today, she looks forward to the season every year. She recently shared that she enjoys her hunting time with her dad. 
Hunter Ponton is a young 10 years old, but is no stranger to the woods and hunting. For anyone who knows Hunter, he started hunting with his dad, Bob, at age three. 
His father shared that he started hunting with him when "he was just a little fella. I would take him along and he would go play truck," Hunter says that he looks forward to the rest of hunting season, and most importantly, spending time with family and friends. 
Emmie Radford waited until her last youth day to kill her biggest buck. "She made a 140-yard shot, with her 243, and it didn't go 20," her dad Barry shared before adding, "I have had so much fun and so many memories taking these girls in the woods over the years. Emmie has been hunting since she was eight. She has killed numerous deer, but this was her biggest buck and she killed it on her last youth day as she will turn 16 in January."  
Emmie shared that she truly loves to deer and turkey hunt and has been doing so for years. "She is very dedicated and serious about her hunting and will stay in the woods from daylight to dark if I will stay with her," her dad added. 
Landon Wilson is only six but has been hunting since he was four with his dad and sister. "This was his first deer ever and he was so excited," his dad Matt said. "I like to hunt because I love deer meat, especially when Pawpaw Reynolds cooks it," Landon said. 
"Jake nailed one on the first morning of bow," his mother, April said. "This kid was walking on air when he got back." 
Jake, 16, has been hunting with his dad since the age of three. When he was five, he shot his first deer and has "been hooked ever since."  
Jake went out the first day of bow to his stand and his buck came in only 45 minutes after daylight. He made one deadly shot. "I like getting out in the woods, waiting for the deer and the adrenaline rush when I gets one," he added.
Addy Sarver went out in the early evening but "didn't see a whole lot, so left the stand early to come home and hunt there." Family said that her prayers were answered when the eight-pointer came in. She made a perfect shot, and the rest is history! "Addy-girl tried hard for youth day, and it paid off this evening. She's been waiting a long time for this one," her mother shared. 
Addy started hunting with her dad and Jake at age six. "I like to hunt because it's one on one time with my dad and it is a thrill waiting to see what's going to come in," she said. 
Addy canned the deer she shot on Youth Day. "I like to can because I think it is neat the way people use to preserve their food. It's fun to preserve the meat that I have gotten myself," she explained. Her family added that she also knows that it is something that will be useful to her later on. 
"She was awake this time," wrote Sam Old to a picture on Facebook of Madison, (teasing her as her dad took a pic of her napping before), "I love it! God blessed her with a great dad and a beautiful buck! Ole Marvin's grinning from ear to ear," said Madison who added, "I have been hunting for five years and am now 13. I like to be outdoors, and I also like to spend time with my dad (Mac) who is usually the one that takes me hunting."  
Six-year-old Makenna was so excited, shared her dad Dustin, when she got her first deer as he took her hunting for the very first time. 
"I'm so proud of this girl. She was so excited to go deer hunting for the first time and she got to kill a buck on top of that," Dustin said. "She done so good watching for deer. After she shot, she asked if she got it and I told her she did, but she wanted to know where it went. Kenna said that the gun was loud and that it was fun." 
Brody is only six and has been going hunting for a few years. He and his mom, Melissa Medley, went this time. "He is my little hunting buddy because his dad usually takes his older brother," she said. 
"We saw the deer in the field coming out of the woods about 300 yards away. So, we stalked the deer until I thought we were close enough for him to make a decent shot. He had to crawl beside me and once we were close enough, I set the bipods up and he shot," Melissa noted. "I couldn't tell if he hit the deer and we couldn't find blood. We were just walking around the field and saw it laying at the edge of the woods. He was ecstatic that he got a deer." 
Brody shared, "I love hunting because I like killing stuff to get food and I get to spend time with my family."
Melissa added, "Hunting and fishing is our way of life."
And, for many families in Craig, that is true, as freezers continue to be filled to the rim and canning accelerates in the kitchen, for the upcoming winter season, reassuring the loved ones that they will have plenty of good healthy food to eat for the winter.