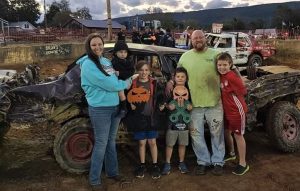 By Pam Dudding, Contributing Writer
There are no "conservative" hits when it comes to the demolition derby in Craig County. Almost all hits are intentional and done with a plan by the drivers. 
However, with the same fervor and determination that most drivers have in winning, they also help one another to fix their competitor's cars for the crushing event. The comradery in Craig County is exceptional. 
Despite having to be postponed from last week's rainy day, the Annual Fall Festival Demolition Derby at the Craig County Fairgrounds still held the faithful followers. 
The day began with the kid's Power Wheels class and the little tikes enjoyed driving in the muddy areas more than they did hitting one another. 
Then, the exciting youth Lawn Mower class came as Carter and his sister Holly, along with Lily McDowell, rammed it out. Carter received the Mad Dog award. 
The kids are learning "derby" techniques at a very early age, both determined, and crushing hits as well as being respectful to the others and enjoying the fun sport. 
Sammy Huffman, emcee of the derby, shared, "The Derby got off to a wet, windy and cool start. There were 25 compacts and 17 full-size cars who entered to compete in the two divisions." 
"It was a day of coats and coffee as it was overcast, windy and cold," added Huffman as he sat in the tower, getting a full fell of the chilly breeze. 
The compact cars continued to give the crowd an awesome performance, hitting as hard as they could and making sure that the word "demolition" was vivid in their heats. 
Out of the 25 drivers in the four heats, the top three winners in each heat were: 
Heat 1 – Sam Dillon, Troy Foutz and Zachary Peters.
Heat 2 – Ethan Brown, Caper Wolfe and Courtney Price.
Heat 3 – Chad Ryan, Lagan Armstrong and Jessie Foutz. 
Heat 4 – Grant Oliver, Chad McDowell and Dylan Armstrong. 
The final heat brought some in the crowd to their feet with excitement as vehicles were pushed into metal-like accordions and engines lit up like dragons at times. 
The compact winners were: first place – Dylan Armstrong, and his brother Logan Armstrong who earned second place. They traveled all the way from Bath County to enjoy the derby. Third place went to Chad Ryan. 
Though he didn't place, as he got stuck in the mud hole, Ethan Brown showed his tenacity in hitting and took the great Mad Dog award. 
Tomika Peters was proud of her son, Zach, 16, who participated in his first derby. She shared, "So, my boy finally talked me into letting him run! This was his first of many, I'm sure. Thanks to Grant and everyone who helped him get ready. I'm glad he went out and had fun. He made it through his heat into the final. He may not have won, but he is a winner to me. Congratulations to everyone who won. I foresee my son following in the footsteps of his uncles, Donnie Wayne, Daniel and Corrie. I'd say his dads but if he wasn't up on the wall, he was catching fire (lol) so many memories. Good job tonight son, I love you!"
Many kudos went to Zach on Facebook, including, "Good job Pudge," "Woohoo! Go Zach!" and "You definitely did a good job tonight!" 
Huffman noted, "Then the fan favorites, the big car class ran their qualifying heats." 
There were two big car heats. Heat 1 featured PJ Welch, Joey Minter. Mike Rogan and Braden Morrison, while Heat 2 featured Daniel Givens, Justin Dudding, Donnie Wayne Fisher and Jeff Crosby.
The big car feature winners were first – PJ Welch, second – Justin Dudding and third Donnie Wayne Fisher. 
Responding to some Facebook derby pictures, Lillie Fisher said, "Old 54 is like Timex…it takes a beating and keeps on ticking!!!" 
"Had a great time in New Castle this weekend and one heck of a year all together," said Donnie Wayne. "I can't complain thanks to my wife Lori Fisher for putting up with me doing this and Corie Trivette for the help when needed because I am always the last minute getting a car ready to run a big. Thanks also to Dustin Price for all the great videos that he does and for this nice trophy. I can't wait until the Blue Ridge Bash! February 19 will be here soon. Thanks to all the other drivers and great people that do this sport."
"I may get aggravated at times, but I enjoy watching you do something that you enjoy! You always put on a good show and are the best derby driver I have seen in the 12 years I've been doing this with you!" Lori responded. "I always support you and you have the best sportsmanship with every other driver in that ring! Your heart is so big in everything you do with these derbies! I'll always be your biggest fan! I love you. Ohio, here we come I guessss!" 
She added, "My big champion then my little champion," regarding the news from Metal Carnage TV. "Well with our points series ending last night in New Castle derby, I'd like to introduce our first ever Metal Carnage TV 2021 champions. Donnie 'Trouble-Maker' Fisher in the full-size and the Mad Dog himself Chad McDowell in Lucky 13 in compacts. Thanks to everyone for supporting us drivers always putting on a show. Hopefully in 2022, we can add more derbies to the list to open the championship to more people. Congratulations champions, one heck of a year."
Sammy Huffman said, "Yeah Buddy! You've come a long-long ways since that little fart hat would aggravate the 'dickens' outta me and Scott working on our derby cars, to the little fart that left the wagon in neutral to keep me stuck to the Cheese that I know now. Wish I could still run with ya, but I can say some of the best times I've had have been working on and destroying cars with ya old buddy!" 
Bub Ponton responded to Donnie Wayne, "Congratulations, buddy on a great year! I have always enjoyed watching ya run! You have always been very passionate about it and always helped everyone else also. I am thankful for your friendship buddy. You're like a brother to me. Thanks for always letting me tag along for all the years and raising me during the summers!! Love ya buddy. Well-deserved champion!"
Brad Holt added, "Well deserved championship! I appreciate all the help and bruises I've gotten from you. Haha! Always a good time!" 
"Second place and Mad Dog feels pretty good," Justin Dudding shared before adding, "Congrats to Paul Welch Jr. on first and Donnie Fisher on third! Thanks to all the other drivers for coming out, sure was fun beatin' on some good buddies. And as always, a big thanks to the Old Man and Derek Dudding for keeping this heap together." 
Emily Anderson (Justin's "main squeeze") responded, "Yeah, I fuss when it's derby season, that's a given. But when it's derby day, it's totally worth it to see you so happy. When I hear the boys cheering you on and Leland fussing because he isn't out there with you makes my heart happy. The kids get excited when you place, but I just want to see you tear 'stuff' up and have the time of your life!"
"This derby had a lot of first-time drivers in it who I am sure will be back to compete in the near future," Huffman shared. "We look forward to our next one in the spring."