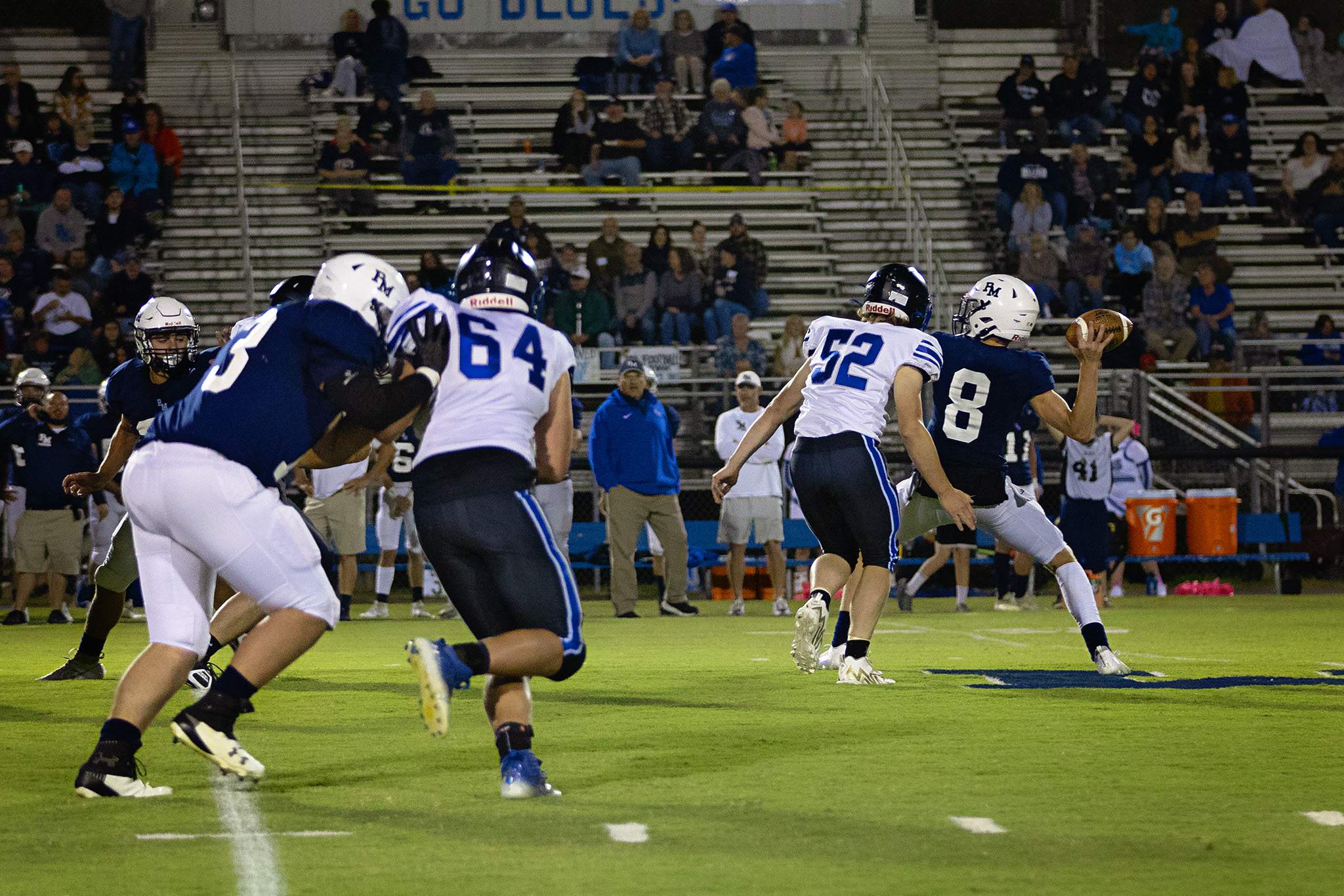 The Craig County football team will be jumping from the frying pan into the fire this week, or into a hot Bath as the case may be. After dropping a 45-12 game to Parry McCluer in Buena Vista last Friday the Rockets will be taking on undefeated Bath County in Hot Springs this Friday night.
"We lost to the best team we have played thus far this season," said Rocket coach Jim Fisher of last week's game at Parry McCluer. "This was the first game that we were really never in."
This Friday the Rockets have undefeated Bath on the schedule. The Chargers are coached by former Bath quarterback Jake Phillips, who went on to play at William & Mary and was head coach at James River and Staunton High before returning to his alma mater. He has the Chargers in second place in the Region 1C rankings with a 7-0 record and a team that is averaging over 50 points a game. 
"They are having a great season and haven't given up any points the past two Fridays," said Fisher. "They have, by far, the most skilled and dynamic player we have seen in dual threat quarterback James Campbell. He is lightning in a bottle. We have five or six of Bath County's games on film and, so far, he has made each team look bad. He's hard to play one-hand touch against, much less tackle. 
"Coach Phillips has done an excellent job with a balanced offense, lots of screens and misdirection. They play aggressive defense, and although they aren't as big as a few of the teams we have played they get a lead and force you to chase the scoreboard. Looks like rain on Friday, hopefully that makes them one dimensional and gives us a boost defensively. Offensively, I expect us to play better up front."
The Rockets were never in the game at Buena Vista as the Blues improved to 5-2. They're ranked fifth in Region 1C while the Rockets fell to 2-4 with the loss and are now in the 11th spot in the region. The top eight make the playoffs.
"Beautiful night, beautiful bermuda field, we are hopeful that our field looks that good in a couple of years," said Fisher.  "We again struggled up front on the offensive and defensive lines. We are young and we are making mistakes that younger players make. We are undersized and should be playing lower to give ourselves a chance. We preach staying low all week and on the first play, we stand straight up. 
"Our skill kids have been as good as anyone we have played thus far, including last Friday. Unfortunately, with the kids that have quit, didn't come out, and injuries we have not been able to consistently block for our offensive weapons or stop the run on defense. For us to have a chance the remainder of the year we have to get better up front on both sides of the ball."
Craig was led offensively by Carter Calfee with 82 yards rushing on 17 carries, Jaycob Wolfe added 12 yards rushing and a TD and Josh Craft added 15 yards rushing. Wolfe was eight of 17 passing for 118 yards and a touchdown pass while Calfee had five receptions for 62 yards, Craft had two catches for 49 yards and a TD and Isaac Lucas caught one pass for seven yards.
"They stymied our running game," said Fisher. "We need to do a better job of ball security, we had four turnovers Friday. No help is coming, we just have to get better on both sides of the ball. The great Grambling coach Eddie Robinson once said, 'If you can't get a better player, get a player better.' That is what we are working on. 
"On the bright side, we have no senior starters. Everyone starting returns for the 2024 season."
The Rockets will have two home games next week. On Tuesday, October 24, they will host Montcalm of West Virginia in a game that was postponed earlier in the season. The Generals are currently 5-1 and have only given up more than six points in a game once. They have three shutouts, including an 86-0 win over Hannan High.
Then, on Friday October 27, the Rockets will host Narrows in a Pioneer District game. The Green Wave  is 5-2. The Rocket jayvee team will play at Narrows next Monday, October 23.