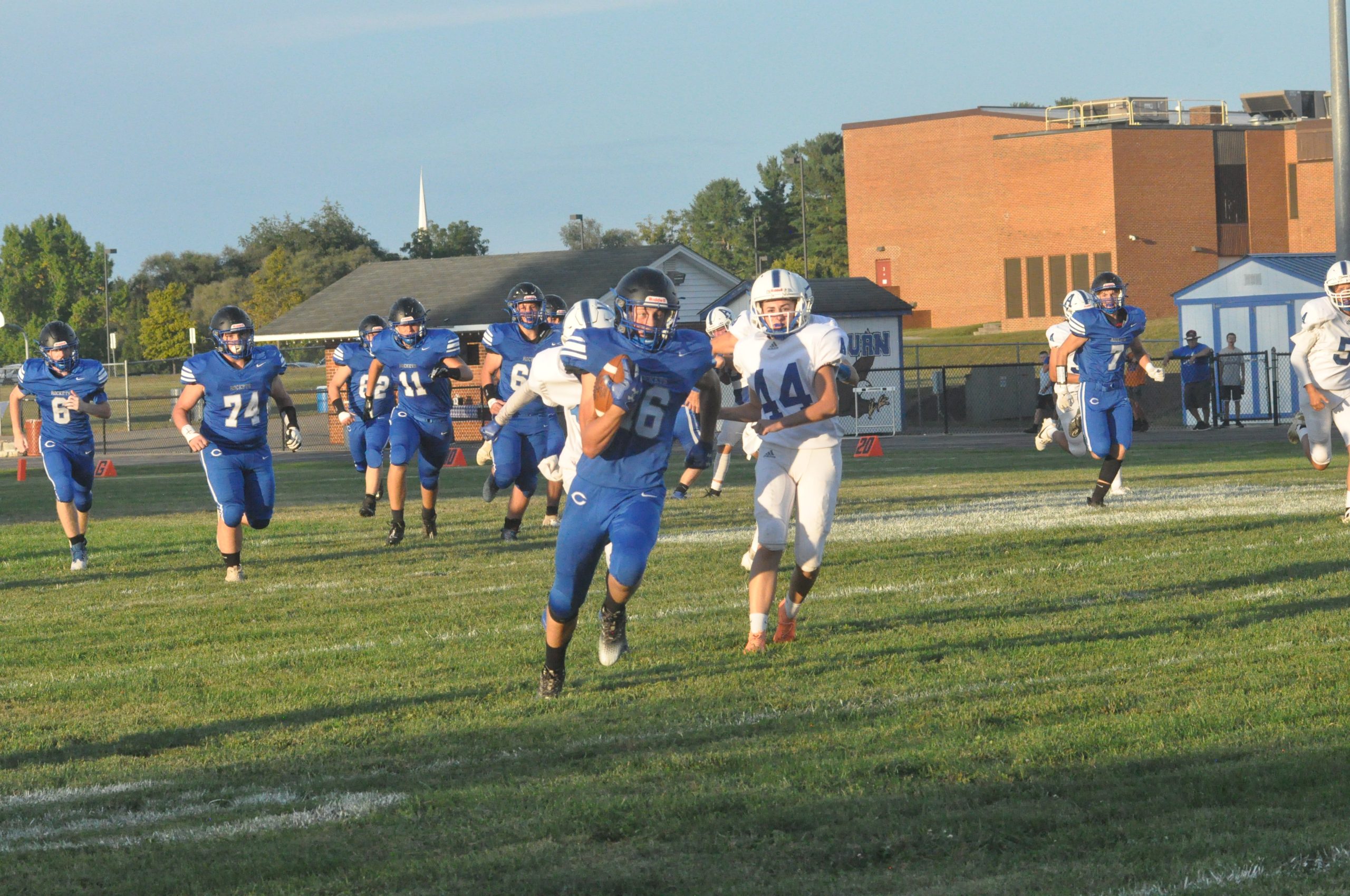 Monday night football came to New Castle this week but it was only half of what one might expect. The Rockets finished off a game with Auburn on Monday and they're now 2-0 after a XX-XX win.
This week marks the first games on the new refurbished Mitchell Field at Craig County High School. The Rockets inaugurated the new digs against Auburn and they're back on Friday to host Montcalm at 7 pm.
The first game on the field was scheduled for September 1 but the surface wasn't quite ready so the game was postponed a week. Then, when it still wasn't good to go last week, the game was switched to Riner for a 7 pm start on Thursday, September 7. That lasted for almost a half before lightning struck and the game was moved again, this time back to Craig on Monday of this week to conclude the final two minutes of the first half and the whole second half.
The Rockets were leading 18-14 when the storm came and the Auburn High stadium was cleared. The game was never restarted as ill weather continued.
To that point, it was a heck of a game. Craig's Carter Calfee ran back the opening kickoff for a touchdown but Craig missed the conversion attempt. Auburn answered with two scoring drives to take a 14-6 lead before Calfee scored again. Craig went for two and fumbled on the try so the score remained 14-12.
On the ensuing kickoff the Rockets tried an onsides kick and Isaiah Will recovered on the Auburn 41. Then, on fourth and 14, Craig regained the lead on a 33 yard run to the left by quarterback Jaybob Wolfe, who dove to the pylon for the score. The two point tried failed again but the Rockets were up 18-14.
A second onsides kick was again recovered by Will, but this time the Eagles held the Rockets and took possession. A long pass set up a first down at the Craig 12 but the Rocket defense stiffened and kept the Eagles out of the end zone. Craig's offense took over until the 2:23 mark on the clock when the officials stopped the game.
Action was resumed Monday, but details and final statistics were too late for publication. The Rockets will be home again Friday to take on Montcalm, who is off to a 2-0 start and has yet to be scored upon. The Generals opened with a 54-0 win over Twin Valley of Virginia then beat Paden City of West Virginia, 30-0. Last year they beat the Rockets 12-6 in Montcalm.