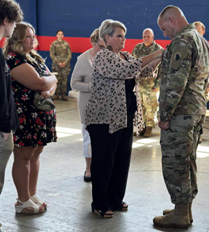 Pam Dudding
Contributing writer
Today's military is faced with many issues that previously never existed. For one to continue in the field is a true testament of their heart for the United States of America. 
On Aug. 3, lifelong Craig County resident Shaun VanDyke, son of Clay and Marlene VanDyke and husband to Gerri VanDyke, who is director of student services at Craig County Public Schools, was promoted to the rank of command sergeant major in the U.S Army. 
This is a prestigious and honorable achievement obtained by less than 1% of the total U.S. Army enlisted force, sergeant major is the highest rank any enlisted military service member can hold.
"I enlisted into the U.S. Army Military Police Corp in June of 2002 at the age of 20 years old," VanDyke shared. "I was always interested in hearing my Grandfather Coy Shupe, tell stories about his adventures in the U.S. Navy, and I wanted to be able to have stories of my own to tell. Therefore, following the 9/11 attacks, I figured that was as good a time as any to start my own adventure, and so I did."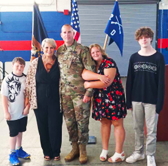 VanDyke admitted that over the last 21 years of service in both the Active Army and Reserve components, he has had plenty of adventures. 
"I had two tours in Iraq, a tour as a Drill Sergeant in Ft Jackson, South Carolina, and a deployment to Guantanamo Bay, a place my grandfather frequented while in the Navy," VanDyke said. 
"As a Private First Class (E3) back in 2003, I remember thinking that the Battalion Command Sergeant Major (E9) was like a celebrity. I thought how great it would be if I could be a Sergeant Major one day," he added. "It wasn't until my promotion to Master Sergeant (E8) in 2017, that I realized that my dream of being a Sergeant Major could maybe be a reality. I knew I would have to put in a lot of work to set myself apart from my peers, since less than one percent of enlisted Soldiers are authorized a Sergeant Major promotion." 
VanDyke shared that in his effort to make it to the top 1%, he volunteered for every school he could, asking for the difficult assignments and completed his master's degree.
"In December 2021, I earned a seat in the U.S. Army Sergeants Major Academy, a two year online academic program intended to prepare Master Sergeants for promotion to Sergeant Major," he said.  
On Aug. 3, VanDyke finally reached the top of that mountain and achieved his heart desired goal. 
"I was promoted to Command Sergeant Major in the U.S. Army Reserve component, the top one percent of Army Enlisted Soldiers," he said. "Of course, I did not do it alone. I had a wealth of support from my wife Gerri, my family, and numerous mentors leading the way."
He added, "Getting here has been a wonderful adventure, one I can't wait to tell my future grandchildren. I am truly honored to be where so many great leaders have come before me, and I can't wait to see what happens next."
"I am extremely proud of my husband's accomplishments. His work ethic, commitment, and dedication are his driving force," Gerri shared. "He tells our children that they can accomplish anything that they put their mind to, nothing is out of reach with hard work and dedication. He lives his mantra out every day. I am very blessed to have him in my life as my husband, father of my children's best friend, and mentor."