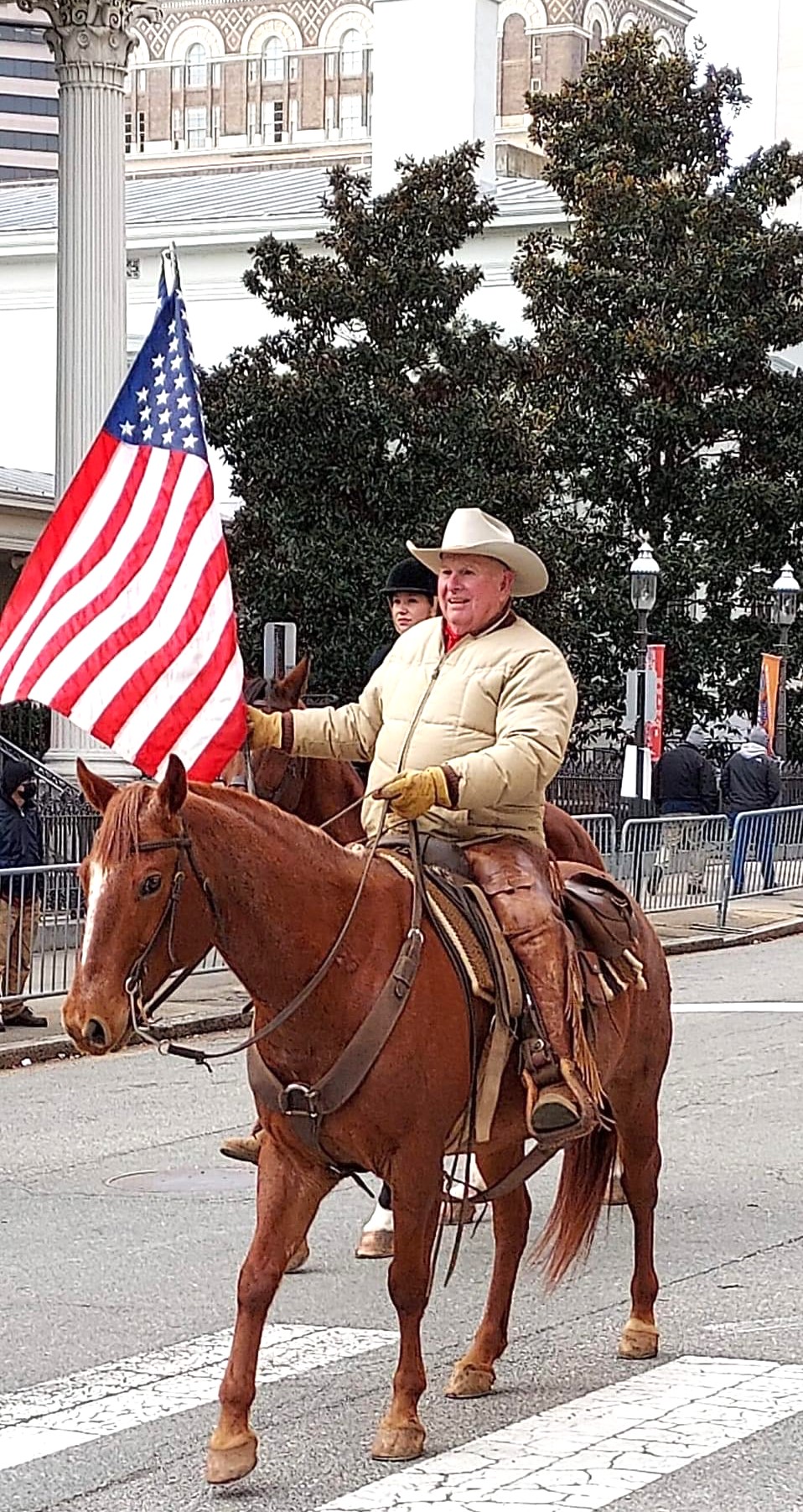 Pam Dudding
Contributing writer
When someone touches the lives of others in a meaningful way, their passing creates a void that is difficult to fill. 
Craig County lost one of its finest men on May 20, William David Lamb, at his own home at Oakland Heights Farm in Gordonsville. 
Lamb grew up in Craig County and rode his pony to school.
His family shared that he often told the story of organizing a trail ride for his senior class – a foreshadowing of his life to come.  
"David was both teacher and mentor to countless individuals who rode or trained at his farm or were among the many young people he and his wife Sally reached through 4-H programs," they added. "He was one of those unique individuals who was able to turn his passion, in this case the horse, into his life's work. He was one of the rare individuals in the equine world who could be truly called a horseman."
Lamb held membership in the American Quarter Horse Association, Virginia Quarter Horse Association, East Coast Cutting Horse Association, Virginia Horse Council and the New Castle Historical Society. He was a tireless advocate for the equine industry in Virginia, both promoting programs and developments, and interacting with Virginia legislators to ensure that any legislation passed was favorable to everyone in the business.  
It was well known that Lamb loved cutting horse competitions and was a competitor for many years. He found his true niche in life, however, when he began offering trail rides to the public at Oakland Heights. 
"He enjoyed meeting people, dispensing history lessons, educating people about the rural lifestyle and handing out his own version of homespun wisdom," the family said. "His large personality and wit drew riders back time and time again to enjoy his company as much as the ride. David was a loving, caring person who was not above pulling off the occasional practical joke or teasing a tenderfoot."
Lamb was proud of the fact that he was of native American ancestry, was unabashed patriotic and served his country in the Army Reserves.  
His family added, "He never met a piece of carrot cake or pecan pie that he did not love. He told everyone that his favorite time of year to ride on the mountain was when the fall leaves showered down with their myriad of colors. When you left the farm, he always told you to come back, saying, 'We ride every day.' At the root of it all, Lamb was a horseman."
He began his public equine career by working for North Wales Quarter Horses in Northern Virginia. There he developed his love of the cutting horse sport. In the 1970s, he managed a farm for Jim Lewis, in Albemarle County, which ran 500 head of cattle and managing that farm garnered Lamb the 1973 Farmer of the Year award for Albemarle County. 
During his time there he trained and showed cutting horses, as well as western pleasure horses. 
Lamb also garnered numerous Jim Reno trophies to attest to his success in the sport of cutting.
In 1979 Lamb acquired Oakland Heights Farm in Gordonsville, and he and wife, Sally, began pursuing their dream of building a horse operation and began green breaking young and troubled horses.  
"He green broke horses for notables in the horse world such as Rodney Jenkins and Jimmie Lee," they added. 
In the 1980s, he exported horses to South America to be used for military and ranch work. It was then that Lamb began to specialize in ranch horses and trail riding horses for the East Coast market.  
He bought, trained and sold quiet trail horses (many imported from states such as Oklahoma) to the East Coast market and became the "go to" man for those who were looking for a quality trail horse. 
Oakland Heights became a center of education for future members of the equine industry.  
"Both David and Sally were local 4-H leaders for more than 25 years, traveling up and down the East Coast to competitions," the family said. "Oakland Heights is also the site of an annual 'Cowboy Camp.'  The camp exposes the youth to horse knowledge, history, and the cowboy way of life."
In addition, Oakland Heights was known for always maintaining a "robust lesson program," teaching horsemanship skills to youth and adults alike. 
Then, in the mid-80s, Oakland Heights began offering trail rides to the public.  
"David loved his job as trail boss, leading the rides, and meeting people from all walks of life. Riders not only experienced the joy of riding a horse, but got a history lesson, were educated about rural lifestyles and agriculture in general," they shared. "David also dispensed wisdom, Will Rogers style with a Southern twist. Riders would come back time and again just for the experience of riding with Lamb."
Some of Lamb's accomplishments included:
He was a lifetime member of the American Quarter Horse Association and the Virginia Quarter Horse Association. 

In 2022, he was inducted into the VQHA Board of Directors Hall of Fame. 

He held memberships in the National Cutting Horse Association and the East Coast Cutting Horse Association and the New Castle Historical Society

He was instrumental in the founding of the Virginia Horse Council and was a member for more than 40 years.  

One of Lamb's legacies will be his work with Virginia legislators to ensure that equine interests are promoted, protected and preserved.  

He was involved in legislative initiatives including the creation and updating of Virginia's equine liability law, the creation of the Virginia Horse Center, establishing the definition of a legal fence in Virginia, agritourism laws and the founding of the Virginia Horse Industry Board.   

He assisted in producing the council's annual legislative trail ride, which gives Virginia legislators the opportunity to bring their families, enjoy a weekend in the country and educate themselves about the Virginia Horse Industry. He also furnished horses for the ride and hosted the rides on numerous occasions.  

He furnished horses for a Congressional trail ride, hosted by AQHA.  

He provided horses and participated in several inaugural parades at the national level and in 2022 carried the American flag in the Virginia Inaugural Parade. 
"David was very proud of the fact that Oakland Heights, under his son's supervision, raises rodeo bulls and hosts a rodeo from May to September of each year," his family shared. "His life was touched by movie stars, politicians and even an astronaut, yet the proximity of fame neither awed him nor changed his perceptions of life. He was the epitome of the expression 'What you see is what you get.' He was a man of integrity, strong opinions, and an abiding passion for horses.  If you spent any time riding with him, you know he could be tough but fair and many say he engendered such loyalty that you never wanted to disappoint Lamb."
Several have said that Lamb was a traditionalist who believed in the values of loving one's God, family and country in that order. 
Lamb is survived by his son, Matthew Lamb, brother, Jerry Lamb, and sister, Catherine Ponton (Dickie), and nephew, Richie.  He was preceded in death by his wife of 52 years, Sally G. Lamb, and his parents, Elbert and Hazel Lamb.  
"I am so proud of him and his accomplishments," his sister, Cathy, shared. "He shared his love of horses to all who came and told history of the farm and area. It is hard to believe a small-town guy ended up buying horses for another country and meeting dignitaries. He also took care of our parents and Sally's at the farm when they were unable to live alone. He is missed!"  
A celebration of Lamb's life will be held at Oakland Heights Farm, Gordonsville, on Sept. 10 at 3 p.m., followed by a potluck supper.  Attendees are requested to bring a side dish or dessert and the beverage of their choice. 
The family requested that memorial contributions may be made to the Four Horseshoes Youth Foundation, 17110 James Madison Highway, Gordonsville, VA  22942.
"He was a Southern gentleman, with the manners and respect that are expected from a Virginian.  He believed in the value of hard work and that none of us is 'owed a living' and his success was based on that philosophy," his family added. "David espoused the western lifestyle and dressed for it every day in his trademark hat, boots and jeans and mounted on an American Quarter Horse. He believed not only in working hard but also in taking pride in your work and the life that you were creating."