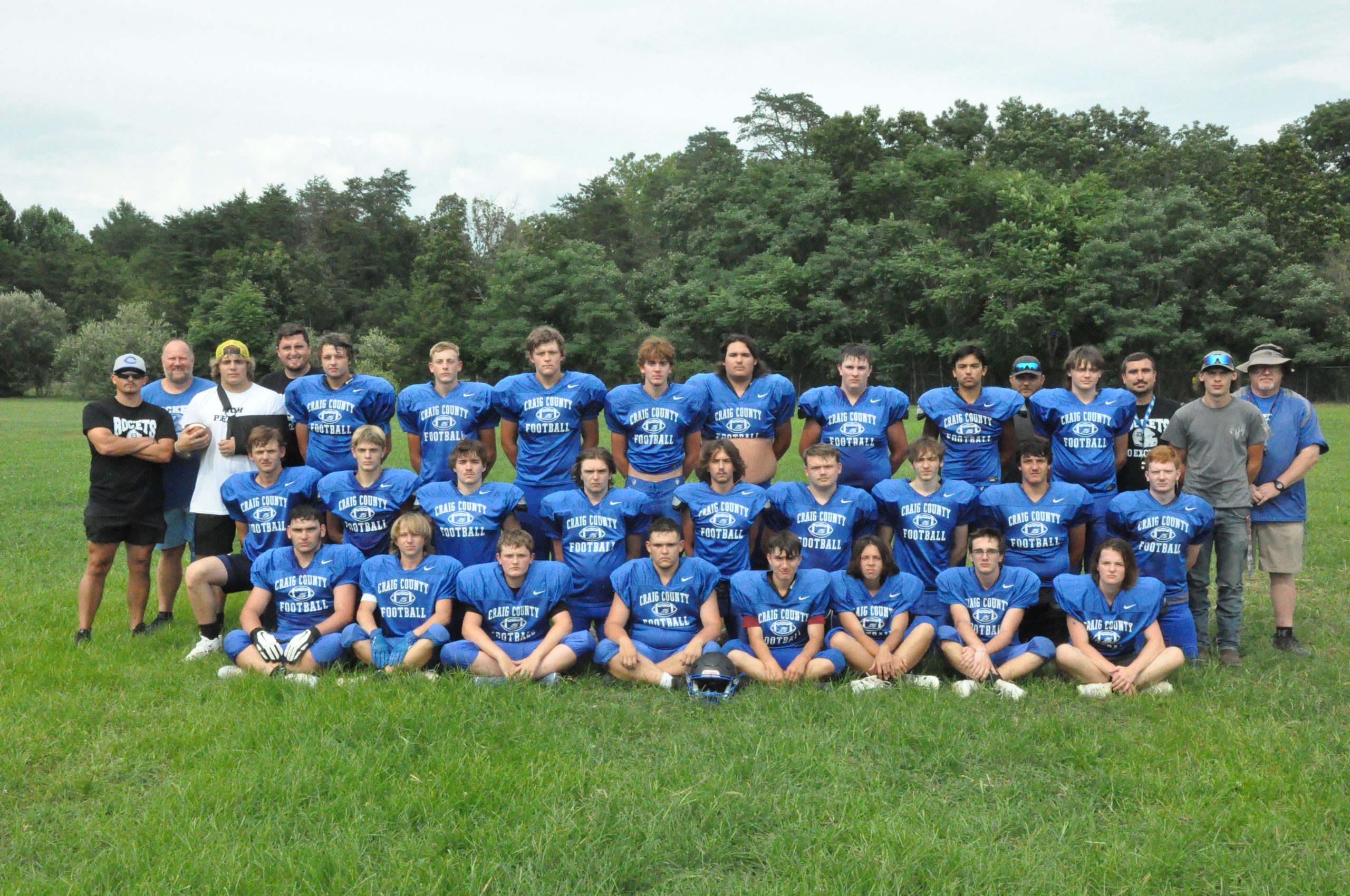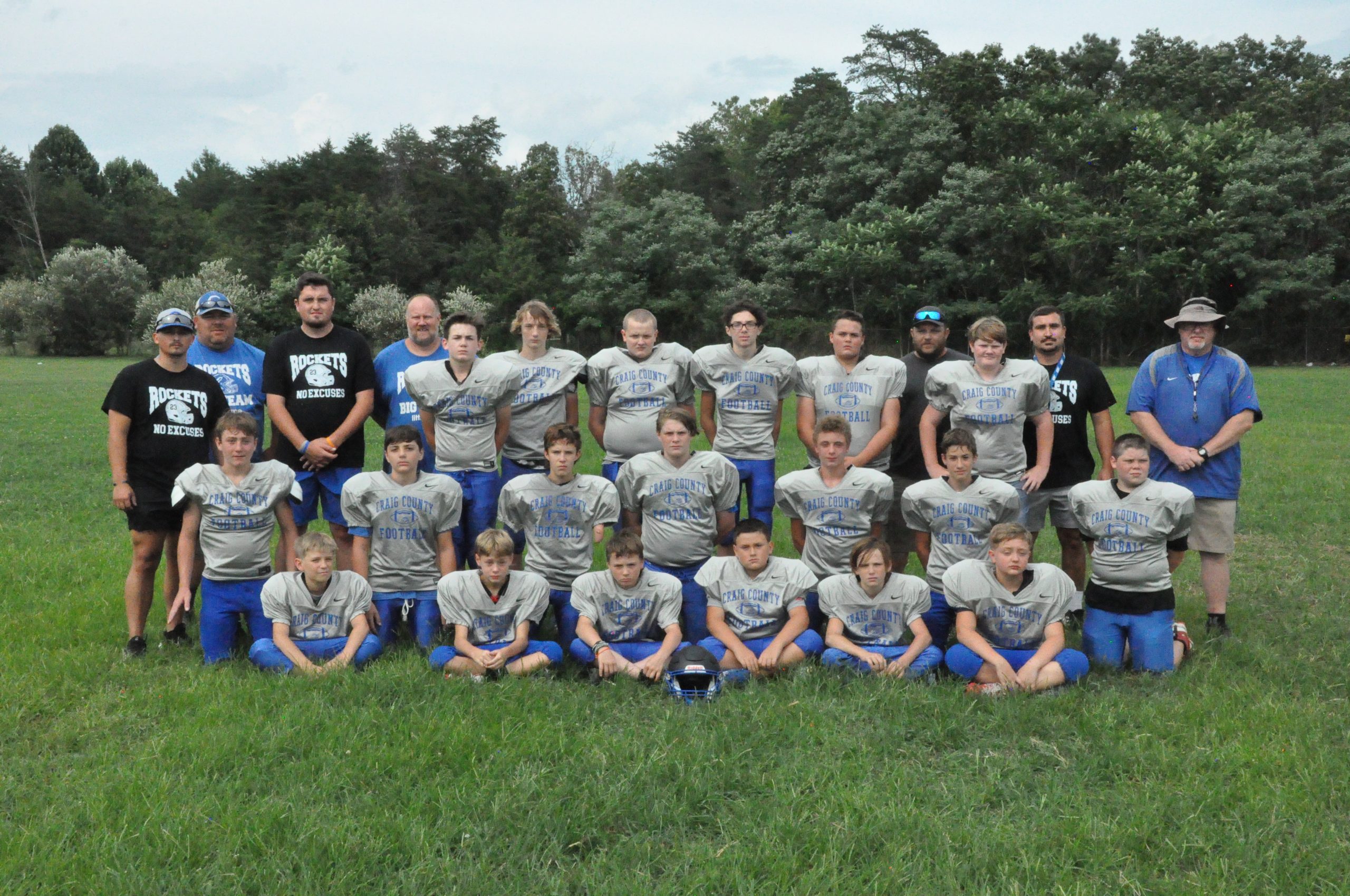 The Craig County football team will open the season Friday with a game at Bland County. It will be the third year in a row the Rockets have opened with Bland, winning 20-14 in New Castle last year after dropping an 8-6 decision in Bastian to open the 2021 season.
Craig coach Jimmy Fisher is entering his third year as Rocket head coach and he has 27 players on the varsity roster, a good number for a school the size of Craig. However, Craig has a very young team with just four healthy seniors. Two of the more experienced players, seniors Tyler Fitzpatrick and Trevyn Franciso, open the season on the injured list but otherwise the Rockets are relatively healthy.
"We came out of our only scrimmage injury free, and that hasn't happened for a couple years," said Fisher after the Rockets scrimmaged at Patrick County on August 12. "We're a very young team, especially on the line."
Craig will run a double-wing and shotgun-wing offense. That's a good system to run with an inexperienced offensive line.
"We don't have to drive people off the ball," said Fisher. "We'll do a lot of angle blocking."
Junior Jaycob Wolfe will be the quarterback. He's dangerous as both a runner and passer and he'll be backed up by sophomore Carter Calfee.
Junior Josh Craft and freshman Noah Paxton will be the tailbacks, a position Francisco likely would have played. Likewise, Fitzpatrick was scheduled to be the blocking back, but that position will now be manned by either Calfee or Paxton.
Craig County receivers will be sophomore Tristan Dooley, freshman Wyatt Huffman and junior Blake Wright. Junior Isaac Lucas will be the tight end.
The offensive line consists of three sophomores and two freshmen. Sophomore Hunter Sowers is the center and guards are 225 pound sophomore Caleb Fields and 239 pound freshman James Johnson. Tackles are freshman Carter Price and 230 pound soph Ethan Sink. Price and Fields will be on the "quick side" and Johnson and Sink man the "strong side." Sophomore Mason Huffman and freshman Marcus Donithan are the backups
"The strong side is almost always blocking down," said Fisher. "We can flip then for every formation."
Fisher is doing his best not to play any of the offensive linemen on the defensive side of the ball.
"We try not to play the line both ways," he said. "It's important for them to be rested, and the drop off isn't that great."
Craig will play a 3-4 base defense with senior Isaiah Will at the nose. Marcus Keen, a 280 pound senior, will be the "big tackle" and Lucas is on the other side. Price, Sink and Johnson are backups while Mason Huffman will be the end on defense, backed up by Sowers and Lucas.
"We don't have a lot of depth on the defensive line," said Fisher.
Craft will be the Mike, or middle linebacker, with Dooley on the strong side and Paxton on the weak side. In the secondary Wyatt Huffman and Blake Wright are the corners, Wolfe is the free safety and Calfee is the "dog," or strong safety.
Lucas and Paxton have been manning the kicking chores and Noah is also the punter. Calfee will return kicks.
Fisher's coaching staff includes Jayke Dowdy, who is the defensive coordinator and also coaches quarterbacks and defensive backs. Rocket alum Brock Jones is the offensive coordinator and he handles wide receivers and the secondary on defense.
Roland Donithan works with both lines and he's also the middle school defensive coordinator. Cory Smith works with the outside backers and offensive line, Craig grad Jeremy Howell does inside backers and tight ends, Seth Hall has runningbacks and outside linebackers, Jered Deel has runningbacks and inside backers and Danny Owens helps with receivers and floats on defense.
"It's important that we have two coaches working at every spot because some of our guys work somewhere else," said Fisher.
This year's schedule is the same as last year with one exception. Covington is off after combining with Alleghany to form one school, and they'll be replaced by Meadow Bridge of West Virginia for the last game of the regular season. Craig will have home games with Auburn, Montcalm, Mountain View, Eastern Montgomery and Narrows and road trips to Bland, Twin Valley, Parry McCluer, Bath County and Meadow Bridge. 
One change fans will notice is that Craig will be wearing black helmets this year with a blue "CC" on the side. They look sharp and will go great with the blue and white uniforms with some black trim.
"I saw Duke and Kentucky wearing them and I liked them," said Fisher. "The kids like them, and we'll do anything we can to get the kids out for football."