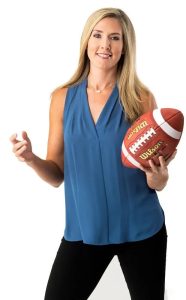 On Monday, August 21, ESPN and SEC Broadcaster Lauren Sisler will speak at the monthly meeting of the Roanoke Valley Sports Club.
Sisler is a two-time Emmy award winning sportscaster and a former college gymnast. She is not only passionate about sports, but loves to tell stories of the coaches, athletes and fans she comes in contact with.
Lauren's story is not all a happy one. In 2003, when she was a freshman at Rutgers University in New Jersey, she unexpectedly lost both of her parents who had concealed a battle with prescription drug addition. Her mother and father died within hours of each other.
Lauren battled through a mental struggle but embraced her story and came out the better for it. She has made peace with her situation and inspires others to do the same. Through her authenticity and vivid story-telling, Lauren's presentations take listeners on an emotional trip that inspires and brings hope.
Visit the Roanoke Valley Sports Club on the internet at http://roanokevalleysportsclub.com to sign up. The last day to sign up is August 18 at 4 pm.