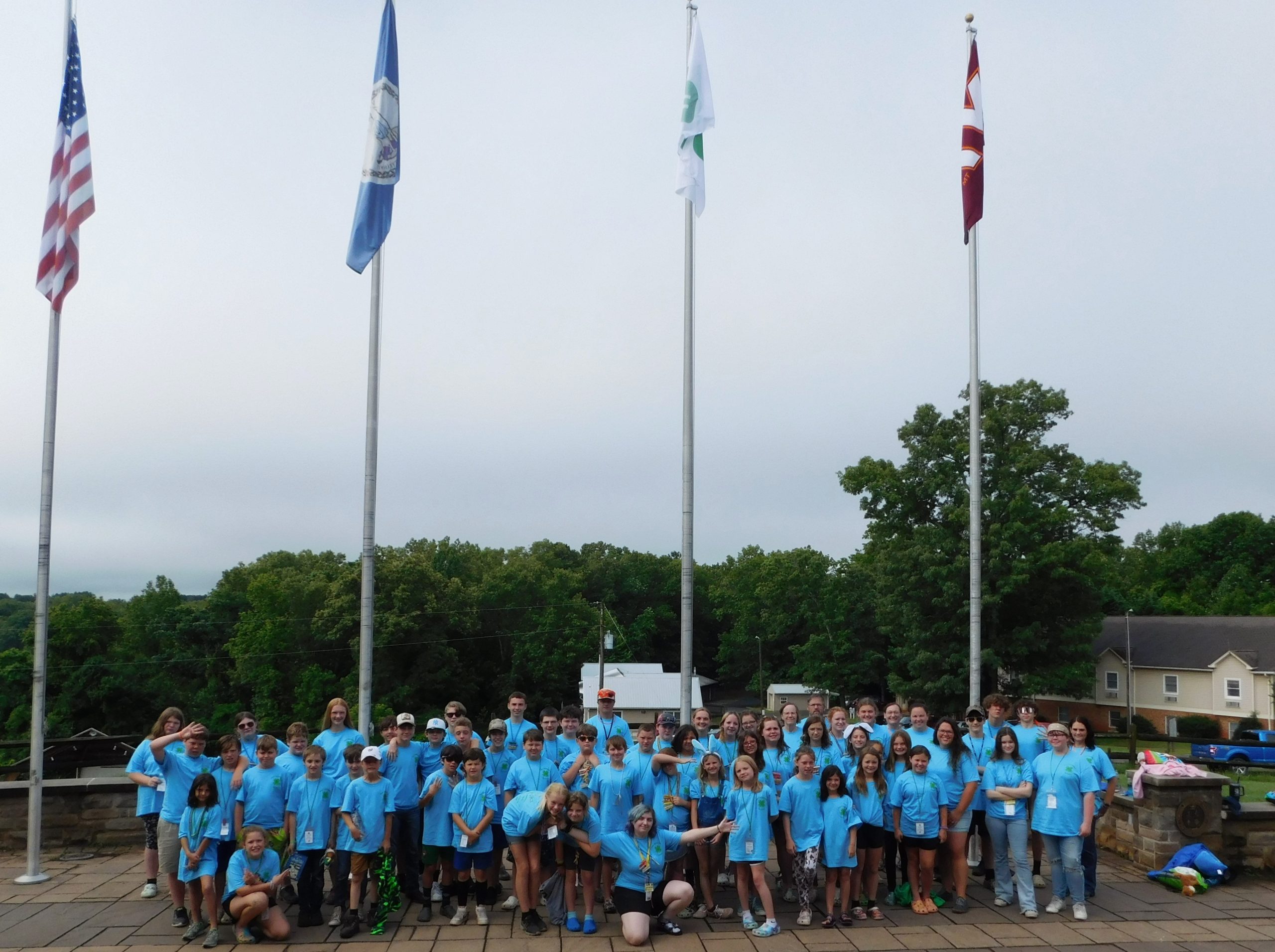 Pam Dudding
Contributing writer
For some kids, summer is not very exciting, as they miss their classmates. Yet for others, they look forward to 4-H camp to see old friends and to make new ones as well as participating in the many adventurous activities the camp has to offer. 
This year, Craig County had a total of 51 campers to attend the Craig County Junior 4-H Camp, held at the W. E. Skelton 4-H Educational & Conference Center at Smith Mountain Lake during the week of June 19 -23.  
"We also had six teen leaders, five adult volunteers and myself," shared Sally Farrell, Craig County extension agent. "All the campers and teens attended classes, met new friends, and learned new skills."
She added that a total of 63 Craig 4-H'ers attended camp and enjoyed sharing the week with campers from Giles, Montgomery and Roanoke counties.  
"Campers were able to enjoy classes such as CampTok, Dog Obedience, Drones, and Snorkeling; as well as old favorites like Archery, Arts & Crafts, Basic Horsemanship, Canoeing, Climbing, Fishing, Kayaking, Outdoor Adventures, Performing Arts, Riflery, Small Animal Science, and Swimming to name a few," Farrell said. "There was something for everyone at 4-H Camp!" 
The campers also enjoyed special events which included a talent show, special programs, a dance party and campfires, which Farrell said added a lot of fun for them.   
"As the Craig County 4-H Agent, I provided supervision as Camp Director for our camp of over 400 participants this summer," Farrell shared. "Craig County Adult Leaders included Emily Anderson, Chelsea Blankenship, George Foster, Frances Foster, and Crystal Parker. We want to thank them for the tremendous job they did for us!"
"We were also very fortunate to have a hard-working group of Craig Teen Leaders – Shelby Devinney, Jolena Compton, Austin Fowler, Damien Smith, Simon Weyant, and Colby Wolfe," she said. "Each of these trained teens are to be commended for their hard work with their assigned campers and ensuring our camp ran smoothly."
The campers were able to attend camp this summer because of the generosity of the following individuals and businesses who donated to the Junior 4-H Camp Scholarship Fund. They were:
Mr. & Mrs. Charles Barnes

Mrs. Hazel Beeler

Bethel United Methodist Church

Charlton Associates

Craig-Botetourt Electric Cooperative

Craig County Fairgrounds Association

Craig County Farm Bureau

Craig County Farm Bureau Women

Craig County Health & Dental Center

Craig Healing Springs Christian Church

Crawford Oil Company

Cross Roads Christian Church

Dodson Pest Control

Farm Credit of the Virginias

Farmers & Merchants Bank of Craig County

The Dorothy Cate & Thomas F. Frist Foundation (Senator Bill & Tracy Frist)

Guthrie Insurance Agency Inc.

J.A.M.

Blair & Erica Jones

Market Street Pharmacy

Mountain Castles Soil & Water Conservation District

New Castle Christian Church

New Castle Garden Club

New Castle United Methodist Church

New Castle United Methodist Church – Women of Faith

Sharon Oliver

Paitsel Funeral Home

St. John the Evangelist Catholic Church

Mrs. Cole Frantz Semones

Sisson & Ryan Quarry, LLC

Deborah D. Snead

Tickle Oil & Propane

Virginia Forestry Education Foundation

Arthur Taubman Scholarship Fund

Farrier Funds

Ned and Rosalyn Lester Youth Leadership Development Endowment

Smith Mountain Lake General Funds

John T. Skelton Funds

Virginia Tech Foundation (Thurman Fund)
"Also, we would not have been able to have such a successful camping experience for our youth without the generosity of the Craig County School Board for their loan of two school buses, Mr. George Foster and Mrs. Kay Hutchinson for driving the buses with our campers to and from camp, The Farmers & Merchants Bank of Craig County not only provided a full camp scholarship, they also added additional support to pay the bus drivers' fees, Mr. Marion Ross' donation and delivery of firewood for campfires and Mr. Jacob Swanson providing transportation of luggage trailer to and from camp," Farrell added. 
"The Craig County Extension staff and Craig 4-H'ers want to thank all these companies, churches, and individuals for making Junior 4-H Camp a reality for our local youth. Your support is very much appreciated. Our heartfelt thanks and appreciation go to each of these supporters of our camping program!" Farrell said. "Thank you all again for helping make the 2023 Craig County Junior 4-H Camp such a successful youth activity."