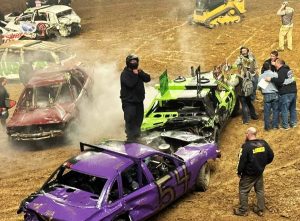 Pam Dudding
Contributing writer
When men love to derby, it's difficult for them to just wait on a couple of demolitions per year, and there are a few in Craig that has it running in their veins. 
On Feb. 19, B.J. Oliver and his son Grant, Donnie Wayne Fisher, Corie Trivette, Danielle Givens and Derek and Justin Dudding were ready for a big derby in Palmetto, South Carolina. 
"It's put on by Carolina Derby Promotions," shared Justin. "They are the same outfit that put on the Blue Ridge Bash in Wytheville. Donnie Wayne, Corey Trivette, and Daniel Givens kept telling Derek and I to do this 2-man derby. They finally convinced us into it."
He added, "It was the first time we done anything like this! It was Derek and I and BJ and Grant Oliver in the 2-man extreme class." 
"The ring is huge and the arena seats about 10,000," shared BJ. "There were about 2000-3000 people there. It was nice as our family and friends all got to sit together and enjoy it as Grant and I ran our first 2-man derby together." 
The two-man derby is a bit different than most derbies. One has the steering wheel and shifter while the other has the gas and brake pedals. 
There were about 10 cars in the heat. 
"It was a fight between understanding your surroundings and communicating with your partner," Grant explained. "We wanted to try something new and try competitions." 
This was Grant and his dad's first time as well, "and we loved it," they both shared. 
"It was awesome!" Justin exclaimed. "Derek and I communicated well in the car. He shook is finger when he wanted me to go and if he wanted more gas, he shook his finger faster."
Derek added, "It was a different experience compared to other demolition derbies I have run which made it rather exciting! My brother Justin was my co-pilot."
Tommy and Coleman DeHart from Stuart took first place. 
Derek and Justin took second while BJ and Grant Oliver won third. 
It was said that "the Craig County boys kicked butt in South Carolina."
Also, BJ and Grant won the Hurricane (Mad Dog) Award. 
"The part I enjoyed the most was that we got to work on the car together and go run it," BJ shared. "We went with friends and family and had a good time and we will probably go again next year if they have it again." 
Grant added, "I loved spending time doing what we love and yes, I would run the 2-man again tomorrow if I could." 
"It was awesome!" Justin explained. "Getting to be in the same car with my brother, driving side by side, getting to beat on other cars together was the best experience I've had so far in a derby car. It was better than my first ever win!"
He added, "Don't get me wrong, I enjoy the town derby, but you do get tired of beating on the same 10 to 15 friends. It was nice to go up against new people and to try a different style of derby."
"It was a new experience in a sport I love!" Derek exclaimed. "Our car performed well and needs just a few tweaks, and it will be ready for the next derby."
"I send a big thanks to my wife Nicole for putting up with me and supporting me, big thanks to my pops Richard Dudding and Dana for all the support they give us," Derek added. "Thanks to Jason Horne for their new electrical setup he built and to Reece Stebar for always giving a hand."
Nicole added, "I love you babe and I love seeing you in that car doing what you love in #13!"
Teresa Oliver, BJ's wife, added a message to the other drivers, "Thank you for sucking BJ back in! He and Grant were buying more parts this evening online! Remind me to ground you from my boys, LOL!" 
Corey Trivette, Daniel Givens and Donnie Wayne Fisher ran in the full-size car derby. 
Corey shared that it was not what he planned, "I struggled with track conditions and a few mishaps but overall had a good time and learned a lot on building and driving in the future and most of all got to spend time with friends and family and meet many more. Also, I send a special thanks to Carissa Anderson for putting up with all the late nights and wild trips to make all this possible along with many more I have got to thank including all my friends and family who go to help and support all of us running it." 
Donnie Wayne shared, after he "got this junk unloaded," that he had a lot of fun going out of town for the big derby, including taking the Hurricane Award (Mad Dog) in the full-size class crusher heat.
"I'd like to give a big thanks to everyone who helped me switch out the motor for the finals," he said. "Most people couldn't believe we pulled the 318 and put a 350 back in so fast. Also, thanks to Daniel Givens for letting me use his motor and everything that all the people did to get this thing going for the main. Thanks again to everyone!" 
Donnie Wayne also added, "And, a big thanks to my wife for wanting to go to derby for our 11th year anniversary!" 
Lori shared that it was OK with her, "I got a good anniversary present after this trip he had to spend more money on jewelry." 
Justin and Derek said that they "are definitely doing it again" and will be going to Dunbar, Pennsylvania on April 15 to try it out again with the Deadman Derby Promotions. They have always enjoyed their "out of town" derby trips. 
And, if they can get past Teresa, they will probably talk BJ and Grant into going too.
Needless to say, they are all also looking forward to the first 2023 Craig County Fairgrounds derby which will be May 13, where there will be a crowd to cheer on the heavy hitting they all seem to enjoy.