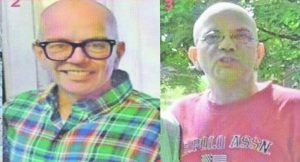 Salem man had been missing sing Feb. 9
Aila Boyd
The body of John Krippendorf was discovered on the afternoon of Thursday, March 2 by the Salem Police Department, according to a city news release. He was found in the southern quadrant of the city, just off Braeburn Drive. 
The 57-year-old Salem resident was reported missing by family members last month after he left LewisGale Medical Center in the early morning hours of Feb. 9.
Reports of his disappearance surfaced in mid-February and a variety of law enforcement agencies and citizen  groups used various methods to locate him, according to the release.
On Thursday, the Salem Police Department was again searching the area where Krippendorf was last seen when his remains were discovered at approximately 1:50 p.m. 
The medical examiner's office positively identified the person in question as Krippendorf on Thursday, but an official cause of death has not been determined.  
Currently, the Salem Police Department does not believe there is any evidence of foul play. 
Missing Man Photo:
Krippendorf
Courtesy photos