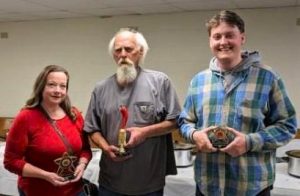 Pam Dudding
Contributing writer
Many say that homemade chili creates a great atmosphere of fellowship and good food. 
This year, the Fifth Annual Church Community Chili Cook-off was hosted by Grace Baptist Church. The previous four were held at Craig Valley Baptist Church, but they changed locations as they needed more space. 
All churches in Craig County were invited to enter as many chilis as they liked, and five churches took the plunge and the judging commenced among 14 different chili recipes. 
This year the attendance multiplied, with almost 90 people attended the evening. 
There were free hotdogs and drinks for anyone who wished to eat.
Everyone was a judge. When participants came in, they were given ballots which were dropped in a cup where the chili the liked best was. 
Many people went back for a second try between their favorite two and three selections. 
There was homemade cornbread and desserts to enjoy as well. 
All shared that this was the toughest chili cook-off yet to judge as they were all so delicious. Some shared that they were just wanting to get a little extra chili eating in, so they used that excuse, laughing. 
In all the votes, only three votes separated the top three chilis. 
Andrew Durfee, of Saint John's Catholic, took home the third-place trophy.  The second-place trophy went to Harper McKinley, of Craig Valley Baptist. The grand champion was Randy Stanley, of Grace Baptist.  
Rich Martindell, who has been one of the organizers since 2019, said that he was glad Grace Baptist Church offered to host the event this year.
He added, "The Grace Baptist members were very gracious and helpful hosting the event. Their fellowship hall and kitchen are large, and they couldn't have done a better job as hosts."  
"The competition was tight, and no chili was more than 10 votes behind the winner," Martindell shared. "Organizers, cooks, and tasters came together in an atmosphere of fun, competition and camaraderie. Long tables were covered with mountains of corn bread, deserts and all of the accruements needed to accompany the various chilis."
The championship trophy will be engraved with the winning cook's information and presented at Grace Baptist Church's Sunday service. There it will remain until next year's Church Community Chili Cook-Off when again, all churches in the Craig County/New Castle area are invited to participate. 
There was also uplifting musical entertainment provided by Mike King, Rev. Randy Spencer and Rick and Joe Francisco. 
"I had a great time picking at the chili cook-off," Rick Francisco said. "I didn't win but it was so much fun! Thanks to all who participated and to those who just came to eat some good chili."