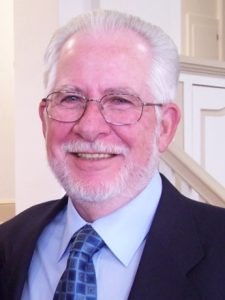 Douglas Henry Davis, 83 of New Castle went to meet his Heavenly Father on Wednesday, Feb. 15, 2023.  Doug was born in "Happy Hollow", Montgomery County, VA on April 15, 1939.  He was the 11th of 12 children. 
He was preceded in death by his parents, Ernest C. and Susie Hodge Davis, daughter Donna White, brothers Paul, Frank, Ernest "Big June", Willard, Kenneth, Ranny, and Mac; sisters, Juanita, Alene, Elizabeth "Sis", and Hazel; daughter-in-law Janice Davis.  He is survived by his devoted and loving wife of 42 years, Barbara Davis; children David Davis, Dale (Ronnie), Ray, Susan, Judy, Anita Monk (Phillip), Darrell Frango, Darren Frango (Sharon), Angie Allen (Mike), and Debbie Boitnotte (David).   Doug was blessed with numerous grandchildren; James, Jessie, Ricky, Dougie, Samantha, Angel, Bridgette, Briana, Bryon, Barry,  Angie Swingle (James), Cyndy Frango, Ashley Healey (Nathan), Emily Allen (Bryson), Cierra McDaniel (Jared), Jacob King (Laurel), Kevin Swingle (Savannah), Sarah Allen (Ryan), Brandon Swingle (Tara), Joshua Allen, and Justin and Jenna Boitnotte; great grandchildren (Mckenna Freeman and Crew Healey), nieces, and nephews. 
Doug started every morning reading his devotions, reading the Psalms 23 and praying to God.  He enjoyed spending the day with Barbara, being outside, and watching his grandchildren in various activities and sports. As the day came to an end, he would take his beloved cat "Big Boy" to the barn. 
Funeral Services were held at 2 p.m. Saturday, Feb. 19, 2023 at Paitsel Funeral Home with Pastor Don Brown and Pastor Kenny Davis.  Interment followed at Huffman Memorial Park on Cumberland Gap Rd, New Castle. The family received friends from 5-7 p.m., Feb. 18, 2023 at Paitsel Funeral Home, 286 Main Street, New Castle, VA 24127.