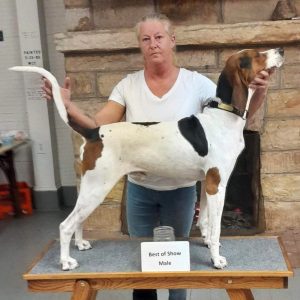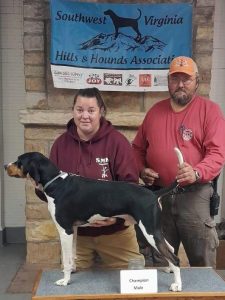 Pam Dudding
Contributing writer
Some people think that a hound dog is only good for hunting, but many owners prove this philosophy wrong by showing how teachable and competitive these dogs really are. 
Therefore, a Little World Qualifier ACH&BGA competition and showcase will be held Feb. 11 with the Bench Show starting at 6 p.m. and the Hunts starting at 7:30 p.m. at 184 Hill Top Trail in New Castle by the Southwest Virginia Hills and Hounds Association. 
"We started our association about two years ago to give local houndsmen an opportunity to compete and showcase their hounds outside of the local UKC club which is limited to seven events per year by that registry," Jonathan Huffman shared. 
He added that the ACH&BGA recognizes the following breeds of sporting hounds, Black and Tan Coonhound, American Leopard Hound, Bluetick Coonhound, English Coonhound, Plott Coonhound, 
Redbone Coonhound, Treeing Cur and the Treeing Walker Coonhound. 
"All of these dogs can compete and earn titles in a wide range of raccoon and bear challenges licensed by ACH&BGA including bench shows, field trials, tree contests, dash races, water races as well as competition hunts held by clubs like ours across the country," Huffman said. "Hounds can compete from the age of six months and are placed in classes by their age from puppy class to senior class and by title class per each event."
He noted that there are no weight limits however in bench shows, each hound is judged on its confirmation to breed standards specific to that breed.
"Hound owners must join ACH&BGA which has a $25 per year membership fee to register their hounds and compete in sanctioned competitions," Huffman shared. "Hounds must be permanently registered with ACH&BGA to compete which costs a one-time fee of $25."
He also added, "As with any organized competition there are rules regarding sportsmanship, conduct and specific guidelines per each activity which are set by ACH&BGA. No alcohol, drugs or firearms are allowed at any sanctioned event."
All cast winners will qualify for The Little World Event in Georgia. 
Membership, hound registration, upcoming event calendar and a wide range of other information including rules can be found on the ACH&BGA website.
Also, their club has a Facebook page where they can be contacted, information on ACH&BGA can be obtained from their website which is worldhunt.org and Huffman can be reached by calling (540)864-5842 (please leave message with contact information).
He stated that membership and hound registration can be completed prior to the event online as well as at any sanctioned event or by contacting him. 
"During any sanctioned event each entry for each competition must be made prior to the posted start time for that competition," Huffman shared. "For example, this particular event's bench show starts at 6 p.m., entries must be made prior to 6 p.m. that day."
Huffman was introduced to coon hunting and coonhound competitions as a child by a gentleman from Bristol, Virginia named Charlie Wright. 
"He was a diehard Treeing Walker enthusiast and had a cabin about a mile from my house," he shared. "I spent many nights hunting with him and we went to coonhound competitions all around the area. After his passing I hunted with several other folks until I finally got my own hounds and hunted until I was in my early 20s when work and life got in the way, and I sold my hounds."
He added, "I hunted with friends periodically over the years but it wasn't until a stray English Coonhound showed up at our house about four years ago that my passion for it got reignited."
He now has close to 20 fine bred, registered Treeing Walker Coonhounds. 
"We have traveled across several states competing with our hounds due to the lack of opportunities locally which motivated us to start this club," Huffman shared. "I think Charlie would be proud."
"Also, ACH&BGA does a lot to promote youth involvement in hound sports. They offer free membership until the age of 18 and register the child's hound for free," He added. "All ACH&BGA clubs hold youth events as well and every year there is a ACH&BGA Youth World Championship."
They look forward to seeing all of Craig County and hounds from neighboring counties at the show and hunts.