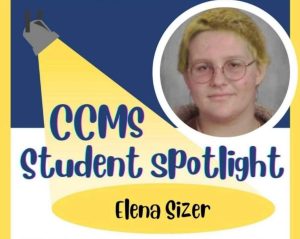 Pam Dudding
Contributing writer
Art is a form of expression that can touch many souls, from only one person. 
Craig County Public Schools has an art teacher who sees this in her students and wishes to encourage them in their individuality. 
Sierra Frazier, a Craig County High School art teacher, has begun her new "Artist Spotlight" for her students. 
Eighth grader Elena Sizer is the first student Frazier is recognizing for her artwork. 
"Elena has created many beautiful works of art during the school year using a variety of techniques!" Frazier shared on the school's Facebook page. "Keep up the good work!" 
Frazier decided to start her new "Artist Spotlight" in January.
"I pick a student who has exceptional artwork from art class and hang their artwork in the hallway to be highlighted," she shared. 
When Elena heard of this, Frazier shared, "She was super excited, and I think students are excited to be featured in the future."
Frazier will be continuing her new "Artist Spotlight" throughout the remainder of the school year. 
She added, "I wish to thank our community for always being so supportive of the arts at school!"