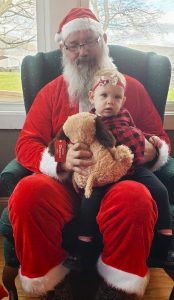 Pam Dudding 
Contributing writer
Over two weekends, the Craig County Library and Lasterday Market brought smiles and joy to over 50 kids in Craig, as well as the parents who brought them. 
As soon as they walked through the door of Lasterday, the atmosphere of excitement permeated their beings while watching the volunteers busy at work, making sure the experience was grand. 
Mr. and Mrs. Santa Claus were sitting by a huge stack of toys and candy, Anna (Nikki King) and Olaf (Jon), characters from the movie "Frozen," were there to greet everyone, and the smell of fresh pancakes drew those present into the dining area where kids and parents were enjoying their breakfast. 
Each child received a free toy and candy, a picture of Santa and the younger kids received free pancakes.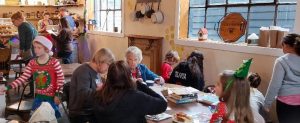 The event was a partnership between the library, Lasterday Market and CHIP of the Roanoke Valley and the department connected with the Craig County Social Services.
"We all knew we wanted to do something great for the community this holiday season, so we teamed up to host the event," Nikki King shared. She is the director of program services with
CHIP of Roanoke Valley. 
"CHIP provides support services for families who qualify for Medicaid," King said. "We help with general questions about parenting, milestones, breastfeeding education, etc. as well as providing access to community health nurses to answer health related questions."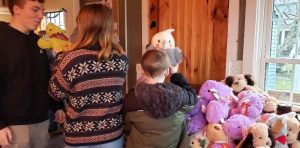 She noted that they can also assist with mental health services, transportation services and basic necessities like housing, job placement and other community resources which are always free to their clients. 
"While we do provide services to families, we really pride ourselves on just building relationships and being a support to folks who may just need someone to listen or ask questions. We know parenting is really tough and complicated, and we really love just having folk's back as they navigate parenthood," King shared. 
CHIP also contributed by sponsoring the pancakes and cocoa and providing the free toys and candy.
Each group shared that they felt the event was successful.
King added, "We had a great turnout, and the kiddos had a blast playing with their new toys and getting to visit with Santa!"