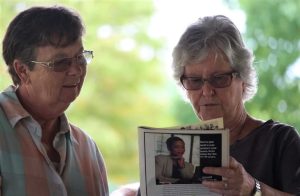 By Pam Dudding
As summer quickly leaves us behind, the fall events start to arise. The Annual Potluck Picnic at the Old Salem Church on Route 42 will be having its annual gathering on Sunday, August 21 at 1 p.m. 
After the delicious meal and time of fellowship, there will be a service inside at 2:30 p.m. presented by Billy Frazier. Jean Bradley, with lots of help from her family, Kathy Jones, LeeAnn Mattox and many others, created an event that many look forward to attending. Several even plan to travel from other states for what is almost a "family" reunion of friends. 
Though there are no Sunday or Wednesday services, and the lot is empty most of the time, two events still happen like clockwork at the Old Salem Church on Route 42 in Craig County, which creates standing room only events (excluding the COVID pandemic which prevented the gatherings) It takes a lot of diligent work to help to keep this wonderful tradition alive.
The church was established in 1883, and the first Christmas Candlelight service was held in December of 2001. Since, they have only missed one Christmas since due to bad weather and the last to COVID. However, they have two functions annually at the little church: a Homecoming picnic in the summer and the Christmas Candlelight service in December.
"We continue this because it seems so many would be disappointed if we didn't," Bradley shared.
The entire community is invited, and it is a potluck. 
"There's always so much food to choose from as people bring their favorite dishes to share!" many have said. "But there is always plenty left over too."
And all remember there is no running water or electricity, but a porta-john is on the church property for use. Bring your lawn chair, your favorite dish and enjoy a relaxing and fun afternoon, as Bradley warmly shares, "Everyone is welcome!"