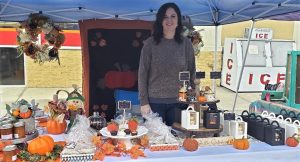 By Pam Dudding
Homemade baked items are a temptation for almost all of us, but add to that crafts and other art items, and it's a great happening!
Dawn and David Halmat, who own the business Lemon and Vale Cakery, have purchased the old Briz's. And many have seen the outside already change into a beautiful olive green. 
"It is one of my favorite colors," Dawn said. "To me it's calm and soothing and reminds me of nature, my favorite place to be."
Though their grand opening isn't set yet, they have decided to host a "Pop-up Event" for local small businesses, and of course they will feature their own delicious baked items. 
The Pop-up Market will be on Saturday, July 9, from 9 a.m. until 2 p.m. The address is 457 Salem Avenue (The old JC's Depot building across from the Fairgrounds). 
"We are thrilled to announce that we have collaborated with some incredibly talented local artisans that will be joining us at our 'future bakery' for a Market pop-up," Dawn shared. "You're not gonna want to miss this talent! I have several of these vendors' phenomenal work in my home.
"I was talking with another baker who is in a similar situation of working on their brick and mortar, not quite ready to open but wanted to utilize the space she has and also support other small businesses," she added. "David and I thought it was such a great idea and opportunity to give back to the community."
Dawn added that they are hopeful that "this amazing community will join us to not only support fellow local small businesses, but to make this something we can continue to have even after the bakery is open". 
"Supporting local-small businesses and artists is our passion!" they also shared. 
They said, "We feel that as long as we have the resources and ability to support one small business in the tiniest way, by providing a place for them to be seen and promote their business, it's the very least we can do. It's our way of paying it forward."
She and David are working on mastering recipes for some new Sweet and Savory baked goods that they will have for sale as well. 
Owning this business has been a lifelong dream of theirs and is coming to fruition "with tremendous community support and a huge leap of faith," they said. "It's still a leap not knowing how things will go with this economy, so we're taking it one day at a time."
They will initially have a menu of sweet and savory baked goods and plan to expand once they get a feel for things and what their customers prefer. 
It all started with a passion for sweets and a post on the New Castle page offering pumpkin carrot cakes for sale during the 2020 holiday season. Requests bombarded them and Dawn found herself cooking 'til dawn. 
However, they have learned that starting and owning a small business is much harder than they ever anticipated. 
"It comes with many obstacles and challenges, and it forces you to wear many hats, work long hours and put your personal life on the back burner- but it is so rewarding. I often (half) jokingly say my cake business is harder than my regular job as a nurse," Dawn said. "Of course, there are obviously different obstacles between the two, but it's not uncommon for me to work 20-plus hour days back-to-back at my current in-home bakery.
"We're truly humbled and grateful to this community for the support we've received in helping our dreams flourish. We are also very hopeful that our first pop-up market will not only be successful in helping these artisans gain more growth, but also be an ongoing way that we can give back to the community," they added. "We're very excited for our first market and we're looking forward to seeing familiar and new faces." 
They currently have 9 artisans joining them. Their exciting lineup for the first pop-up includes: Poppy & Co, LLC, Celeste Luna Studio, The Catnip Fairy, Savage Acres, Boothe's Woodworking, Quiet Revelry Studio, Central Va. Honey Bees and Paper Pleasures.
"They have a wide range of goods from local honey, artwork, stationary, woodwork, catnip toys, local maple syrup, apothecaries, leatherworks, jewelry, fresh vegetables in addition to our baked goods and so much more!" Dawn exclaimed. "We'll have breads, pastries, and some of my regular items like cake pops and cupcakes. We're also looking at having locally roasted coffee to order, but we're still working the details out on that- so it's not a guarantee."
They are hopeful for a great turnout as well as to add other artisans as well to their future Pop-Up Markets.   
If someone is interested in joining, they can message them on their Lemon & Vale Cakery facebook page or email at [email protected]. 
"Participation in our pop-ups is absolutely free!" Dawn and David shared. "Just one small business supporting another small business."