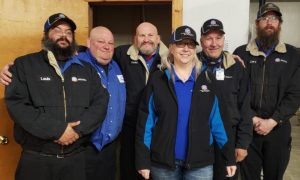 By Pam Dudding Contributing writer
Having to start from scratch to reopen a fire department is a big task, but the citizens of Craig still seem to pull together in times of need. Recently, the Upper Craig Creek Volunteer Fire Department (UCCVFD) received a gift beyond their imagination. 
A volunteer at UCCVFD, Allen, "Toad" as most know him, went to his employer at Southern Trust and explained that his firehouse had a situation: the station's water filtration system was in need of replacement. After a visit, Kenny, an employee of Southern Trust, told Chief Shawn Matheney to "not drink the water." 
Leslie, Southern Trust managing director for the last three years shared, "We offer a large line of services such as plumbing, electrical, HVAC, bathroom remodeling, drain cleaning, generators and more. Over the years, our communities have been so good to us. They have supported us and helped us grow. We employ the absolute best in tradesmen and women." 
She added, "Therefore, we want to give back."
The Southern Trust team got all the needed equipment together from different vendors.  Kenny had also shared with the team that, though the fire department never mentioned it, the hot water heater needed to be replaced as well. 
Leslie, who has a long history with fire and rescue herself, shared that they even had a vendor to donate it. She then put in the request for instillation to the plumbing team. 
When the Southern Trust team arrived at UCCVFD, they were greeted with great appreciation, handshakes, and a delicious home-cooked breakfast. 
Leslie stated at the firehouse, "The amount of workers you see here today isn't even all that volunteered. We just didn't need that many people. That's the type of employees we have."
Chief Shawn Matheney began with a blessing, giving God thanks for a wonderful day and "grateful to be able to come together, to serve our community and protect the people that we care about in our area". He also gave thanks for the heart of Southern Trust, "who came to serve us, so we can better serve our community". 
Leslie said that when she initially spoke with Shawn about the replacement, she asked, "I have a question, and whatever you answer will not change what we are going to do." 
Leslie continued to share with Matheney that she had some new guys in training on water filtration specifically and asked if he would mind if they did some of the work as the senior men taught them. 
"Leslie, I have spent my whole life training the younger generation through fire stations and others," Matheney said. "If you want them to do the entire project, that would be great." 
Southern Trust is part of the state apprenticeship program through the school system. 
"We get them in high school and start training them all the way through their school and years after, paying for their schooling," Leslie said. "Many stay with us after they graduate."
"Trade is a great place to make a living," Leslie added. "It is recession proof. It is an essential service that you can't go without. They also get to see how rewarding it is to help people."
After breakfast the team went straight to work. Southern Trust worked as a well-oiled machine as each went to work in their area of expertise, also mentoring the younger generation. Matheney and crew members watched as ST worked their magic. 
"We are sitting here with a donated fire engine, a donated tanker, and to get the members that we have now and the way the community has supported us through the fundraisers, and company's like this stepping up and even our local businesses here in Craig have really helped us," Matheney said.  
Leslie added, "When there are situations like this and a brotherhood comes together, they all come together to support each other. We are doing more of this with different trades."
Southern Trust has organized a few programs that allow them to do just that, like the "Heat for a Hero" program in the winter where veterans who are nominated and chosen get equipment and installation at no cost. 
"That is part of what we do as a company," Leslie said. "We wish to say to the communities, 'thank you,' and to show our appreciation." 
In just over a year, the UCCVFD now has 21 senior members on the roster and 12 junior members. 
"Out of the [senior members], in 2021, everyone answered at least one call," he said. 
At their last fundraiser, they stayed until 11 pm to finish a cornhole tournament. 
"The youth in our junior program, seem to want to be at the fire house," Matheney added. "They want to stay here and put time in. Volunteers are so hard to come by and we are growing. This program gives them something to do to keep them active in a good way, off the streets and running around and out of trouble." 
"We want to them know they are wanted and needed and that they have worth," he said.  
And now with a new water system, the station is able to do more at the site as well as offer more for their community and youth programs. 
Southern Trust is located in Roanoke at 5505 Starkey Road. You can reach them at (540) 343-4348 or www.southerntrusthomeservices.com.
"We can't thank them enough for what they did for our station!" Matheney said.