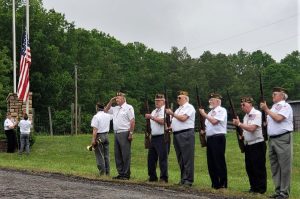 Pam Dudding Contributing writer
Veterans throughout Craig County have always served their community, after faithfully serving their country. Their hearts remain true to their life of service.
Our local Craig Valley VFW Post 4491 has had many expensive challenges in keeping up their Post. 
They lived with orange water for decades, until they had the water system installed a couple of years ago, due to some wonderful donations. 
They have worked diligently in repairing and replacing many things that has needed attention and raised funds to cover them. 
Over the last few years, the new wall heaters were installed, so they don't have to rely on the wood stove and these new systems have air conditioning as well. The Post would get really hot in the summer for their meetings which kept them from having many functions. Over the last four decades, they never had AC before. 
These installations then allowed them to rent the Post to community families and for other functions. 
They have served the community by volunteering at the Feeding America, raising funds for the local food bank and recent hurricane victims, and annually honoring teachers of the year as well as all first responders. 
Also, they honorably provide the military salute at funerals to those who served, both here in Craig and in other counties if they are needed in addition to community military holidays. 
They have allowed the Annual Veterans and Active Military dinners and the boy's youth club to use the Post for free for many years. 
Unfortunately, they just had a very unexpected replacement of their water pump which cost approximately $1,640 which was more than they had in their account. 
The pump was as old as the building which was built in the late 1970s. 
"It just quit," shared Commander Billy Lee. "It was the type that goes down in the well."
He added that they had to replace the electric wire into the well also. 
They do need funds to help pay for the pump and its installation as it came very unexpectedly and cleaned out their account. They are in need of approximately $1,000 for this to be paid and the insurance is due next month.  
Their hopes are to have a dinner in the near future to help build up their account again, but their need is immediate. COVID has put a damper on their annual fundraising fish dinners. 
The 4491 Post is one of the heartbeats of our community. 
Also, as a note to the community, their driveway needs to be redone. It is steep, and washes away easily. Vehicle tires spin easily going up which create even more ruts in it. 
If you would like to rent the Post for a function, it is $25 for one hour, $40 for two hours and $75 for all day (or only $25 all day for Post 4491 member.) They do charge an additional $25 if they haul off the trash for the event. 
To donate towards their immediate need, interested individuals may send your check to VFW Post 4491, 295 Hunters Drive, New Castle, VA 24127 or Billy Lee – Commander, 27 Cavalier Lane, New Castle, VA 24127. 
They are very appreciative of any donation or ideas for fundraisers. 
Let's continue to thank our Veterans for their service by helping them to have a respectable place for them to continue their meetings and functions.