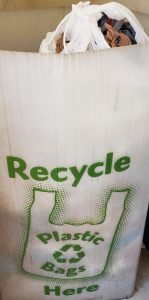 By Pam Dudding Contributing writer
There is so much plastic in the universe now and at our fingertips every day. 
The Craig County Public Library has a group of young girls who are working diligently to make something from this "trash," that almost everyone tosses without thought. 
They are, Kammie and Kallie Fisher, McKenna All and Cheyanne Bell. 
Their goal is to collect at least 500 pounds of specific plastics in order to purchase a new bench for the library. So far, they have done a great job!!!  
Dr. Marge Lewter who is also a library supporter and member, shared that she learned of this great idea from Martha Dillard, another library supporter. 
"It is called Trex Community recycling and the goal is to recycle plastic film that is normally not recyclable like plastic grocery bags because it gets caught in the recycling machinery," she explained.  
Lewter shared, "Nex Trex makes composite material that is used like wood for building projects- outdoor furniture and decks."
They ask people to contact the library at [email protected] to sign up as there are specific materials they can only collect. 
"The collection includes any plastics with the recycling number two or four," explained Kammie Fisher. "If it doesn't have a number or if you are able to press your thumb through it, it is likely one we can use."
She mentioned that bubble wrap and amazon plastic is ok to collect as well as grocery bags. 
Lewter noted, "We do not want these high school girls to go through people's trash to weed out the incorrect materials, so when people sign-up, they will receive information on exactly what to collect."
There is a collection container behind the library and there is a plastic bag collection bin at Food Country. However, they are almost at their goal, so just a little bit is needed until they start another project, so double-check with the library for your donations. 
The material is taken from the library to a barn where the girls weigh and record the weight before it goes to Blacksburg at participating grocery chains such as Food Lion and Kroger.
Lewter, who makes the journey from New Castle to Blacksburg twice a week, shared that she "stuffs my car full every trip!"
She added, "Please just use less plastic in your life. Be aware of the trash you personally generate and try to reduce it by buying in bulk and using your cloth bags at the grocery store and everywhere!
Their deadline is April 1 for 500 pounds, which will provide enough funds to purchase one bench. 
"Getting the 500 pounds is the hardest part of the project for sure," Kammie said. "If it wasn't for the plastic we collect from Food Country, we would never be this close." 
Maybe the next collection will take even a shorter time if all of Craig gets more involved and brings their plastics to make new usable furniture. 
Kudos to these young ladies for taking on this project! A new bench at the library is definitely needed and will be by so many, with the warmer weather upon us. 
You are a great example of our future entrepreneurs who care for our land, and Craig County sends you a big "thank you"!