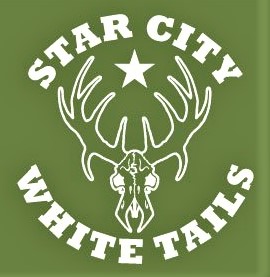 By Pam Dudding, Contributing writer
If there is one thing Craig County is known for, it is its land that houses lots of deer and certainly big bucks. 
Jeff Phillips, a hunter since he was a youth, decided years ago to start a small contest for hunters to submit their big buck pics to be judged. Little did he know that his small 17 buck contest from year one would lead to his current 30,000 followers on Facebook. 
He created his own page called Star City Whitetails. "It is a hunting page for Virginia," he shared. "This is my 10th Anniversary of the SCW Big Buck Contest, and I am just as excited this year as I was my first year." 
For all hunters, during this year's full deer season from October 2 until January 1, Philipps will be accepting pictures for the Big Buck Contest. Only Virginia bucks can be used. 
He has donations of over $13,000 in prizes, including three different nice-outfitted hunts packages. 
The contest, October 2 through Oct. 27, covers all of Virginia and he has six different divisions to include everyone: men's, women's, youth, National Forest, mobility impaired and early bow season. 
"It is truly a 'no hunter left behind contest' as I have divisions that cover everything," Phillips said.
He continued, "Just take a picture of your big buck and send it to Star City Whitetails anytime during the contest season. I immediately file each picture into its appropriate category. Later, I narrow the pictures to biggest bucks I have kept in my folders for all the divisions. Then, at the end, I go through and pick the best bucks. This starts the contest that takes about a week. I will post 10 deer at a time. I give people a few hours to vote in each post, then continue on each round until we finish. Then the one with the most likes will move on out of each round, until the best is chosen by the Facebook community."
He added that in order to keep a level of honest integrity intact the only votes that count are from the people who have liked his page prior to the contest at the beginning. He also asks people not to share once the contest starts and noted that almost everyone is on board with the rules. 
Born and raised in Roanoke, Phillips started hunting and fishing at a young age with his grandfather (his mom's dad) at Smith Mountain Lake. That's why I called it Star City Whitetails.
"That's where I got my passion," Phillips said. "He and I were very close. He was the man in my life for many years. Though he passed in the 90s, my passion has never left. It is as big now as it has ever been. I give credit to God and to my grandfather."
He added that no one else in his family hunted. 
Phillips recollects the time when the main newspaper printed hunting pictures and before opening day, they designated two pages to the season's forecast. 
"This is one of the reasons I started this page. I thought, I'm not going to let this die. I will create my own little Facebook page. Then it grew into 30,000 followers," he said. "I had no idea people from the Beach and Tazewell would view. This contest, I will have 70,000 viewers who will see and follow this contest." 
Phillips has also done much writing on his passion. 
On his website, StarCityWhitetails.com, he has all the photos from previous years that people have sent and alongside, he has written over 100 articles, starting in 2012, his first year where he had only 17 hunters enter the contest. 
"The guy had a huge buck over 200 inches," he recollected. "I called him on the phone and the story was so fascinating that I shared it. It was the first article I ever wrote and since then, I have covered every winner."
He has also been published in the North American Whitetail, the biggest deer hunting publication in the USA. 
Last year, he had over 4,000 entries to filter down.
"I know that is a lot of hunters, and outdoor enthusiasts will be excited about this opportunity. Still, at the end of the hunting season, it is a place for people to share and gather information on our hunting tradition, so I share every picture," he said. "But at the end of the season, I have to choose the top 300 to 400 from thousands of deer." 
Phillips sends his appreciation out in advance to all who have "generously donated prizes whether companies or individuals. It is because of people who have donated their time and efforts that has made this contest what it is." 
Included, is a local Craig business. "Big appreciation to Angie Guthrie-Ponton and Bub Ponton and Guthrie Insurance company as they are giving $20 to the 'Top Ten' in the youth division," he added. 
On Saturday, September 25, Star City Whitetails, Buckmasters & Sportsman's Warehouse will be hosting a great "Buck Scoring Event" at Sportsman's Warehouse in Roanoke. 
"Doors open 9 a.m. so bring the bucks, sheds that you would like to have scored. I'm sure y'all have some that have never had tape put to them," Phillips excitedly shared. "We will measure until about 3 p.m."
The fee is $10 per head which will go toward a drawing from Buckmaster's and being entered into their record book if the following scoring requirements are met: 140 without spread (Firearms), 105 without spread (Archery) and 75 (shed antler). The Buckmaster's scoring system truly focuses on giving credit to the buck for every inch it grows.
The official scorers, Anders Blixt, will be traveling from Eastern Virginia and Wayne Cox will be coming from North Carolina. 
Sportsman's will be giving out gift certificates to the Top Scoring Bucks in the following divisions: men's, women's, youth and archery, as well as an additional $100 gift certificate to the overall top-scoring buck of this event.
"Don't miss this great event and a unique opportunity to have your bucks, sheds scored," Phillips said. "Bring in your harvests from yesteryear and present and the public is encouraged to come by the store to view some of the Best Bucks Virginia has to offer."
Tyler Clark will have his Pulaski County buck at the event. It won the overall State Championship in Richmond.
For more info, https://www.facebook.com/SportsmansRoanoke/
"I had no idea what this would become such a blessing with all the opportunities and the friendships I've made along the way. It is a lot of work as I don't have another administrator, but I answer to any errors," Phillips shared. "I love it as much now as I did when I first started, and I hope others enjoy it as well."