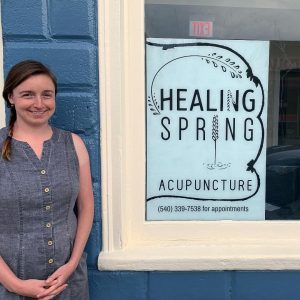 By Pam Dudding, Contributing writer
Pain is nothing to "shake your head" at when you are the one experiencing it. For many, one of the oldest avenues of relief and healing has now come to Craig County." 
"Thank you, New Castle, for a great first week for Healing Spring Acupuncture," Elizabeth Spellman expressed on Facebook when she first opened her new business. "I'm thrilled to be of service to our community."
According to Spellman, "acupuncture is effective for many acute and chronic conditions such as asthma, anxiety, depression, insomnia, weight control, low back pain, frozen shoulder, migraines, fibromyalgia, digestive concerns, sciatica, general aches and pains, and more." 
Spellman is a board-certified, licensed acupuncturist in Virginia and West Virginia. She also holds a master's degree from Jung Tao School of Classical Chinese Medicine in Sugar Grove, North Carolina, where she spent four years learning from nationally recognized acupuncturists while gaining clinical experience working with a broad range of patients. Spellman has also sought advanced clinical training with Edward Neal, MD, a world-renowned classical Chinese scholar and clinician.
Today, she lives and farms in Sinking Creek and shared that she is thrilled for the opportunity to serve her local community. 
"I played with the idea of an on-farm clinic (which I may still do one day) but the opening of the space at 219 Main St was perfect timing for me and it's great to be downtown among other wonderful businesses like The Emporium and Lasterday," she said. 
Her clinic is called Healing Spring Acupuncture, PLLC. 
Spellman believes that Classical East Asian medicine offers a "beautiful way of seeing the body as a reflection of nature and part of an interconnected whole." 
She continued, "It's given me a whole different way of relating to the world. I work with needles to facilitate blood and consciousness flowing in places where it is stuck. The body is so intelligent, it knows what to do to heal once consciousness and blood can flow more freely."
Spelman feels strongly that farming and acupuncture are both healing work—whether it's working with the ecology of the land or the body.
She explained that diseases can often arise in response to alterations in anatomy and blood flow which can lead to impairments of localized immune regulation and gene expression. 
"If we shift the body's ecology toward health, it can be a much more life-affirming and powerful course of healing than, for instance, going to war against every cancer cell," she added. "This way of healing can also be deeper work than eradicating a disease and hoping it doesn't come back. If our body's ecology supports a disease like diabetes or cancer, then shifting that ecology so disease can no longer thrive is a stronger preventative against recurrence."
Spellman may use one or any combination of the following: acupuncture, cupping, moxibustion, herbal liniments, massage, and dietary therapy.
"As a farmer acupuncturist, I ensure with the patient, that the body is well irrigated, whether that is with blood or energy. When we regulate tissue planes with needles, we are regulating the flow of blood and energy through the body," she explained. "Sometimes this regulation can open up stuck areas and create space that the body fills with blood and energy. In fact, acupuncture is specialized for releasing stuck places – whether knots, adhesions, scars, or other devitalized places."
She further explained that these could come from surgeries, emotions, trauma, excessive exposure to cold or heat, and long-term illnesses that impair movement in the body. 
Spellman explained that most insurance carriers often don't cover acupuncture except for certain conditions, and Virginia law makes it difficult to get full coverage with Medicare.
"In order to make my practice accessible to people of varying income levels and needs, I have the most affordable rates in the region, offer a senior discount, and won't turn anyone away for inability to pay. In other words, I can offer 'sliding scale' or 'pay what you can' as needed," she shared. 
Healing Spring Acupuncture is open from 10 a.m. to 7 p.m. on Tuesdays and Fridays and interested individuals can call (540) 339-7538 for an appointment.
"It's an honor to be able to work with Craig County residents and I hope that I can encourage an increased idea of what health is. Health as thriving in all stages of life, not just experiencing a lack of symptoms," Spellman said. "Thriving is like the beauty of a flower – our bodies are worlds of oceans and tides, pulsing with red rivers – not machines whose parts break and need to be fixed. I also am specializing in illnesses that are complex and resistant to standard care, and many of my patients have not had results with other modalities."