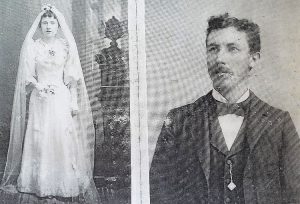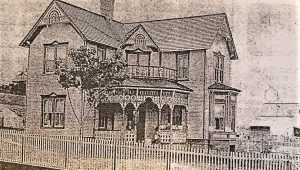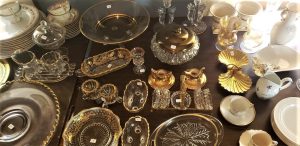 By Pam Dudding
Contributing Writer
For many in Craig, the "old Layman House" has been an icon since it was built in 1895, when the couple was married and still stands as a corner attraction at the Main intersection of New Castle. 
However, it is finally time for its contents to be divided amongst close family and an auction to be had for the remainder.
Many items will be ready for the big sale this Saturday and Sunday, August 21 and 22. 
Beautiful antique beds, including a brass bed and a poster bed with pineapple tops, will be available in addition to small-handcrafted tables, several couches and loveseats with wood designed edgings, a Newhome antique sewing machine and an antique spinning wheel. Rockers, hope chest, pictures, books, linens, many glass bottles, crystal, china, and gold laid items as well as boxes made with beautifully crafted inlaid colored woods and much more will also be sold. 
Family shared that G.W. Layman, and his wife Annie Reynolds Layman (from Sinking Creek) had this home built by Matt Wood from Botetourt. They boarded the workers in the home where they lived at the time, which was the old Kibler house. 
The sidewalk they had designed was made of boards. The beautiful "fancy work" on the front of the house was turned by hand by Grat Firebaugh from Botetourt. 
Annie made mention back then that "Grat was a very religious-type fellow, held tent meetings and preached (though he was not an ordained minister)." 
She recalled one memorable time when he came to their home and her family was gathered around their dinner table enjoying their meal, saying, "Now Grat didn't believe in women wearing any type of jewelry, ornaments of any kind. One of the women at the table was dressed in her finery and wearing her most beautiful brooch and other fine jewelry. Grat studied her for a while and just out of the blue said, 'Lady, you're going straight to hell!' The entire family was flabbergasted – in awe – without hesitation. Mr. Layman, as head of the table, told Grat just to sit down and keep quiet. The family had lots of laughs over this event for many years to come." 
Mr. Layman served as a U. S. Senator from 1918 through 1934. He was often spoken of as "the wisdom that oft avoided encumbering the Commonwealth with nasty, ill-conceived and unworkable legislation." 
His daughter Kate Layman was a pillar in the community and played the organ at the New Castle Methodist Church next door, until her late 80s and lived in the house until her death in the mid-1990s. 
When you enter the Layman home, its uniqueness captures your attention, from the high ceilings to the wooden staircase with its uniquely designed handrails. 
Each room is large and holds a special look to it. 
The sale will be held two days, Saturday, August 21, from 8 a.m. to 4 p.m. and Sunday, August 22, from 1 p.m. to 4 p.m. 
A beautiful antique Hammond organ is available for someone to take to a good home. Their daughter, Kate Layman, played this organ. Also, anyone that knew Hattie Bell, who played the organ pipes at the New Castle Christian Church, knew the melodic sounds that could be made by these seasoned players. The family shared that they must have bought their organs on the same day, as they were exactly alike.