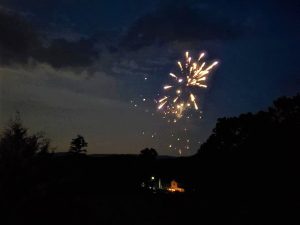 Pam Dudding contributing writer
Most of today's older generation hold Independence Day dear to their hearts, as some feel their families fought for the freedom of the United States of America.
America is experiencing more trials and tribulations in the last couple of years, than it has since its founding heritage.
Many years ago, people fought to become independent of other rulers and chose to separate its association with another country's beliefs and standards.
History shows that Independence Day, the Fourth of July, is a holiday which commemorates the signing of the Declaration of Independence on July 4, 1776, which solidified the American colonies' resolution to fight for their independence from Britain, the monarch of King George III, and were now free and independent states.
It is stated that, "A major milestone in the United States' development as a nation, the Declaration of Independence was written by Thomas Jefferson and later approved by Congress in a closed-door session on July 2, 1776. The next day founding Father John Adams wrote in a letter to his wife Abigail: 'But the Day is past. The Second Day of July 1776, will be the most memorable Epocha, in the History of America.'"
He continues, saying that he thinks that this will become "the great anniversary Festival" to be remembered as "the Day of Deliverance by solemn Acts of Devotion to God Almighty."
In 1941, July 4 was made a federal holiday. Americans, however, had been celebrating it decades before.
Many Veterans of Craig County have shared in the past that the Fourth of July is special because it is a reminder of both one's political and personal freedoms.
One of the eldest Veterans who passed last year, Eugene Francisco, shared, "I celebrate July 4 because that's what we all fought for then and in wars after, to keep our freedom and I will until I die."
Another, Panco Cantley, added, "Because of our freedom from other countries strongholds, we can worship as we please here as Christians, our heritage from the foundation of the first colonies."
Life today seems different in America. Some question, "Are we still the United States of America?"
The local Daughters of the American Revolution have added their spirit of patriotism and gratitude to the County of Craig.
"For several years Craig Valley Chapter, NSDAR, has encouraged businesses and organizations with road-side signs to post a patriotic message to celebrate our nation's independence," DAR representative Diane Givens said.
Many years the suggested message has included "Happy Birthday America" with phrases such as "Freedom is Not Free" or "America the Beautiful."
On the night of July 4, many people within the town of New Castle lit up the skies with beautiful fireworks. As many as four went off in different homes at the same time.
I live on a hill on the outskirts of town. At dusk, on Sunday night, fireworks started going off in many areas around New Castle. There were six different ones going off at one time. The sky and area lit up so beautifully in all the colors. It seemed to display the glory that our country has fought to keep, the freedom of being able to enjoy life as we know it. A sense of deep pride and appreciation welled up inside me, as I thought of the many men and women who sacrificed their time, families and some, even their lives for me to have this privilege. I am grateful, honored and happy to be living in the United States of America, in Virginia and especially in Craig County, where freedom is still free.
Salute your country, the United States of America, by flying your flag and honoring all who have fought, whether in combat or at home, to keep our country a free nation and one known to exemplify honor, integrity, courage and faith, "one nation under God, indivisible, with liberty and justice for all."