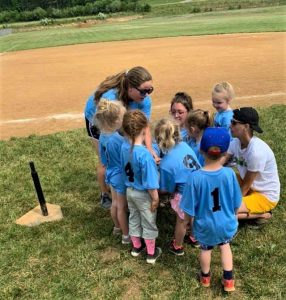 Pam Dudding, contributing writer
"As a neighboring County Recreation Program says, it's time to 'reimagine recreation,'" Debbie Snead, Field of Dreams Advisor, recently said. Snead has always had not only a vision, but a zeal to create a place for Craig County youth to play and enjoy.
She noted that after a year of not being able to play sports, Craig County kids have literally been "having a ball" at the FOD.
There have been games following athletic contests at the field, with laughter streaming from kids as well as parents and coaches.
Noted several parents and coaches, "It's so good to see our kids enjoying themselves, getting out in the fresh air and playing sports that make them happy."
The Craig County Recreation and Conservation Association had its first in-person meeting in June with a good turn-out of parents, coaches and interested community folks.
Teresa Oliver will continue to serve as President. Other officers confirmed include Joyce Ashley – VP, Debbie Boitnotte – Treasurer, Sheri Sloss – Sports Director and Debbie Snead – Advisor. The group also expressed gratitude to JoAnna Hutchison, who served as Field of Dreams Treasurer for over a decade.
They shared that there were lots to discuss, including a successful softball, baseball, and T-ball season; insurance and finances; field conditions and approaching football season.
There is a new sports email available strictly for sign-ups with PayPal and Venmo – [email protected] – to make it easier for all parties involved.
Sloss reported there was a need for a new outfield fence and Craig Botetourt Electric Cooperative provided a $1,900 donation in memory of Christie Scott to fund the fence. The group was most appreciative and has created a CBEC fence banner in gratitude.
"It was agreed that maintenance for the fields is a big job for the 18-acre complex, but Justin Boitnotte, with help from his family, keep the place mowed and in beautiful shape," Snead said. "In fact, it has never looked better, and CCR&CA appreciates funding the Craig County provides to help with the field maintenance."
It was noted that CCR&CA has completed several infrastructure projects for the FOD, including electricity into the field with assistance from Craig Botetourt Electric Cooperative; a well for watering the fields with labor donated by Billy Horn; and a detailed water project to get fresh water into the field.
The project was overseen by B.J. Oliver and son Grant who implemented the 2,500-foot line from the town's PSA into the center of the complex. The group is grateful for all the contributions of in-kind labor.
Additionally, the CCR&CA collaborated with the Craig County Child Care Center to receive more grant funding to construct a learning lab for school age children. Due to the number of children in the center, the need for expansion of space and outside activities, the Craig Center met the guidelines for the funding services, to "expand and maintain capacity to increase access to safe learning spaces for school age children from pre-k through age 12."
The Leaning Lab with restrooms, concession area and storage will be located at the Craig Field of Dreams Complex and available for other sports and activities when the lab is not in session.
"Thus, with the water project complete and the new building almost ready, we're in need of a septic system to complete the infrastructure," they reported. "Daniel Givens of D&C Excavating is licensed for this type of commercial system and will be doing the job. The Craig Economic Development Authority was kind enough to donate $8,500 and CCR&&CA will be searching for funds to pay for the remainder of the project."
Snead added, "Since the Craig County doesn't have a department of Parks and Recreation, dedicated CCR&CA volunteers and the Field of Dreams provide a basic community service with organization of youth sports and a multi-purpose complex that enriches the County's assets and economic development. Imagine how much could be accomplished if CCR&CA could have the unique skills of all those interested in supporting Craig's recreation programs. Not only parents and coaches, but the organization is looking forward to the day when these volunteers can transition into a County Parks and Recreation program, having the additional benefits of local and state recreation funding and support."
The next meeting of the CCR&CA will be July 8 at the Craig County Child Care Center's newly renovated Quonset Hut beginning at 7 p.m.
"CCR&CA is happy to have the community attend and share ideas," the team shared.