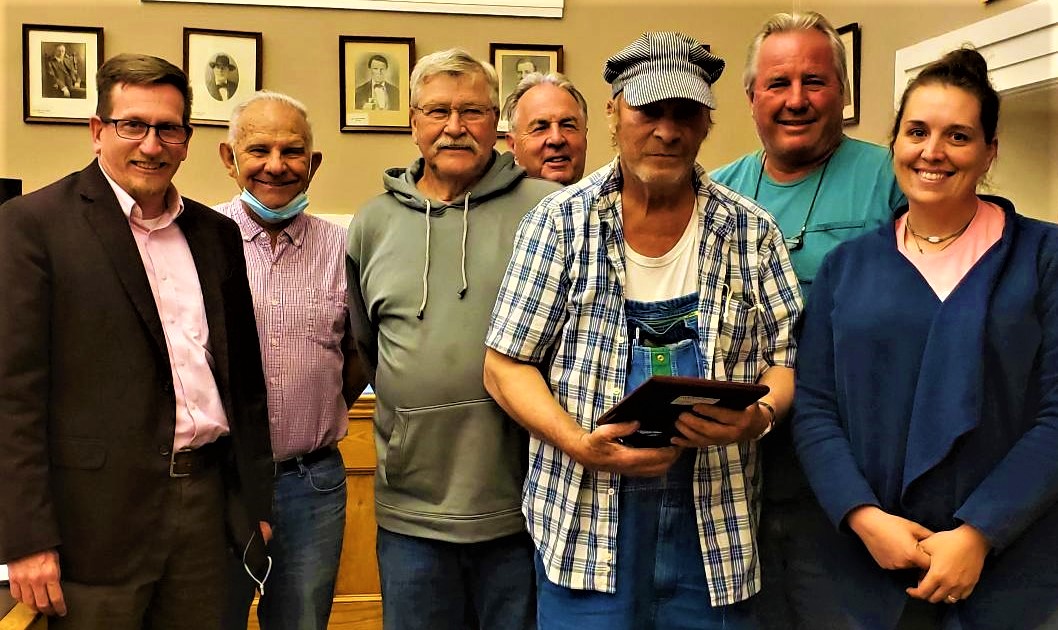 (WG) From left to right, during Boop's retirement presentation at the monthly PSA meeting to honor him for 21 years of excellent service, Lenny McDonald and Steven Tate (Board members), Carl Bailey (Co-chairman), Tommy Zimmerman (Board member), Ronald "Boop" Jones – (operator and retiree), Donnie Wayne Jones (Administrator/Operator PSA) and Suzanne Gans (PSA Assistant).
---
Pam Dudding Contributing writer
           Many Craig County residents are known for their "old school" work ethic. Ronald "Boop" Jones Jr. was recently recognized for his years of service and the level of integrity he performed for the company.
At the monthly New Castle PSA meeting, the first item on the agenda was to present Boop with a plaque upon his retirement. It stated: "Congratulations on your retirement. Presented to Ronald Gray Jones, Jr. in sincere appreciation for your dedicated years of service with the Craig New Castle Public Service Authority. We hope that you enjoy your well-deserved retirement. 21 years of service."
The New Castle PSA primarily operates in the water supply industry within the electric, gas and sanitary services sector. It has been in operation for 44 years.
The monthly PSA Service Board meets on the first Monday of every month.
This month included a COVID report as the SCC lifted the rules on late fees. "Therefore, Craig PSA offered everybody a chance to sign an agreement for 12 months to catch up with their arrears without interest," Jones said. For any questions, contact the office at 540-864-6368.
Boop was the #2 Operator at PSA and was known by many as an invaluable employee.
As he was presented the plaque, he was greatly appreciative, thanking everyone. "This plaque is so nice," he said with a smile.
Shared Donnie Jones, Administrator and Operator, "Boop has worn many hats for the Services Authority. His dedication to the PSA's customers and to his job will be missed and not easily replaced.  I wish him the best and hope he will find more enjoyable things to do and relax at."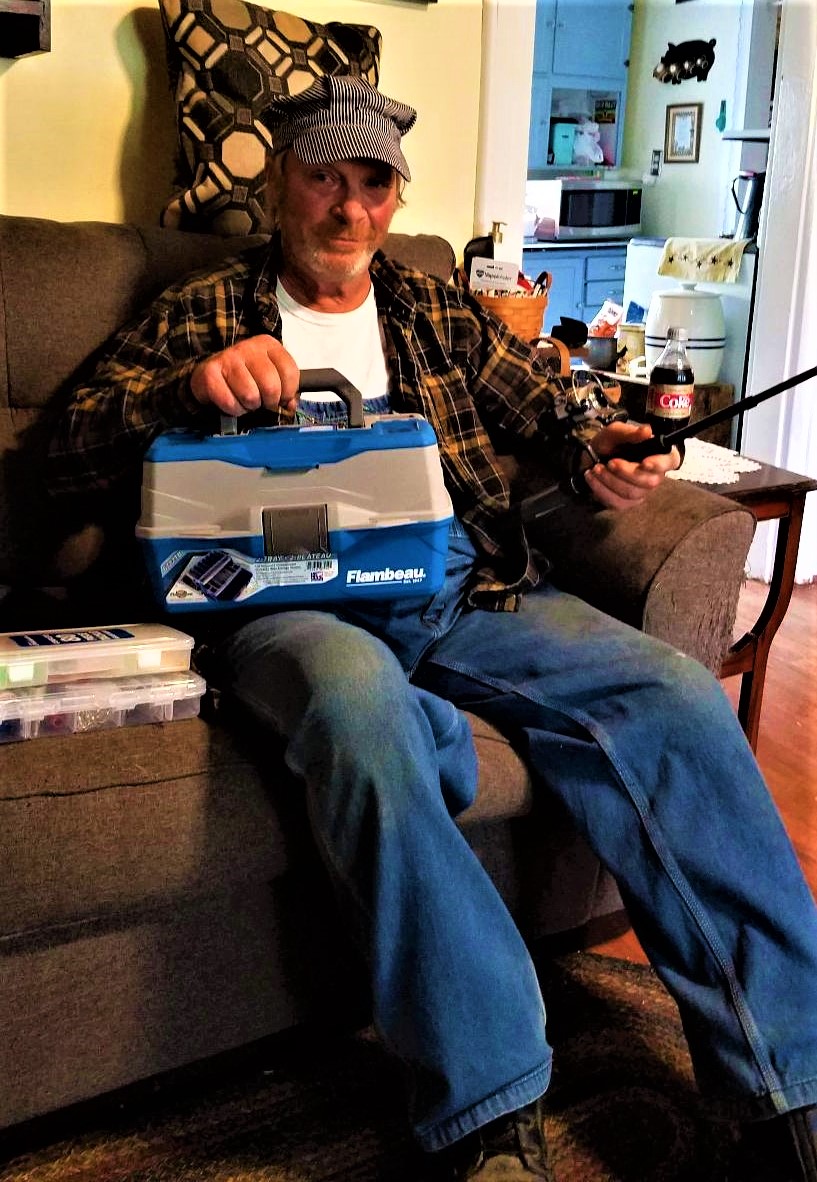 Quickly following Jones was Suzanne Gans, PSA Secretary, who said the following, "In August on 2012, a gentleman greeted me with a soft smile, and a railroad hat. I thought he was the coolest person ever! He just looked at me said, 'Hi, I'm Boop, nice to meet you, you're going to fit in just fine.' After that, we developed one of the best and most enjoyable long-lasting friendships that will never be forgotten. Boop is going to be to a very hard employee to replace, he did many things at the PSA. Many things that most places of employment would have several other employees do the job for. He never complained and was always ready to work, to help anyone that needed it. When he did his job, it was always done correctly the first time. If someone did not do it the way it was supposed to be done, he would make us redo it. He took pride in his work and that was just his work ethic. Hard work, dedication, and commitment."
Gans added, "I would often have to bring my children to work, and he would love seeing them, ask about how they were doing and, give hunting advice. His wife, Kathy, always made the most wonderful, sweet treats for Boop. He would always share, and of course, my children never turned one down. It's hard to come to work every day knowing we are not going to see Boop. That smile and often a funny remark about something he has to do for the day. However, I wish him all the happiness in the world. He deserves to spend his time enjoying the peacefulness of his homeplace, the nature and wildlife that surrounds it, his two absolutely entertaining cats Pooh and Radar, and most importantly his loving wife Kathy.  No one can replace Boop Jones, and I will enjoy all the memories I have made with him over the last ten years. Anyone who knows Boop can't help but be instantly attached to his personality, kindness and hardworking work ethic."
"I wish to thank Boop for his decades of service to the Craig-New Castle PSA, through which he has been an invaluable asset to the organization and our community," Jordan Labiosa, PSA Chairman said. "With limited budgets, sometimes organizations must rely on a small staff of uniquely qualified individuals who must be well-versed in a wide array of talents and skillsets. During Boop's service to the PSA, he has gone above and beyond, engaging all aspects of his life experience to deliver exemplary results."
Board member Tommy Zimmerman added, "Boop is going to be missed by all of PSA family. You could turn him loose on a job alone and he would work until the job was finished. The thing I will miss the most about Boop is his sense of humor. Under the worst of circumstances, Boop would find something to crack a joke about. Enjoy retirement Boop."
"As a citizen of the New Castle-Craig County community and also the Craig New Castle PSA Board, I personally thank Ronald Boop Jones for over 21 years of service to make our lives easier with all our conveniences he has helped us to be able to enjoy.  I wish him all the best in his retirement," Board member Steven Tate added.
Betty Wolfe worked at the PSA as a secretary when Boop first arrived. "I worked with Boop for several years, and it was always a pleasure. He was so dependable, never wanted to miss a day's work for being sick, and never wanting to take time off. He was a valuable employee, doing his everyday duties and keeping the vehicles and equipment running. He will be missed. I hope the next phase of his life will bring him all that he seeks and more."
Before working at PSA, Boop worked at the Muffler Shop and the New Castle Exxon as well as odd jobs at Craig County Automotive and other places. But now, he said he is ready to retire.
When Boop was asked if he was indeed ready to retire, he responded with a quick and adamant, "Yeah! I'm ready to go fishing!"
Kathy shared that she bought him a new fishing pole, tackle box and even filled it up for him with new lures and bait. Though, she did shake her head yes when someone asked if she had a honey-do list ready.
Later Boop added, "I'm going to do something, piddle a little maybe."
On May 20, Boop and Kathy will celebrate 32 years of marriage.
"I am so glad he is getting to retire. He has always worked a full-time job and usually a couple of part-time jobs all the time. He deserves time for him," Kathy added with a grin. "We have been talking about a few things he can now do at home now that he has time. He agreed and said, 'Yes, dear."