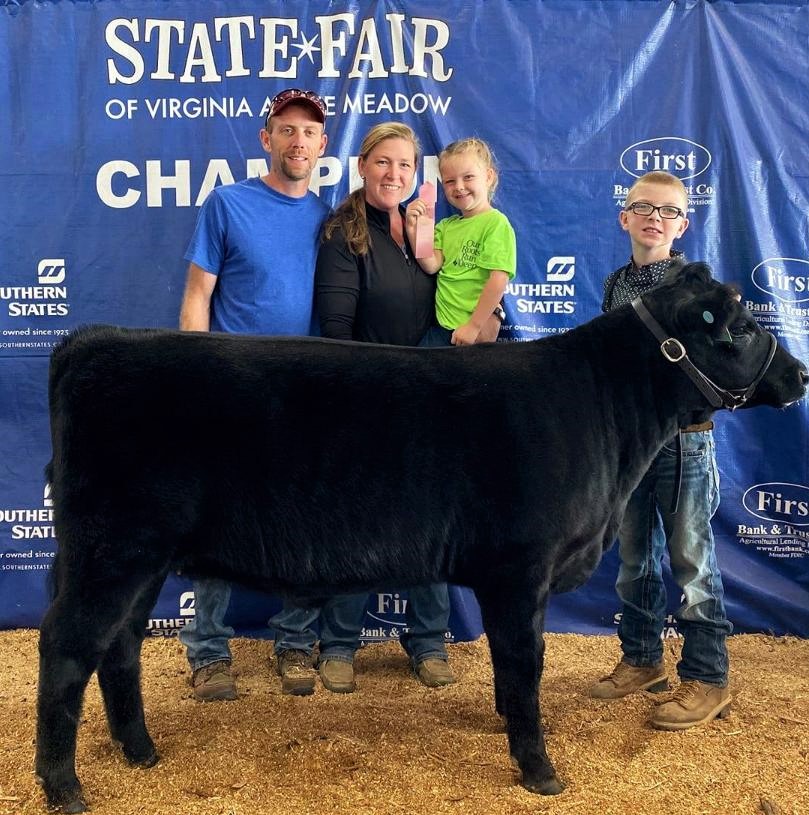 Pam Dudding Contributing writer
When people refer to someone as a "cattlewoman" in a rural area, it is considered a true compliment.
Jeannie Layton-Dudding of Craig County has definitely earned that title in both life and education and fully embraces the term.
On December 5, 2020, Dudding was elected to a three-year term on the Virginia Farm Bureau Federation Board of Directors at the elections of officers and directors. The ceremony was held during the VFBF 2020 Annual Meeting of Voting Delegates.
Her husband Jason was very proud and posted the information on Facebook, where Jeannie received numerous compliments.
As a board member, Dudding will represent Farm Bureau producer members in Craig County as well as Alleghany, Bedford, Botetourt, Franklin, Henry, Patrick and Roanoke.
Dudding said that she was encouraged to run by her predecessor in the position who held the District 4 Board seat for 34 years prior to her.
"I love to serve my fellow producers and Farm Bureau members. Farm Bureau is an amazing organization that does so much to support not only the American farmer, but all of its members," Dudding said.
She added, "There is a great deal that many don't realize that Farm Bureau does. Many don't realize that Farm Bureau Federation is a separate entity from the insurance agency and that there are many benefits for being a member aside from having the ability to purchase insurance."
Dudding also said that she believes in servant leadership, in serving to meet the needs of those within an organization and helping those whom she serves to achieve all that they are capable of. "It will be my job to see that the voices of Farm Bureau members in this District are heard at the state level and that they are well-represented," she said.
Dudding, however, did not grow-up on a working, production farm. Yet, her extensive education, employment and participation shows her heart for the field she loves.
Dudding's education resume is as follows: University of Connecticut, Bachelor of Science in Animal Science, Magna Cum Laude & Bachelor of Science in Education 2001; and Virginia Polytechnic Institute, Master of Science in Career and Technical Education with a concentration in Agricultural Education I 2003.
Her past employment includes:
2004-2012 Agricultural teacher at Giles High School, Pearisburg
2003-2004 Agriscience teacher at North Fork Middle School, Quicksburg
2002-2003 Agriscience Graduate Research Assistant at Blacksburg Middle School
2002 Graduate Research Assistant, Dr. William Camp, Blacksburg
1998-2001 Student Worker, University of Connecticut Livestock and Dairy Unit, Storrs, CT
1999 and 2000 Manager of Showstring, Driftwood Plantation, Awendaw, SC
1995-1998 Herdsman, Hope Hill Farm, Salisbury, CT
Her added list of professional associations display her love for her county: Virginia Farm Bureau Federation (current Craig County Board Member), Virginia Farm Bureau Young Farmers member, Virginia Association of Agricultural Educators (VAAE) and National Association of Agricultural Educators (NAAE), Virginia Association for Career and Technical Education and Association for Career and Technical Education, Giles Education Association, Sigma Alpha Sorority (Rush Chair, Vice President, Alumni Liaison), UConn Dairy Club (Vice President) and UConn Block and Bridle (Beef Chairperson), FFA (1992 – 1998 held various offices), 4-H (1986 – 1998 held various offices), Virginia Tech Clay Target Team, American Angus Association and the Blue Ridge Evening Association.
Added to all this she has also received many awards and completed countless other accomplishments: NAAE Teachers Turn the Key Award Winner (2006), NAAE Outstanding Young Member (2007), DuPont National Agriscience Ambassador Program (2009 – present), National Agriscience Integration Institute (Virginia Tech team), Workshop presenter at National FFA Convention, Workshop presenter at NAAE National Conference, Workshop presenter at VAAE Summer Conference, Worked with Virginia Tech Pre-service teachers, Chesapeake Bay Foundation grant recipient, Building Our American Communities grant recipient, Alternative Agriculture grant recipient, FFA National Chapter Award (gold, two-star, and three star recipient), Virginia FFA Horse Evaluation State winning team (2006), Block and Bridle Horse Evaluation High Team (2006), Block and Bridle Livestock Evaluation High Team (2006), Eastern States Exposition Livestock High Team (2006), Virginia FFA Livestock Evaluation State winning team (2007), Job Interview State Winner (2006), Virginia Agriscience Fair winners (2006 & 2007), along with multiple Virginia State FFA degree recipients including a State Star in Agriscience, multiple American FFA Degree recipients, National Finalist for American Star in Agriscience, multiple FFA National Scholarship recipients, two State FFA Officers and a National Chorus participant.
"I did show horses from a very young age which then led to showing cattle in 4-H and FFA," Dudding noted. "I have always had a love of animals which ultimately led to a love of the agriculture industry. American farmers make up less than two percent of the American population, yet they manage to provide food for not only our country but exports that are the backbone of our American economy."
In Dudding's proposed letter she wrote to the Board, she shared, "I have been actively involved in Virginia Farm Bureau for 14 years serving as a Craig County Board Member. This year has been my first serving as County President. I was an active member of the Young Farmers although, like many, I wish I had begun my involvement sooner as I was aging out."
Dudding also served as Craig County Young Farmer Chair for two years and mentored YF Chairs that served after her.
"I have attended multiple Summer and Winter Expos as well as the American Farm Bureau Young Farmer and Rancher Leadership Conference. I was successful in Discussion Meet with a Sweet Sixteen finish nationally," Dudding shared. "The Women's Leadership Committee has also been a part of my Farm Bureau involvement."
In 2015, Dudding was honored to serve as Farm Woman of the Year by the VFBF Women's Leadership Committee.
"For several years, Giles County (the county where I work) had been trying to get a WLC established. With the help of one of my past students and other producers in Giles, we were able to successfully make that happen," she said. "I am proud to say that I was a part of the planning and inaugural class of the Growing Leaders Academy. The Growing Leader experience gave me many opportunities for personal and professional growth."
Also, in her tenure, she mentored three Outstanding VAFB Young Agriculturists.
Dudding has attended the Virginia Farm Bureau Annual Convention for seven of the past nine years and attended the American Farm Bureau Convention twice. She currently serves as the District 4 trustee for the AgPAC Board.
In college, she worked as a freelance fitter and showman for various beef cattle farms on the East Coast which is what brought her to Virginia from Connecticut and ultimately Virginia Tech for her master's degree.
In her last semester of graduate school, she met her now husband, Jason, a native of Craig County.
"Our herd of 70 head has grown from those last three show heifers that moved to Virginia with me in 2001," Dudding explained. "As first-generation farmers, we raise registered and commercial Angus cattle."
They market most of their calves through Virginia Quality Assured sales and also market some registered bulls and replacement heifers.
Dudding shares that their greatest joy is raising their children, Layton, 12, and Evie, 6, as a part of their farming operation were both started their journeys in 4-H showing cattle, sheep, and goats. "In my opinion, there is no better way to raise your children than on a farm."
Dudding has been the Agriculture and Natural Resources Extension Agent in Giles County for eight years.
"I am very fortunate to love what I do for a career. I love to serve the producers and clients that I work with in my community," Dudding said. "My position allows me to provide educational opportunities for my producers to help them to be more successful in their operations. The bonus is that I learn and grow right alongside them."
Prior to her new position, Dudding was the Agriculture teacher and FFA Advisor at Giles High School for eight years and taught in Shenandoah County at North Fork Middle School for one year before accepting the position at Giles.
Alice Kemp, Communications Coordinator for the Virginia Farm Bureau Federation, said, "With 130,000 members in 88 county Farm Bureaus, VFBF is Virginia's largest farmers' advocacy group. Farm Bureau is a non-governmental, nonpartisan, voluntary organization committed to supporting Virginia's agriculture industry."
"I have always been active in the professional organizations associated with my career. I am proudly serving as the President-elect for the Virginia Association of Agriculture Extension Agents. I love to serve, teach and mentor which I hope shows by the career I have chosen and the successes I have had as both a teacher and agent," she noted. "As a Board member, I promise to listen to and serve our members making sure their voices are heard through the grassroots effort that is Farm Bureau."
Dudding also serves as the Virginia Cooperative Extension agriculture and natural resources agent for Giles County in addition to being President of the Craig County Farm Bureau, serving as CCFB Board Member for 14 years, Chairman of the Craig Farm Bureau Young Farmers Committee for two years and as the president-elect for the Virginia Association of Agriculture Extension Agents, currently.
For any questions, Dudding encourages people to contact her via at [email protected] or call the Craig Farm Bureau office 540-864-6428.
"I feel that my experiences through Farm Bureau, our farming operation, and 'boots on the ground' involvement in agriculture through my career equip me to serve our district well," she said.