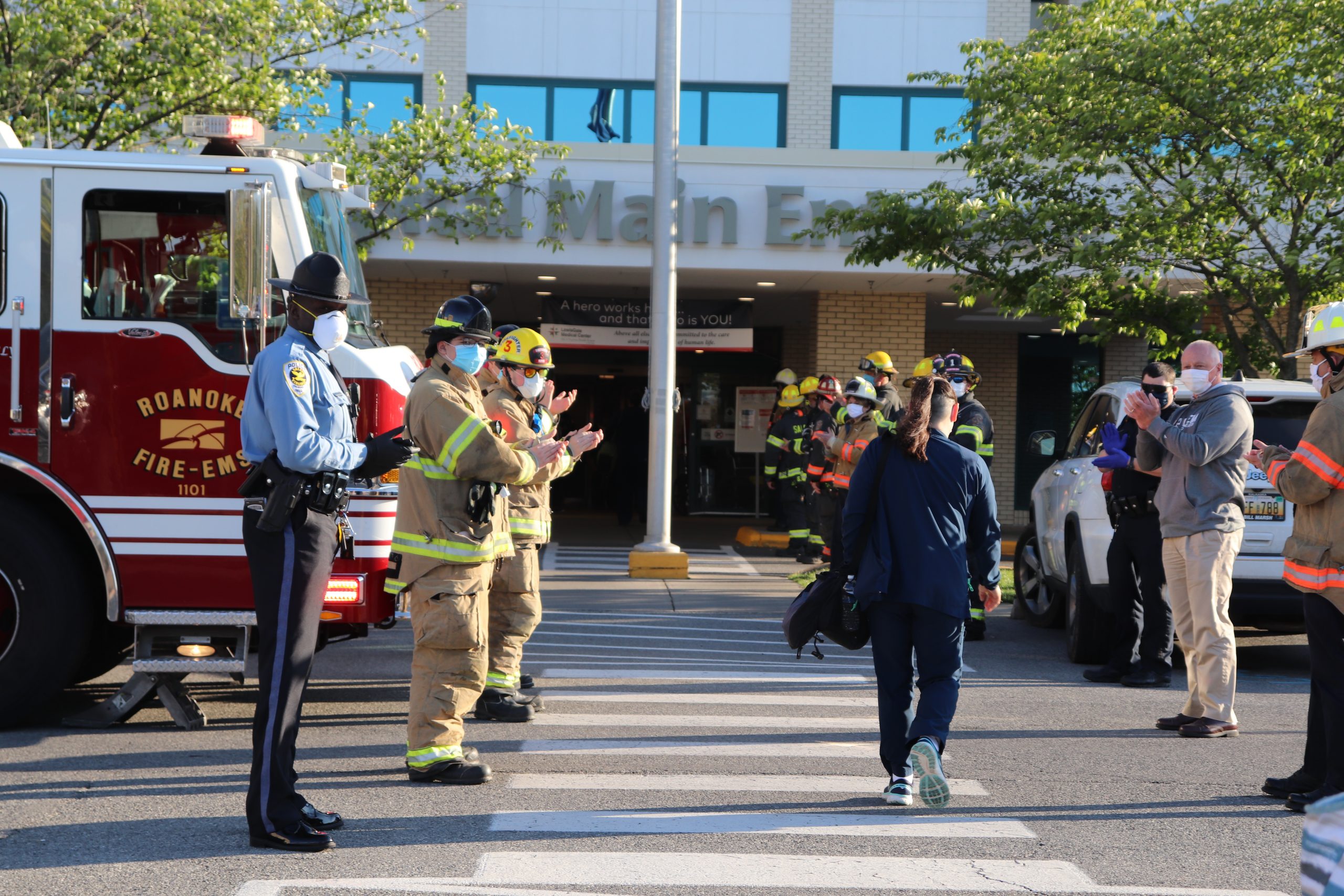 Shawn Nowlin
[email protected]
Countless people in the community have stepped up to make a difference amid the COVID-19 pandemic. To show their appreciation for health care workers, local first responders recently held a celebration at LewisGale Medical Hospital. During the gathering, Roanoke Valley Public Safety agencies lined up and recognized hospital employees as they walked through the doors to start their shift.
The COVID-19 virus has impacted John Prillaman's work substantially. As an Emergency Management Coordinator, he has participated on numerous conference calls with regional and state partners to ensure that the city is properly prepared to respond.
"I have also worked hard to make sure local departments are ready to respond if their staff is impacted by the virus. We have personnel working in different offices and from home to ensure continuity of operations," said Prillaman.
He added, "As the Salem Fire & EMS Chief, we have spent many hours acquiring the correct protective equipment, developing new procedures and training to respond to COVID-19 positive patients.  We have also implemented new procedures to protect our personnel and ensure their safety."
Overwhelming evidence suggests that the more people practice social distancing and listen to the health professionals, the better off the community will be. Prillaman is pleased that so many locals have been taking the coronavirus seriously.
Anytime that he gets a chance to recognize the doctors, nurses and hospital staff that are on the frontlines of the COVID-19 virus, Prillaman tries to take full advantage.
"April 16 was a great event and I hope it demonstrated just how much we appreciate the efforts of our health care providers. All fire, police and sheriff agencies had representatives at both LewisGale and Roanoke Memorial hospitals," he said. "The celebration took place that day because it was a date that all of the Roanoke Valley Public Safety Departments could participate."