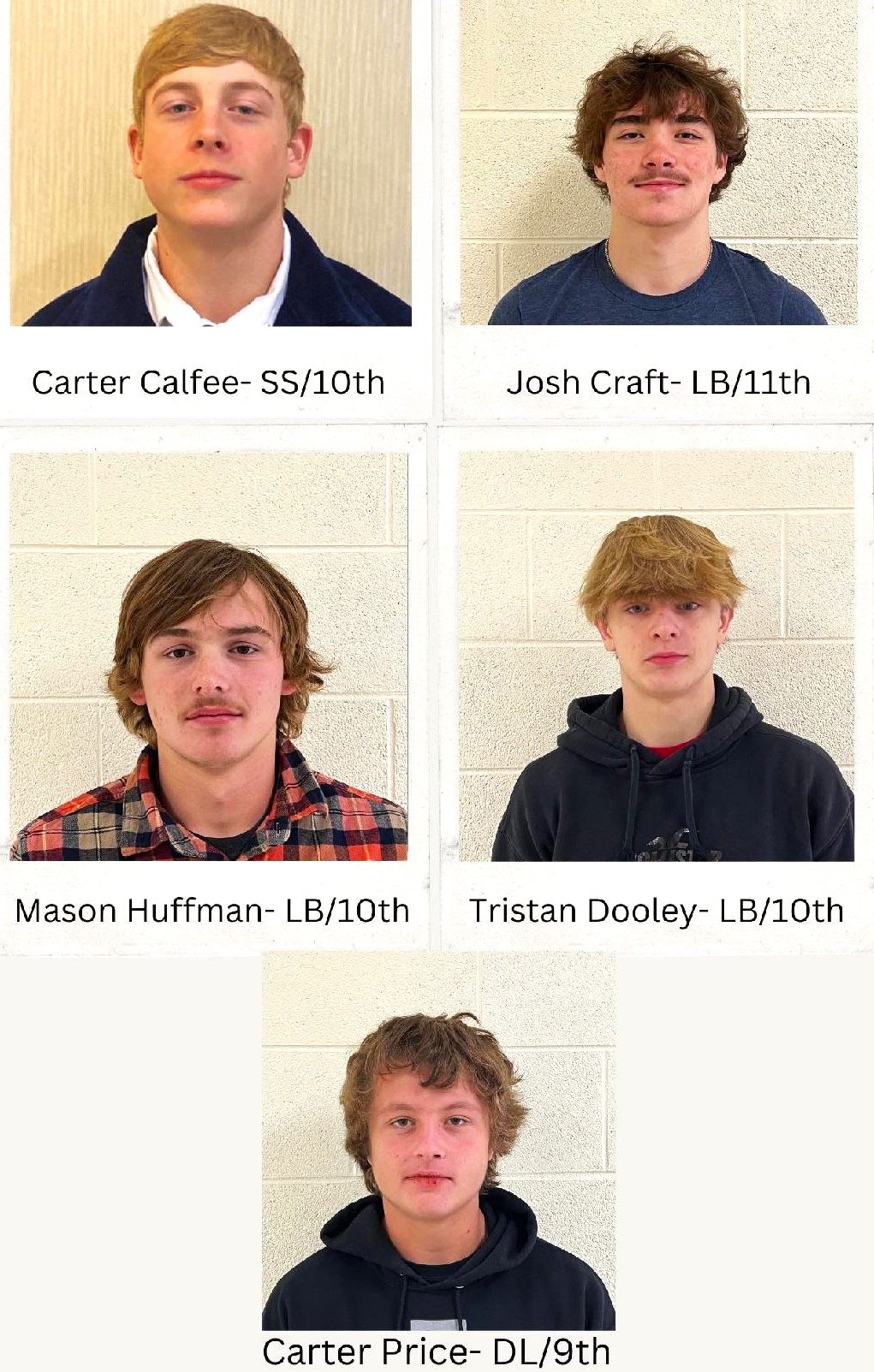 Pam Dudding
Contributing writer
The sport of football in Craig County has always been one which residents support with their presence with gusto. 
This year, the strong coaching staff, community members and Booster Club came together to support the students so that they could have an enjoyable season on the new Bermuda grass football field.
Though the season did not end as many were hoping, most in Craig were grateful for the ones who made this happen again, as in previous years, there was no football team at all, so rebuilding comes with some pains. 
"As the sun sets on the 2023 season, Team 52 and the coaching staff would like to thank every donor, sponsor, volunteer, school board member, school administration, and member of Rocket Nation that made this season possible. Without each of you, we could not, and cannot, field a team," Coach Jimmy Fisher shared. "This was a season of newness; new field, new weight room, new offense, new defense, and new, young players."
"We had our ups and our downs. A lot of the ups were early in the season, and a lot of the downs were in the latter part of the season," he added. "Part of that was due to attrition. as we were injury plagued, and part of it was that our district schedule is stronger than our non-district schedule. As a team, we got weaker as the season progressed and our weekly opponents were stronger."
Sadly, at one point during the season, the Rockets were down to one starting offensive lineman and no starting defensive linemen. 
However, the coaching staff agreed that "This was in no means a disappointing season!"
"This was a season of tremendous growth by a lot of very young players. The injuries may have hurt our on the field performance, but the playing time opportunities and the experience gained by the youngest of our kids will pay dividends in the near future," Coach Fisher said. 
For the 2024 season, Team 53 will return all 11 starters on offense, and 10 starters on defense from the team they fielded in game one versus Bland County. 
"We will be bigger, we will be faster, and we will be stronger than Team 52," exclaimed Fisher. "We know where the weak spots are in the program and on the team. We will work extremely hard to strengthen those areas." 
The Craig County Rocket representatives on the 2023 Pioneer All-District Team were selected: 
Offense:
1st Team Running Back – Carter Calfee

2nd Team Offensive Line – Carter Price

2nd Team All-Purpose – Jaycob Wolfe

2nd Team Kicker – Isaac Lucas
Defense:
1st Team Defensive Back-Carter Calfee

2nd Team Defensive back-Jaycob Wolfe

2nd Team Defensive Line-Carter Price

2nd Team Linebacker-Josh Craft
Honorable Mention:
Caleb Fields, Tristan Dooley, Mason Huffman, Blake Wright, Wyatt Huffman, Marcus Donithan, and Noah Paxton
"I am extremely proud of how they fought through adversity all season," Dowdy shared. "Our motto this season was no excuses, and the kids went to battle despite being shuffled around in multiple positions each week due to losing half of our starters to injuries. I am proud of the fact that they refused to throw in the towel."
He added, "They are already fired up for the morning waits to start on November 27 and they are aware that expectations are sky high next year based on how we performed when healthy. We will miss our few seniors that we had, but our top 16 tacklers will all be returning hungrier than ever!"
The team and coaching staff sends their great appreciation "to every single person that contributed in any way to the 2023 season!" 
Those who are interested can keep tabs on their progress and involvement in the community as their coaches are "community focused" to help the team not only build a football team but be a part of building a greater community. Check them out on Facebook: Craig County Rockets Football. 
They added, "We hope you will continue to support us for the upcoming 2024 team!"