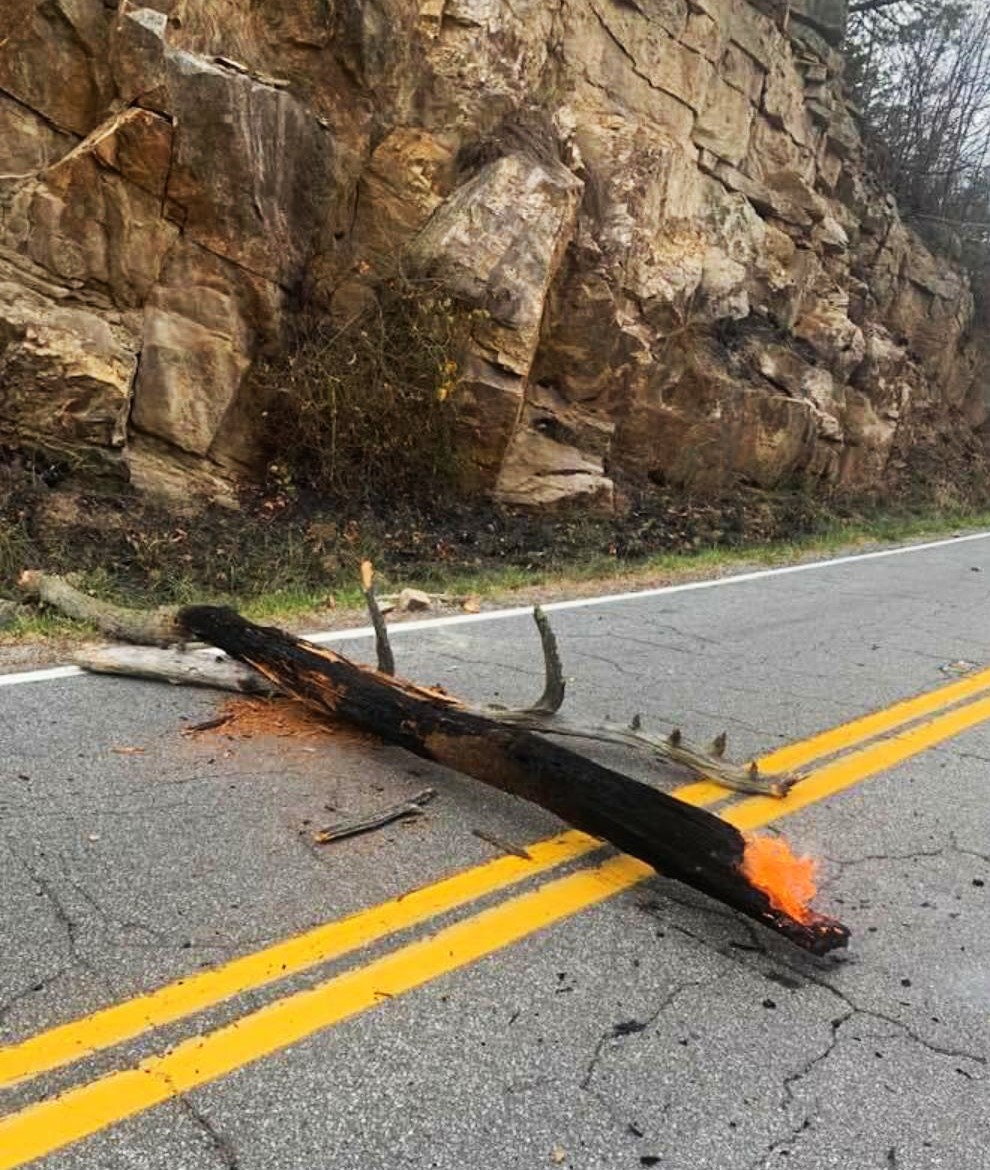 Pam Dudding
Contributing writer
On Sunday Oct. 29, many people in the town of New Castle watched as smoke came from Sinking Creek Mountain. Questions flooded the Facebook pages as people were concerned and had a right to be, as a locus tree had fallen over a power line and started a fire in the crisp dry leaves of the season and started spreading fast due to the high winds. 
"The Cumberland Gap Road fire was discovered around 2 pm on Sunday afternoon," Darryl Humphreys shared. He is the Craig County emergency management/services soordinator. 
"When Station 4 (New Castle Volunteer Fire Department) arrived on scene they began working on a fire line. Due to the size and steep terrain and the wind conditions the decisions was made to dispatch additional departments for assistance," he said.
These included, Station 1 (Johns Creek Volunteer Fire Department), Station 2 (Paint Bank Volunteer Fire Department), Station 3 (Simmonsville Volunteer Fire Department) and Station 5 (Upper Craigs Creek Volunteer Fire Department). 
"The Virginia State Forestry was notified along with the National Forestry for their assistance," said Humphreys. "Station 8 Craig County Volunteer Rescue and Station 9 Career EMS were on scene for medical services and the Craig-Botetourt Electric responded and removed the tree from the power line."
 Concerns were expressed on the Facebook pages as well as many prayers sent out.
"The decision was made to shut down a 3-mile section of Cumberland Gap Road due to fire equipment and falling debris and having to protect two residential structures adjacent to the fire," Humphreys added. 
The Craig County Sheriff's Office and New Castle VDOT crews took care of the road closure. 
"We know that this was a burden to citizens but had to been done for their safety and the safety of fire crews working the fire," he said. "We want to thank the citizens for their cooperation during this time. The road was reopened at 4 a.m. Monday morning for commuter traffic."
 Humphreys concluded that The Virginia State Forestry and the National Forestry had been working on maintaining the fire line throughout the week with crews walking the line using leaf blowers and hand rakes to remove leaf litter that has been falling off the trees away from the fire line.  
Sadly, the fire burned around 100 acres of mostly private land with some of it involving National Forest Land. 
He also noted that over the next week there would be visible smoke as the crews continued to watch over it intensely.