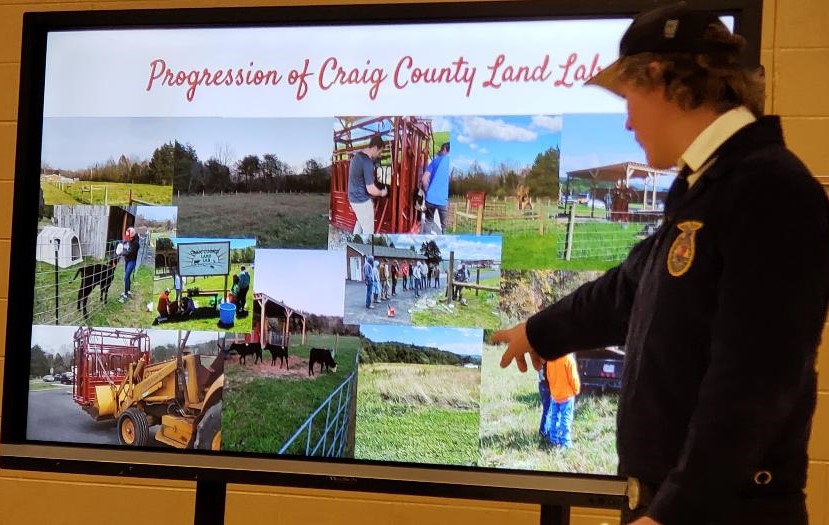 Pam Dudding
Contributing writer
Craig County is a place where many people enjoy the farm living in a part of the world that many call, "God's Country" because of its beauty. 
With over half of the county's land being National Forest, the landscape truly shows off during the changing of the seasons as well as providing wildlife for many to enjoy on nature drives. 
Still for many people who choose to reside in Craig County, it is a perfect place to have their farm, whether just a few chickens and a cow or an entire herd of black angus. 
The Craig County Farm Bureau hosted it annual membership meeting on Tuesday, Sept. 19 at the Craig County Public Schools cafeteria, where they were served a meal prepared by Hethwood Catering. 
Board of Directors President Jeanne Dudding led the meeting, recognizing their officers who volunteer their time to serve. Also, their special guests, Dwayne Huff as the new superintendent of CCPS and Randy Perkins the FB Agency manager from the Alleghany County office. 
Minutes and reports were given as well as special information on the changes within the Farm Bureau welcoming David Brown and Kasey to the office. She shared the many benefits of being a member. 
Dudding shared that the Federation of Farm Bureau is different from the insurance side and can be a part of the federation without having insurance with Farm Bureau. 
The work that the board does on the federation which is the Women's Committee and the Young Farmers Committee. 
"LeeAnn Mattox, the leader of the Young Farmers Committee has really rallied a lot of young strong people with an interest in Agriculture," Dudding said. 
Dudding added, "Farm Bureau does all it can to help to support the rural life in Craig County that we all know and love as it works on an advocacy on the legislative level to help protect this life here in Craig County and your membership helps to pay for that." 
"Farm Bureau is a powerhouse in Richmond as well as in D.C." she added. "There is a lot that our governmental relations team does to fight on our behalf." 
Dudding covers the biggest area in the state serving as the District Four state board representative, covering the counties of Alleghany, Craig, Botetourt, Frederick, Roanoke, Franklin, Henry and Patrick, going to Richmond one to two days a month. 
"Insurance business has been hard as claims have gone through the roof, the supply chain has been difficult and the cost of everything has increased," Dudding said. "Some of the political unrest has not helped as well, so there has been an increase in rates, though we crunch numbers with lots of information and work diligently at keeping rates as minimal as we can." 
She added that Farm Bureau was one of the few companies that, during COVID-19, decreased their rates. 
"We greatly appreciate everyone who continues to be a Farm Bureau customer," Dudding said. "Everything we do to culture Farm Bureau is meant to be a family and one of taking care of our customers." 
It was reported that Craig County has 181 producer members. 
The Women's Committee gave her report of the many things they participated in within the community, especially the fundraisers they do to help fund students scholarships and programs. 
They had six ladies that attended the Women's State Conference and received the 2022 Best in State Award for their participation in the development of the new Land Lab at CCPS. 
Ag in the Classroom has been a popular program and it was reported that last year, over 600,000 students were involved in the program and continue to provide free resources to the teachers. 
Every year Craig County Farm Bureau is allowed to submit five resolutions which J.C. Winstead shared:
We support increasing funding to improve existing broadband coverage in rural areas.

The state and/or Department of Education should not be allowed to cut education budgets in anticipation of lottery income. We propose that profit from lottery funds should be used as a supplement to K – 12 education funding rather than used to replace regular education expenses in our schools.

Please support increasing funding to fill extension agent positions in counties that have historically had an agent in a specified position.

We continue to oppose WOTUS and EPA overreach, as well as the department of energy's proposed mandates on household appliances.

We need the state of Virginia to provide more control of invasive species.
"As you can see, our resolutions are very important," Winstead said. 
"We want to make sure that these become policies as they are relevant to the members of our community," Dudding added. 
Many door prizes were given out and the FFA officers gave their presentation of what their last year has entailed. 
Dudding added, "The livestock judging at the state level is one of the most competitive contests that FFA offers every year so when I heard Craig County's name announced, I was ecstatic, as I know that is a lot of hard work put into that to get the sixth-place finish." 
Mary Hunter also updated the information of the monies that the students received from grants as well as the many volunteers from Craig who have made the Land Lab a reality for CCPS. 
"This community effort is why the Land Lab exists," Hunter added. "We really appreciate you helping these kids." 
Also, the FFA is hosting a spaghetti dinner on Nov. 2 at the CCPS cafeteria, 6:30-8:30 p.m. to assist them with their fundraising. 
FFA announced, "Craig County Farm Bureau is one of two counties that has been submitted to represent the state of Virginia in the American Farm Bureau County Excellence Awards, for the Land Lab. Craig County is also running for the County Excellence Award and one that we are extremely proud of."
John and Mary Hunter was given a huge thank you for being at the forefront in helping to bring the Land Lab to CCPS.