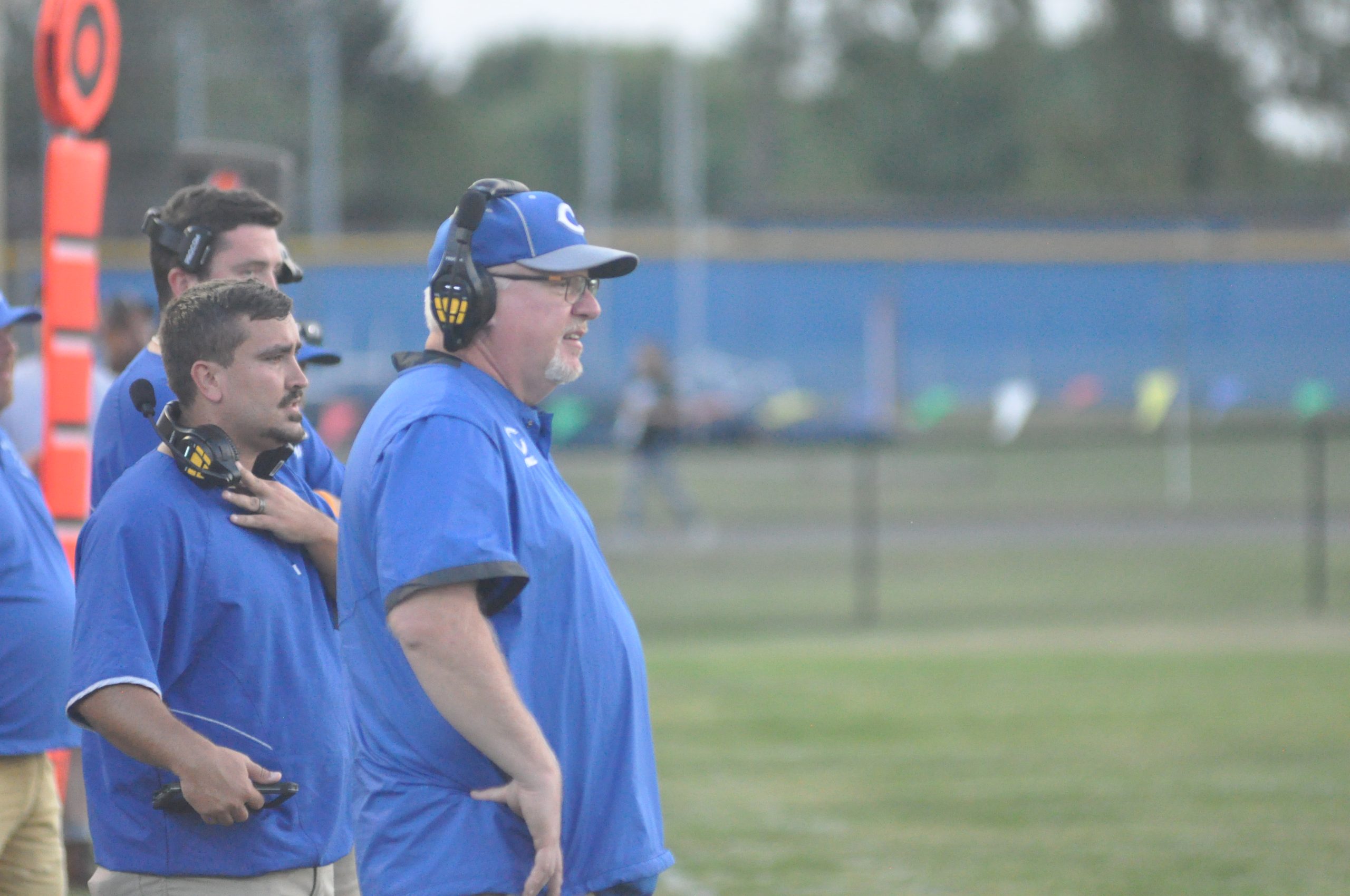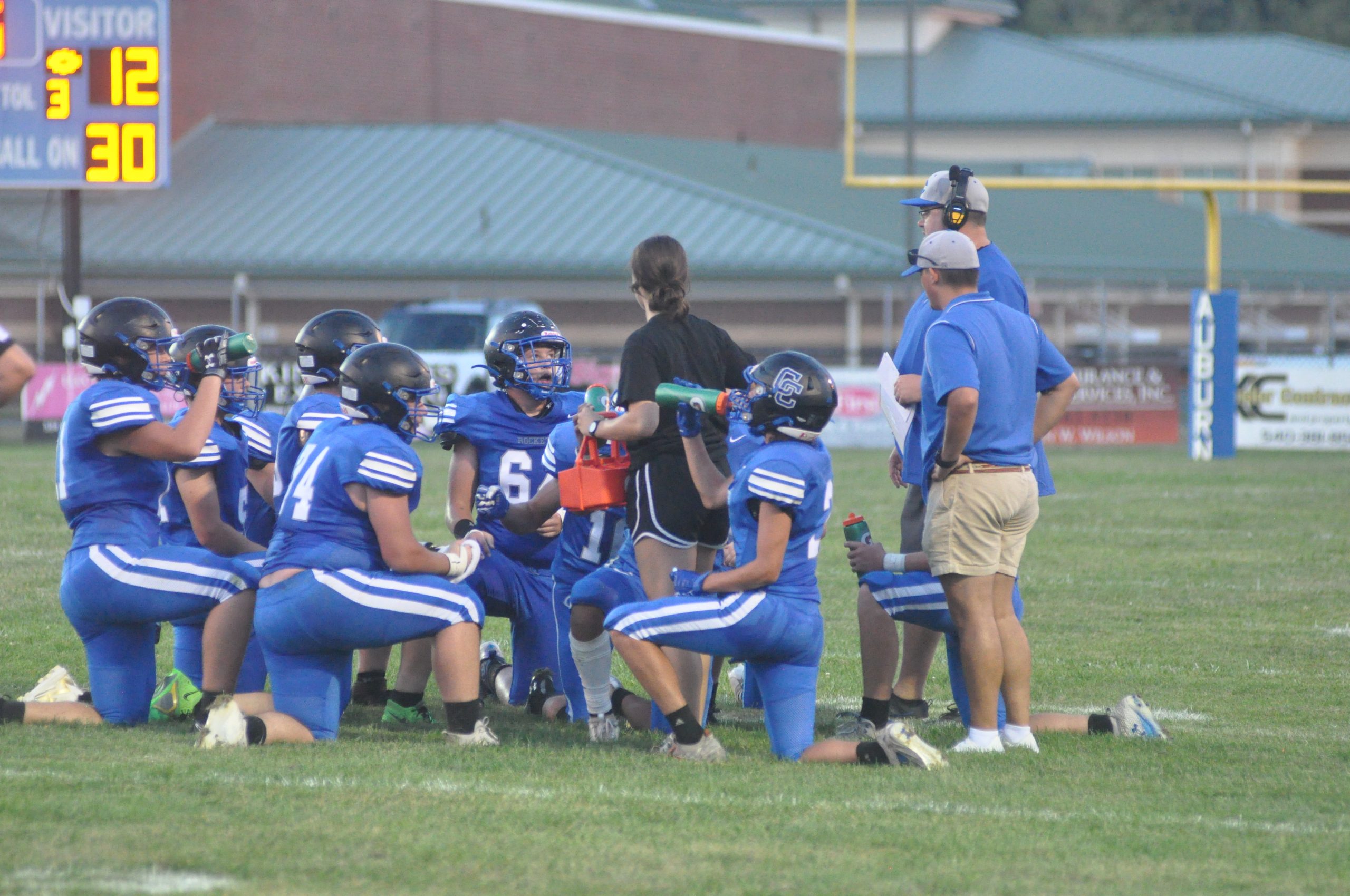 The Craig County Rockets will have their first real "home" game this Friday when they play host to Mountain View High of Quicksburg for Homecoming. The Rockets will take a 2-1 record into that game after defeating Twin Valley last Friday in Pilgrims Knob, 34-14.
The Rockets played half a home game against Auburn on September 7-11. That's not a convenience store, but a game that began in Riner on September 7, was stopped by lightning and then completed in New Castle on September 11. Since then the Rockets had a home game with Montcalm rescheduled due to injuries, then a trip to Twin Valley last week where the Rockets pulled out an impressive win. This week's game will be the first full game on the refurbished gridiron at Mitchell Field.
Last week's win was a big one for the Rockets, who were still somewhat shorthanded. Craig County never trailed as they put up 464 yards of total offense, including 439 rushing yards.
"Great win on Friday," said coach Jim Fisher. "We still have several players out and we had to convert some receivers to play offensive line. We are already small, compared to the teams we play, and we got a little smaller last Friday. But our kids were eager to get back on the field and we played with a lot of energy."
Craig built a 20-6  halftime lead and never looked back. The Rockets were run-heavy with 30 running plays and just nine passing plays with only two completions.
"We have to give our quarterbacks more time," said Fisher. "They were under a lot of pressure. This is an area that we have to improve upon. Our running game gives us plenty of play action pass opportunities but we could not connect on Friday."
Statistically, Jaycob Wolfe had nine carries for 113 yards and two touchdowns. He also caught a 23 TD pass from Carter Calfee.
Calfee ran for 210 yards on 12 carries and scored a TD. Carter also scored a pair of two-point conversions and threw a touchdown pass to Wolfe. Noah Paxton had five carries for 85 yards and a touchdown and Isaiah Nichols ran three times for 30 yards.
Defensively, Craig gave up just 135 yards. 
"We struggled a little against the run early but got it figured out in the third quarter," said Fisher.  "Mason Huffman started his first game at inside linebacker and finished up at nose guard when defensive stalwart Isaiah Will went down with an ankle injury."
 Mason led the team with 13.5 tackles. 
"Isaiah will be out a few weeks," said Fisher. "It's a big loss for our defensive front. He isn't big but he plays big. He requires a double team or he disrupts everything."
Josh Craft is still hurting from a shoulder injury but he played a little over a quarter and a  half and totaled 13 tackles. Tristan Dooley had a big game at inside linebacker with 12 and a half tackles and freshman outside linebacker Noah Paxton also had 12.5 tackles. Freshman Carter Price had a big game from his defensive tackle spot with 8.5 tackles, and Calfee added eight tackles. 
"Twin Valley had some open receivers at times, and we have to do a better job in coverage, but we did intercept three passes," said Fisher. "Trevyn Francisco played in his first game since 2021 and gave us a boost right away by making several plays, including our first interception.  Freshman Wyatt Huffman picked off two passes in his first day back from concussion protocol, and junior defensive end and linebacker Isaac Lucas had an interception and returned it 78 yards for a TD, but it was called back for a roughing the passer penalty.
"We bent at times but didn't break much. We need to keep improving on both sides of the ball, especially on the line."
This Friday is Homecoming against a Mountain View team that comes in at 1-4. The Generals have a win over Thomas Jefferson of Alexandria and have lost to Bath County, Nelson County, Parry McCluer and Page County. 
"We have a big Mountain View team coming to town on Friday for our Homecoming Game," said Fisher. " Hopefully, we can keep the effort and energy going. It's been a long time since Craig was 3-1 and it's been a while since we won a Homecoming game. We hope to give a great effort and maybe do both Friday."