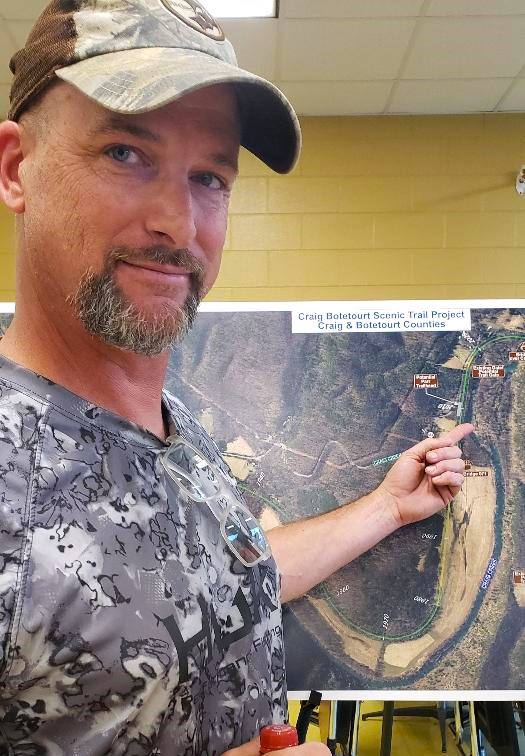 Pam Dudding
Contributing writer
During the transportation meeting held by the Virginia Department of Transportation on Thursday, Sept. 21, many landowners talked to the VDOT representatives about the effects it would have on their personal properties. 
Jeremy Parr was present. His family predates the railroad. 
He shared with other attendees that, "This trail traverses one and a half miles of my family's land. My family cemetery that dates back to the civil war that we still use, we will have to deal with that. 
He pointed to his properties and the areas he was speaking of, "There are two gates that were put in in the 80s to keep vandalism out of our cemetery and seven other landowners' cabins there were getting vandalized. Those folks, with us got the state to put gates in."
He shared about the two bridges that are close to him. 
"There is a bridge that was totally overgrown but four weeks ago VDOT came in and sprayed four kinds of herbicides on it, right over top of Craigs Creek waters. There are gaps in the boards so wide that you cannot cross it. I'm not an engineer but I can only imagine what it is going to cost to fix these bridges as the foundations were built in the 1880s. The tracks were torn out in the 1950s and nobody has maintained it since. You can imagine what mother nature has done to it since. There are even trees growing through them."
There are a total of seven bridges on the scenic trail that will need lots of work.
"I have been a horseman my whole life and there is not a horse alive that will cross either of these bridges as they are," he added. "For horses, it will have to be built up, covered, and fenced off and gated plus the sounding boards for the horses to be able to cross."
His family is against the trail. 
"Right now, it is public right of way, you can walk, bike, ride a horse and on a lot of places you can even drive on it," Parr shared. "I don't care as you have a right of way, but if you open it up to a lot of other people, I am against that."
Parr added that he is concerned about the schools and maybe the monies should be appropriated there instead. 
"Lord Botetourt currently has two leaks and there is mold in it. Central Academy where my son works in the wood shop, the roof leaks over top of the electrical equipment that they have to dry off before they can even use it. Also, my daughter caught a snake going down the hall of Lord Botetourt last year and took it outside," he continued. "Eagle Rock Elementary water supply to the school is contaminated and has issues, and I have heard that James River is the exact same way."
He added, "Plus you have Patterson Creek Trail which is well maintained and the Hoop Hole Trailhead plus the Grapevine and Lignite Trails that are already there for hiking, biking and horseback.  My question is why spend millions of dollars for this trail when you have other trails that people aren't even using plus the main factor that you will be affecting other people's lives that go through their front yard or major land owners such as my family?"
"Nobody that I have talked to yet has convinced me that this is a good idea, especially when our schools are falling apart," he finished as he shook his head.